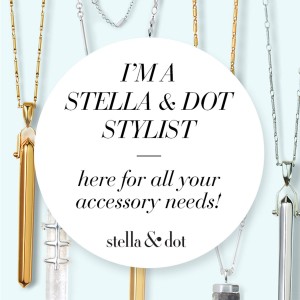 Last week, I heard an offer I couldn't refuse and signed on as a Stella & Dot independent stylist. I wasn't looking for another job – I already have two, thanks. I also wasn't necessarily looking for more money, although of course that is always nice to have.
I'll be completely, totally honest: I did it for the goodies. I absolutely LOVE Stella & Dot jewelry, scarves and bags. I have been hooked on their quality, design and versatility ever since I first tried them – and being a stylist means I get a ton of free stuff to start, plus plenty more opportunities to earn more free stuff.
I simply cannot turn down gorgeous, high quality FREE jewelry, bags and scarves!
So yes – I'm now your Stella & Dot hook-up. I now officially have a side hustle! If you are interested in meeting one-on-one to look at pretties, hosting an online style party or "Trunk Show" as they are called, or getting some friends together at your place or mine to earn your own free jewelry and goodies, please let me know.
I vow never to be pushy, sales-y or obnoxious. Stella & Dot literally sells itself. I simply love this stuff and would love to share it with you and your friends.
The only thing better than Stella & Dot? Is free Stella & Dot… and that's exactly what I just got a lot of. Best mail day ever!
Have you ever had a S&D party? What's your favorite piece? Or are you someone who has never seen or felt the quality that is Stella & Dot's hallmark? Let me know in the comments or over on Facebook!