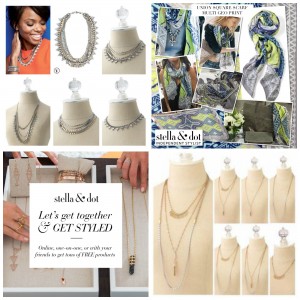 Long before I became an independent stylist for Stella & Dot, I was just your ordinary average girl who loves pretty jewelry. But I never knew how to make my stuff look glam and stylish the way some other women do.
Why do some people just have an innate, natural sense of style while others of us struggle to put together an outfit or ensemble?!
I used to just wear the same old jewelry, day after day, because I didn't have confidence in my ability to mix and match necklaces or do something truly special to turn an ordinary outfit into a great look. And then I found Stella & Dot!
My favorite thing about S&D is that they basically do the work for you. Every piece is created and styled so that it goes together and coordinates with maximum versatility. Most of the pieces can be worn together, broken apart into separate pieces for different looks, and mixed/matched easily – even by someone like me for whom such things do not come naturally.
So here, without further ado, is my list of favorite S&D pieces to help you achieve an effortless, pulled-together and stylish look with absolutely zero stress over your accessories!
Necklaces: Statement or Everyday
Again, my favorite thing about S&D necklaces is that after buying a few of their multi-layered pieces, I began to take them apart and put them back together myself in new ways – or even combine pieces of S&D necklaces with other jewelry I already owned. Just by browsing the S&D catalog/website, I have gained so much more confidence in figuring out what looks good together!
Earring Trends
Bags Galore
Best Scarves Ever
So, there you have it – a few of my very favorite things from Stella & Dot. If you're a fan too, I'd love to hear your favorite S&D things in the comments below or over on Facebook! And if you need a stylist or would like to make a purchase, please join my group and message me. I'd love to help you out!