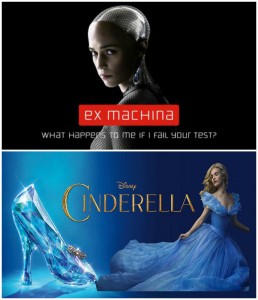 It's time for another installment in my Friday Favorites series. If you like this post, check out the others that came before!
I love going to the movies. I like watching movies at home too, but there's just something about that big screen, darkened room, the smell of popcorn and that shared experience of gasping, wincing, laughing or crying at the same moments as those around you. The newer, uber-comfy, fully-reclinable seating only adds to the experience. Plus, as a mom, there's the added benefit of no interruptions at the theatre! That cannot be overstated.
So, I'm happy to say that thanks to great sitters, I've gotten to see some pretty great movies this year – in the actual year that they hit the theatre! Without further ado, here are my favorite movies of 2015 (assuming that I don't fall in love with something new that comes out over Thanksgiving or Christmas. And if I do, I'll have to update this post.)
Ex Machina – in many ways, this was my favorite movie of the year. It is creepy, original, a bit spooky and completely captivating. The doe-eyed Alicia Vikander's performance is ethereal and simply riveting; I couldn't take my eyes off her. This movie gives you so much to think about and it stayed with me for days. It gets my absolute highest rating.
Inside Out – what can I say about this wonderful Pixar film that hasn't already been said? It's marvelous for so many reasons. Like so many great kids movies, it's not just a kids movie at all – highly recommended for adults as well. Be sure to watch through the credits at the end for some of the funniest bits. This is very well set up for a sequel.
The Martian – I was surprised by how much we enjoyed this movie! Great date night fodder, it features Matt Damon in a terrific performance – but the real star here is STEM (Science, Technology, Engineering and Mathematics). I cannot imagine a better vehicle for making kids want to go into STEM careers. Bravo on that front – and for just being a darn entertaining flick.
Mad Max: Fury Road – I don't remember the original Mad Max all that well, but this 2015 version was one wild ride. It had some scary and even horrifying bits, and many unanswered questions, but the sheer scope and speed of it were certainly entertaining. Zoe's not watching this until she's about 30. Kidding. Or am I?
Cinderella – The first of Disney's new live-action versions of classic animated tales did not disappoint. The costumes alone were breathtaking and I enjoyed all the performances as well. There were some heartbreakingly sad (and even a scary) elements so I wouldn't rush to have little ones watch this until they are five or older.
Jurassic World – For me, this had much of the enjoyment and thrills of the first Jurassic Park AND the added benefit of the incomparable Chris Pratt. So, a total win in my book – although I'd be remiss if I didn't note that hubby felt it was a total waste of time. In his words, he "doesn't get" the Chris Pratt thing. I didn't try to explain it. 😉
Wild – Saw this one with friends as there was no way I could drag E to it. I really, really loved this. I had read the book so I knew what to expect going in, and I think the actors did a fine job. In particular, the mother-daughter relationship portrayed by Laura Dern and Reese Witherspoon took my breath away. Great chick flick and I do recommend reading the book as well.