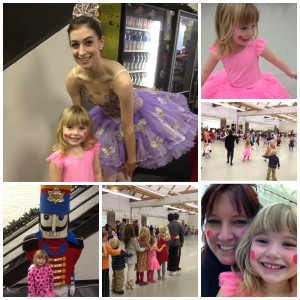 I am in no way exaggerating when I say that BalletMet's annual Dancing with the Nutcracker event is one of the best-kept secrets in Columbus, Ohio. It is also one of the most magical and exciting experiences Zoe and I have ever shared. I am so thankful to the friend who tipped me off about the event last year (unfortunately just after it had happened) so that I was able to put a reminder on my calendar to watch for it this year! I'm even more glad that I wrestled a reluctant Zoebelle out of the house this morning and dragged her downtown, knowing she'd love the event once we got there (I was right!).
Dancing with the Nutcracker takes place every year at BalletMet in downtown Columbus, usually on the first Saturday in November. It sneaks up super fast right after Halloween – so fast that I almost missed it again this year, even though I knew to expect it! At the event, children of all ages are able to see snippets of the actual Nutcracker ballet performed by fully-costumed dancers right before their eyes, and then the little ones are able to stand up and dance themselves, with some gentle and informal instruction by BalletMet staff. Both before and after the show, there were photo opps with costumed Nutcracker characters. And all of this was free with the donation of a simple jar of peanut butter to benefit the food bank. Incredible!
Photos barely do this hour-long experience justice, but I posted a couple of videos to YouTube today to show how much fun Zoe had during her dancing times. She loved sitting with me and watching the professional dancers – especially the lovely Sugar Plum Fairy who danced on point, and whom Zoe got to meet after the show. But when I asked Zoe what her favorite part was, her eyes lit up when she said "when I got to dance too!" Being in the BalletMet studio made her feel like a real ballerina – especially after seeing such inspiring and wonderful performances right before her eyes.
I almost can't wait for next November so Zoe and I can experience this fun again – I guess now I know what the month of November is for! We'll certainly be buying tickets for the Nutcracker this year so we can see the whole lovely spectacle for ourselves! And I will also be asking for BalletMet tickets for an upcoming date night, now that I've seen what a wonderful treasure Columbus has in this dance company.
Did you know that Columbus has the 15th largest dance company in the country? Have you seen any BalletMet performances, and if so what did you think? Also, any good experiences with preschool age dance classes in Columbus?  I am going to sign Zoe up for dance lessons as soon as possible, after the joy and pleasure she showed today out on that floor. I need all the tips and advice I can get! I'd love to hear your thoughts in the comments below.