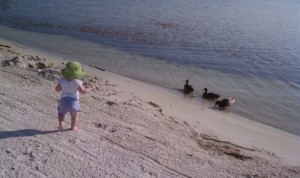 Dear Internet: STOP JUDGING PARENTS. That poor, heartbroken Nebraska family just had literally the most horrible and unexpected tragedy imaginable happen to them. AT DISNEY! Please stop second-guessing, judging and condemning them.
This is Zoebelle at 18 months about to launch into the Seven Seas Lagoon. I put the camera down in time to grab her chubby little butt, but yes she did make it into the water. Anyone who can keep a toddler out of water on a hot day is either an octopus or has ninja-like speed. And I let her stay at that shore for at least an hour admiring the ducks and getting her little toes all wet and sandy. NEVER in my wildest nightmares could I have imagined a 10-foot prehistoric monster launching up out of the water to drag her to her death right before my eyes.
HOW many parents have let their kids wade in that lagoon. Disney is a safe place – a happy place. NO ONE could have predicted this. It is not Disney's fault, it is not the parents' fault and really, it's not even something I blame on the alligator. It just is a horrific tragedy and now that it has happened, hopefully we can all be even more careful and vigilant about alligators in Florida. I know I sure will be.
My heart goes out to the family of that poor little two year old – may that sweet little child rest in peace, may the family's hearts heal, and may the parents someday, somehow stop blaming themselves.