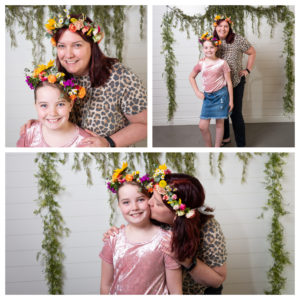 It's Mother's Day this weekend, and if you're a mom I wish you the happiest one possible. I've seen a few very sad Facebook posts this week from friends who have lost their moms in recent months and it really made me pause and reflect on how lucky I am to still have mine.
While I won't get to see my mom this Mother's Day, I'm very blessed to still have her as a huge part of my life. I'm overjoyed that she's coming to visit me at the end of May. I can't wait to wrap my arms around her teeny, svelte self and give her a huge hug of appreciation and love!
This year, Z and I celebrated our Mother's Day a little early with a very special, unforgettable experience: we attended an Ash & Hart Floral mother-daughter workshop where we made our own fresh flower crowns and then participated in a professional photo shoot together.
It was, in a word, magical! If you're not already following the A&H ladies on the 'gram, you need to. Their aesthetic is just gorgeous and their events are truly special. The price tag was a little high, but the funny thing is that I wouldn't have flinched if it were an activity just for Z. So why would I hesitate before spending that for something that's for both of us?
I'm so glad I decided to do it – and that one of Z's friends and her mom did, too. On a recent Saturday morning, Z and I headed to the chic gather event space in adorable downtown Delaware. The long, narrow space is upscale and uber photogenic, and was decked out with flowers and supplies for this unique moms and daughters workshop.
There, for about the next two hours, we learned from the Ash & Hart ladies how to turn fresh cut flowers, ribbon and pipe cleaners (which they called "chenille stems" and whoa, is that a better name – I'm totes using that from now on!) into THE most exquisite floral works of art imaginable.
If you're thinking right now that you don't need a fresh flower crown workshop in your life, then I'm here to tell you that you're wrong. Fresh flowers are a metaphor for life – they're beautiful, but they're fleeting. No, they don't last forever. None of us do! Just go with it and enjoy yourself surrounded by beauty.
I literally didn't know where to look. The space is gorgeous, the girls and their moms were beautiful, Z was stunning and the flowers, oh the flowers! Lovely little mini roses, carnations in unusual and vintage shades, like I said – A&H know their stuff. Their instruction was really great and I feel like I could whip up a fresh flower crown on my own time now if I had the right flowers and that magical green floral wrapping tape.
Once we had completed our spectacular floral masterpieces – literal living works of art – Z and I got to pose for a few shots together with Periwinkle Photography. Her shots were beautiful and I've included a few here.
When was the last time you did something truly beautiful for yourself? I highly recommend keeping an eye on the Ash & Hart Facebook page so that you'll know when their next workshop comes around. Treat yourself! You're worth it – and not just on Mother's Day.