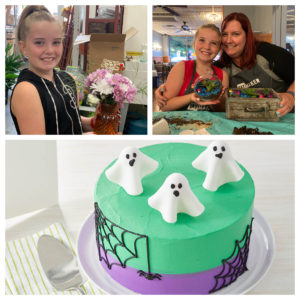 A few years back, I blogged about fun, free classes for kids in Lewis Center. Those are all still great options for kiddos, so be sure to check out that post. But today, Z is a more sophisticated consumer so the free classes often aren't enough for her. She likes the fancy classes!
Here are several sources for wonderful arts, crafts and baking classes for both kids and adults. Be sure to check these links often to see what's coming up in months ahead.
Michaels has a great selection of free and paid classes for both adults and kids. Just put in your zip code and see what's available near you. We haven't done a class at our local Michaels yet, but I have a monthly reminder on my calendar to see what's new for the month. Also, don't set foot in a Michaels without a coupon – they always have them on their website! 
Joann has really impressed me with their big brand makeover and their product selection – and yes, they have a nice array of classes, too. Z is already signed up for a super cute Halloween cake decorating class in October.  I can't wait to see the cake that Z is going to make and decorate in a few weeks! The class fee was reasonable but I will say there's a daunting list of products we're supposed to buy and bring to the class – so that should be factored into the cost.
Connell Maple Lee Kids Club still has their wonderful free flower-arranging class for kids that takes place every other month or so. Sign up on their website for the Kids Club and you'll get emailed invitations to RSVP for flower-arranging classes. Z has learned all about how to make gorgeous arrangements and she uses her skills anytime she picks flowers from our garden. The tape grid trick is a really cool one and you can use ordinary scotch tape – it doesn't have to be the skinny floral tape. I will say these classes skew a little younger so she's almost outgrowing them at this point. Perfect for the ages 5 to 9 crew!
YayMaker's Plant Nite and Paint Nite events happen all around Columbus, including in the LC. Z and I went to a Plant Nite terrarium workshop and absolutely loved it! She made a gorgeous hanging glass globe terrarium with succulents, and I made a really pretty shabby chic style drawer filled with succulents. There's lots of digging in the dirt, playing with baby plants and then our favorite part: decorating with stones and toys and other fun materials. Join the YayMaker mailing list and you'll get coupons galore which really help with the cost of these classes.
Terra Gallery's acrylic paint pouring class was our favorite by far, so I'm including them even though they are located in Dublin not Lewis Center. I stumbled upon Terra through Facebook – and I do recommend following them on Facebook for class info, as their website is a little hard to navigate. Z and I lucked out and ended up having a private class just for the two of us as they had some cancellations. We loved having the pretty art gallery all to ourselves and getting lots of one-on-one instruction from the teacher. Our sparkly, poured paint canvases are some of the prettiest art creations we've ever made! The cost for the class was reasonable, too.
So there you have it – some really fun local classes, some free but most with a cost. Have you or your kids taken any fun classes lately in or around Lewis Center? I'd love more ideas for fun things to do in the fall and winter months ahead – be sure to let me know in the comments below or over on Facebook!