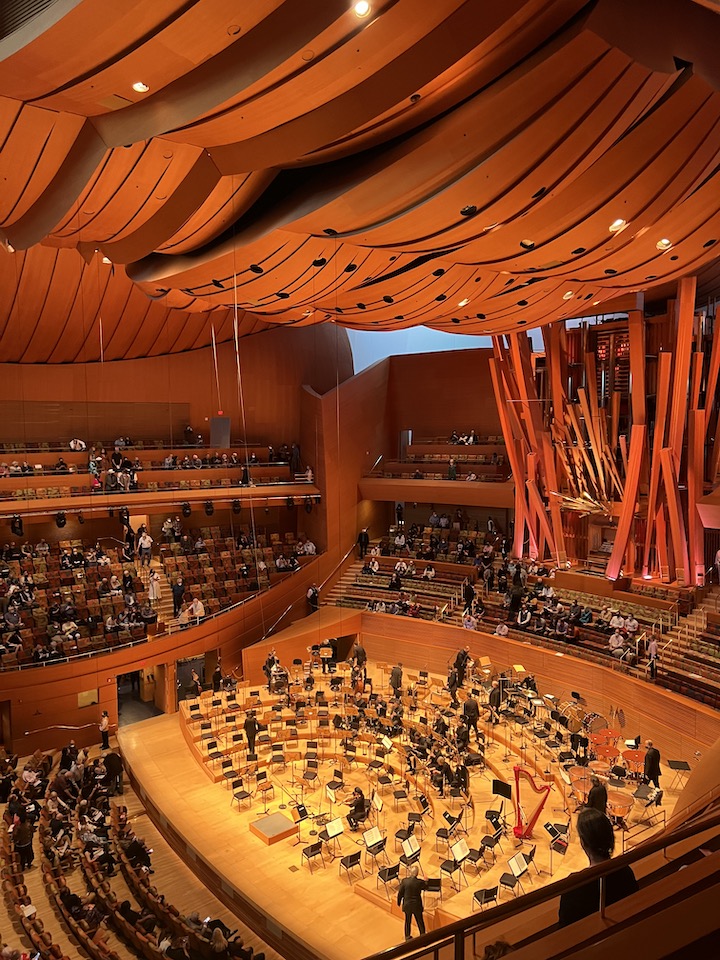 Are you a classical music lover?
I grew up hearing a lot of classical because my parents love it. I like to listen to classical when I clean the house, study, fold laundry or just want to relax.

As with other types of music, there's no better way to experience classical than to see it performed live by skilled musicians.
That's why I was so thrilled when my parents recently invited me to join them at the epic Walt Disney Concert Hall for a performance by the legendary LA Phil.
The LA Philharmonic is an orchestra like no other. It is led by Grammy-winning symphonic and operatic conductor Gustavo Dudamel, who serves as Music and Artistic Director.
"He's an international rock star!" gushed my mom about Dudamel, and after doing some reading about him, I can see that she is right. Dudamel actually leads three orchestras; in addition to the LA Phil, he also directs the Simon Bolivar Symphony Orchestra in his home country Venezuela as well as the Paris Opera.
The LA Phil performs in the iconic Frank Gehry-designed Walt Disney Concert Hall in downtown LA, just a few blocks from the Little Tokyo area I had so enjoyed one day prior. I went from never having visited downtown LA to spending two days in a row there on this particular Cali trip. I'm now a big fan of DTLA!
On the day we attended the philharmonic, we had the pleasure of hearing Mahler's First Symphony as well as a more contemporary piece by internationally acclaimed composer Gabriela Ortiz. We got there quite early because my parents always take in the Upbeat Live pre-concert lectures before each LA Phil performance.
Since they couldn't have Mahler there to share about his piece (sorry – bad classical music joke. He died in 1911), we had the great honor to hear instead from Ms. Ortiz. I found her captivating and full of positive energy.
That's also how I'd describe her electrifying violin concerto, Altar de cuerda, which was commissioned by the LA Phil and dedicated to Maria Duenas, a prodigy violinist whom we got to hear perform the piece with the LA Phil that day.
A visit to the Walt Disney Concert Hall is truly a feast for the senses. Between the incredible architecture of the place, the energy and excitement that Mr. Dudamel and the LA Phil bring to each performance and the stunning artistry on stage from 19-year-old violin soloist Maria Duenas, I was simply awestruck.
Our seats were terrific, though I honestly don't think there's a bad seat in the house at Disney Hall. My folks have season tickets and one of their concerts happen to fall during my visit. I offered to go along with them but sit in the "cheap seats." Then, my dad did some research and found that a seat was empty right next to theirs. Clearly, it was fate that I join them that day!
During the intermission, my mom took me out to the lovely Blue Ribbon Garden, a rooftop oasis above downtown LA. Seeing Frank Gehry's beautiful Lillian Disney Memorial Fountain, a rose-shaped fountain made from pieces of Royal Delft porcelain, was a definite highlight of our day.
After the break, it was time for the main event: Mahler's First Symphony. What can you say about hearing the LA Phil perform this timeless classic other than it was dreamy, joyful, jubilant and AWESOME! You could tell the orchestra members were loving every moment, and Mr. Dudamel perhaps most of all.
I'm reminded of that epic performance every time I see one of the popular Tik Toks about music fans back in the 1800s (these clips are very funny, but do use colorful language so be advised). Classical composers did know how to drop the beat!
I'm so happy to have added this amazing experience to my personal travel bucket list. If you ever have the chance to see a world-class orchestra perform live in an incredible concert hall, definitely do it. The energy is unmatched by almost any other type of performance.
Have you been keeping up with my efforts to keep it classier in 2022? This LA Phil performance definitely took things up a notch!