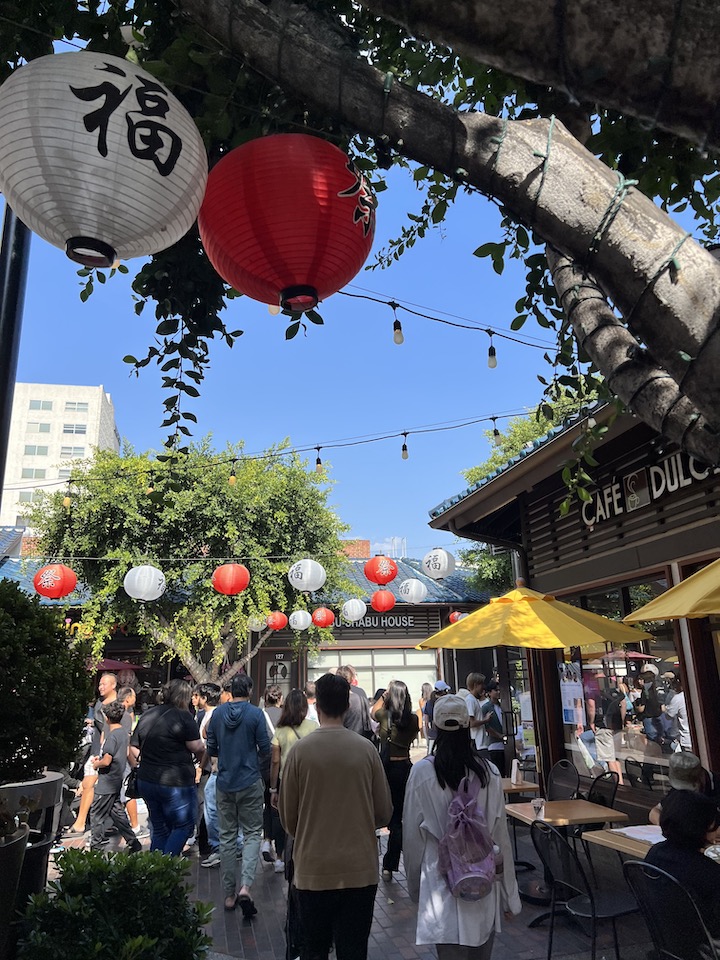 Have you ever wanted to experience the sights, tastes and culture of a visit to Tokyo?
Me too.
That's why I was so excited when I recently got to walk, eat and drink my way through Downtown Los Angeles' iconic Little Tokyo historic district.
Of course, it's not the same as a legit trip to Japan, but it was still an unforgettable and magical experience that I highly recommend.
Our tour guide extraordinaire was "Sally from the Valley," founder of Six Taste food tours in LA.
My awesome sister-in-law arranged our four-hour walking tour as a surprise 50th birthday outing for my brother. I flew out to LA to join in the fun and help surprise him.
That Saturday morning in October, we packed 12 lucky people and a cooler of adult refreshments into a party van and headed to DTLA (as the locals call downtown LA) for an amazing adventure!
My brother did not know where we were headed, so part of the fun during the drive to Little Tokyo was hearing him ask a million nervous questions about what we might be doing and where we might be going. His closest guess was a brewery tour. He later agreed that what we ended up experiencing was way better than a brewery tour, as cool as those may be.
We arrived in DTLA and immediately saw from the signage around us that we were in an area called Little Tokyo. None of us knew much about the area and no one from our group had been there before. After our food tour with Sally from Six Taste, all of us are huge fans of Little Tokyo and plan to return soon for more fabulous food and cultural experiences!
Little Tokyo is one of three remaining Japantowns in the United States. The other two are in San Francisco and San Jose. Here in Columbus, we don't have an official Japantown but we do have an exciting Japanese Marketplace off Kenny Rd. which is well worth a visit.
Sally didn't just take us to restaurants that day; she gave us an amazing overview of the history, culture, architecture and significance of the area. Little Tokyo is a vibrant, diverse and multi-faceted residential and retail district that was named a national historic landmark in 1995.
This community had its beginnings in the late 1880s and has survived unimaginable hardships. According to the Little Toyko website:
At its peak, Little Tokyo had a population of approximately 30,000. However, when the outbreak of WWII led to the unjust forced removal of​ all persons of Japanese ancestry from the West Coast, Little Tokyo became a virtual ghost town.
Our tour guide shared that some of the oldest businesses in Little Tokyo managed to keep going even during the forced removal and internment of Japanese residents and business owners. Many were fortunate to have non-Japanese friends and business partners who were able to keep the businesses going during their absence.
Timelines engraved in the sidewalk throughout Little Tokyo show the important dates related to each business. Where there are newer businesses, the timelines and signage describe who or what the original inhabitants or businesses were at each location.
In between tasting the best Japanese cuisine and street food imaginable, Sally regaled us with stories about Little Tokyo, her food tour business and Asian culture. Our afternoon flew by and we were all so full and happy by the end! Our dining highlights included:
Incredible small treats and tastes from several legendary Little Tokyo bakeries including Yamazaki and Fugetsu-Do
A sit-down meal of okonomiyaki, my new favorite food (pictured at top), at Chinchikurin. Okonomiyaki is like Japanese pizza and can be prepared with meat, seafood or vegetarian style. The flavors and textures of this dish are unreal; think Japanese Italian fusion.
A sit-down meal of ramen and pork gyoza at My Ramen Bar. I could have stayed there eating dumplings and noodles all day long – simply delicious.
A standing snack of incredible, warm imagawayaki – red bean waffle-cakes – made right in front of us at Mitsuru Cafe
A sit-down meal of sushi which, alas, most of us were far too full to enjoy!
Our day ended with a tea sampling at the lovely Chado tea cafe.
For those who cared to imbibe, there was also plenty of Japanese beer and sake to be had. Truly, Six Taste thinks of everything. There were several of us on the tour with various dietary restrictions and Sally took great care of us all.
One of my favorite spots on our tour was a gorgeous zen garden tucked into a lower courtyard near the Japanese American Cultural and Community Center. We saw a group practicing Tai Chi in the shade nearby. Overall, a visit to Little Tokyo is a feast for all the senses and feels like a trip to another world.
If you're ever in Los Angeles and you like Japanese food and new experiences, I encourage you to visit Little Tokyo in downtown LA. Walking the streets, tasting the food, seeing the sights and appreciating the culture is an immersive travel experience you will not soon forget.
Thank you to my brother, sister-in-law, and most of all Sally from Six Taste for an unforgettable day in LA!