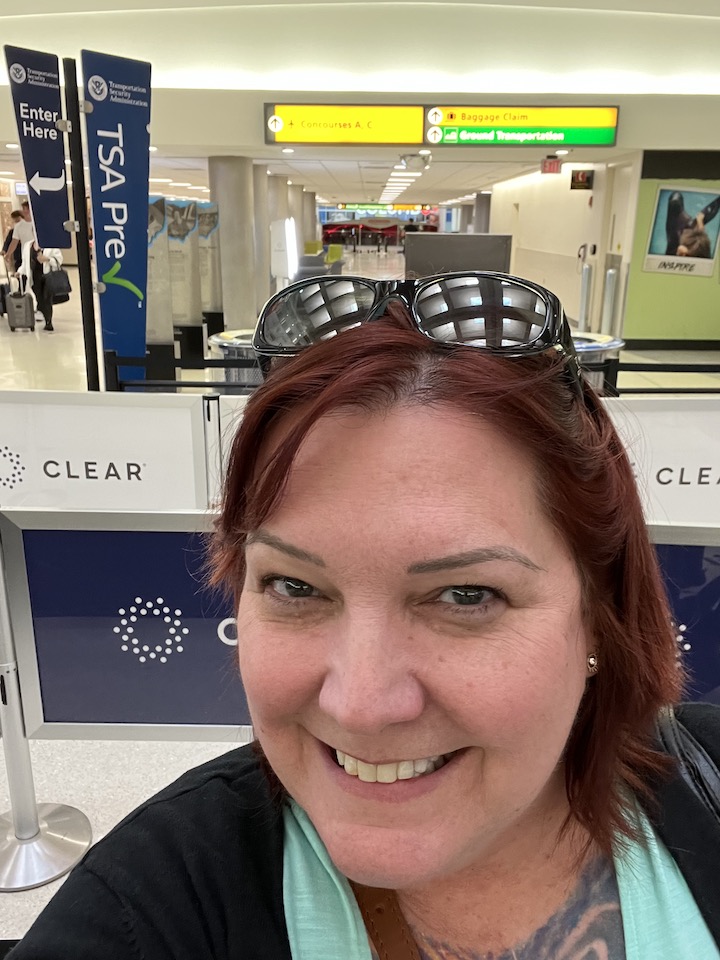 My bro is awesome – we've already established that.

His wife, my SIL, is also awesome, as evidenced by the killer food and booze tour she orchestrated to celebrate his 50th with close friends.

But the most awesome part of all of this, from my personal perspective? My SIL invited me to fly out to LA and be the "guest of honor" to surprise my brother and make his 50th birthday celebration truly one to remember.

I was immensely flattered, honored and happy to be invited. First of all, I was thrilled that she thought my being there would make his day.
Second of all, it sounded like she was planning an incredible party. I was so excited to FINALLY get to have one of these booze-laden experiences that I've heard so many people rave about.

As a non-drinker, getting in a party van to day-drink and cruise around to a bunch of different bars and restaurants simply isn't in my repertoire. I've known people who do it, and I've heard fun stories. But now I would actually get to do it for the first time ever – with my bro and SIL and all their friends, no less – and that's pretty darn cool.
I also got to fly to Cali by myself again, as I did for the first time back in January. It's so much fun going on solo travel adventures! I can't believe I got to do it twice in one year. I adore my little family here in Ohio, and I also really enjoy going off by myself into the great, wide world to have adventures by myself. Doing big things alone is super empowering when your everyday life involves being a wife and mom.
Back to my brother and his big surprise. I wanted to keep up our annual birthday meal delivery tradition, both because we love it and so he wouldn't suspect that I was coming to see him. I arranged the food details well in advance.
I was a little anxious that my bro would text me his thanks when the pizza arrived, and I wouldn't be able to respond because I'd be on the flight. NOTE: this is actually how he ended up figuring out that I was en route to surprise him!
I flew to LA on Spirit, which normally is not my favorite airline, but it all worked out just fine. Spirit actually has direct flights now between LAX and Columbus, which is huge – and they have great prices. The only catch is that I couldn't bring any bags with me.
You see, on Spirit, it's $60 each way to check a bag and up to $100 each way to bring a carry-on bag. That is insane and would have doubled the cost of my trip! Instead, I opted to Fed Ex myself a box of clothes for about $25 each way. Smart, right?
I landed in LA on that Friday night and took an Uber to my parents' house. My box of clothes had already arrived. I hugged my mom, then pretty much headed straight to bed. The goal for such a short visit to the West coast is to stay on Eastern time, which I accomplish by going to bed early and getting up early.
Saturday morning, I woke up, got ready and my parents took me over to my bro's house. I know his usual routine is to sleep in on the weekends, but on this particular Saturday, my SIL told him he had to get up for brunch. Little did he know that all his friends – and his wacky sister – would soon be arriving on his doorstep for the ultimate surprise 50th birthday celebration!
Here's where things get crazy. When I walked in their door and my brother saw me, he grinned and yelled "Aha! I knew it!" I WAS SHOCKED. How could he possibly have guessed I was coming to surprise him?
We had just seen each other a few months ago in Kauai. Normally, we see each other only about once a year – or even less than that during Covid times. So there was NO reason for him to suspect that I might fly out to surprise him.
Want to know what gave me away? It was the green texts from my darn iPhone. You see, I was right that both he and my SIL had texted me during my flight to thank me for the yummy pizza feast for his birthday. When I landed in LA, the first thing I did was turn on my phone, see those texts and immediately respond. THAT WAS MY MISTAKE!
My messages came through to him in green because I wasn't on wifi. Typically, messages between iPhones come through in blue as iMessages. A message that comes through in green means that either the person doesn't have an iPhone or that the sender is not on wifi.
My bro knows that my iPhone is usually on wifi, so when he saw my green messages he thought, "hmmm, I wonder if she's traveling or something?" That was the clue that tipped him off! He even texted me back "wow, so much green" but I didn't know what he meant at the time so I didn't respond.
Lesson learned: if you're traveling to surprise someone and they have an iPhone, don't message them unless you're on wifi. Those darn green messages will give you away every time!
Now, go read my post about our amazing downtown LA food tour of Little Tokyo with SixTaste, because it was utterly legendary.