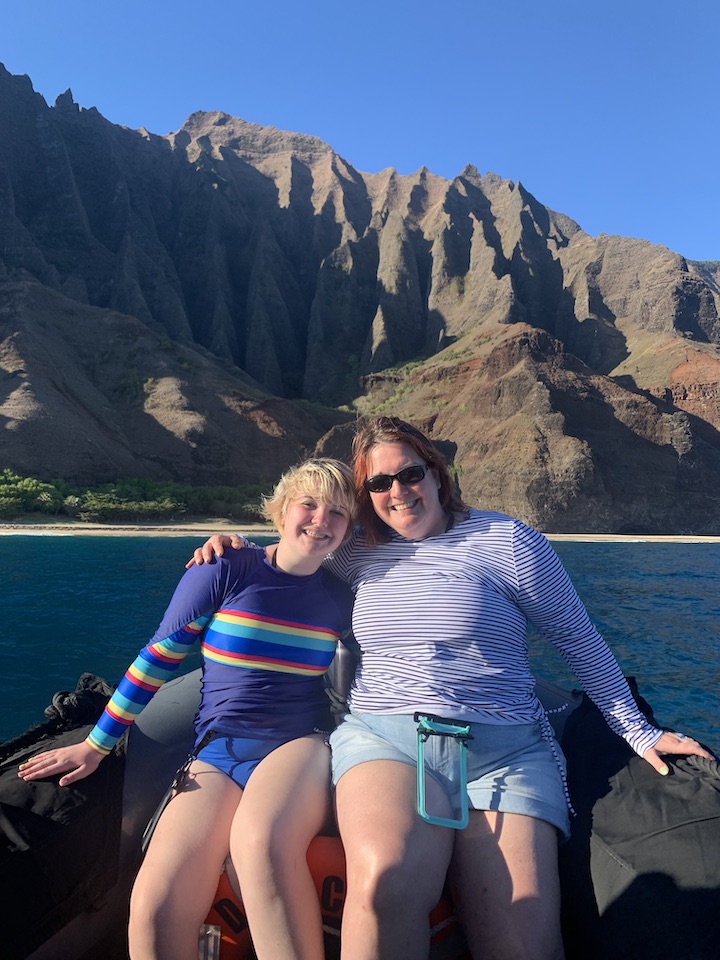 When you imagine your perfect, ideal vacation, what do you think of?
If you say beaches, snorkeling, palm trees and infinity pools, then we're on the same page.
When I tell you that the Hawaiian island of Kauai was the absolute perfect vacation spot for our family, that's exactly what I mean.
We snorkeled with sea turtles and tropical fish, sunned beneath palm trees overlooking the ocean and spent time in the pool every day.
We also went on hikes, drives and boat rides to experience incredible sights like lava rock formations, ocean blowholes, sea caves, waterfalls, pods of wild dolphins and so much more.
In many ways, Kauai is my favorite vacation destination that we've ever been to. As with our beloved island of Maui, however, I have to take off points because Hawaii is SO very far away for us.
From where we live in Ohio, getting there takes about 12 hours of air travel (and often more than that depending on connections, delays, etc). That's why I'm so happy and grateful that we got to spend two weeks in Kauai to make all that travel time pay off!
I've never taken a two-week vacation before. Even for our weddingmoon in the Turks & Caicos islands, it was just 10 days. That has always felt like plenty – but I have to say, I am now a fan of longer stays. Two weeks in Kauai truly made it feel like our island home. It feels like we know the island inside and out, and I love that.
Two weeks meant we had enough time to do our favorite things more than once – and, in some cases, as often as five times! It also meant we had time to find creative things to do like experience the Kauai Humane Society's wonderful field trips for shelter dogs program.
Here are the top ten highlights of our two weeks in Kauai staying at my parents' timeshare, which they generously let my brother and I use this year. I'll dive into more detail on many of these highlights in future posts!
1. The views – Kauai is known as the Garden Isle and I loved the green mountains and valleys as much as the exquisite beaches and ocean views.
2. The pool – Always uncrowded and the perfect temperature, it overlooked both the ocean and mountains. Does it get any better?!
3. Snorkeling – Some of the best we've ever done.
4. Gorgeous beaches – Whether your pleasure is white sand, black sand, coral, shells or sea glass, Kauai beaches deliver.
5. Great food – We really only did two fancy-ish sit-down meals. The rest of our meals were from food trucks or casual places, and the food was great!
6. Family time – Loved bonding with my bro, SIL and nieces in such a beautiful place.
7. The Grand Canyon of the Pacific – naturally, Waimea canyon deserves its own blog post.
8. Adorable little towns – We just loved Kauai's little towns like Hanalei and Hanapepe.
9. Our field trip with Pono from Kauai Humane Society.
10. Wildlife encounters – especially with the chickens that are literally everywhere on the island.
I'll have much more Kauai content coming soon. Wait til you hear about the last couple of days of our trip – they were a real heartstopper!
Have you ever visited the Hawaiian islands, and did you have a favorite? I have to say Kauai is in the lead for me now after spending so much time there.