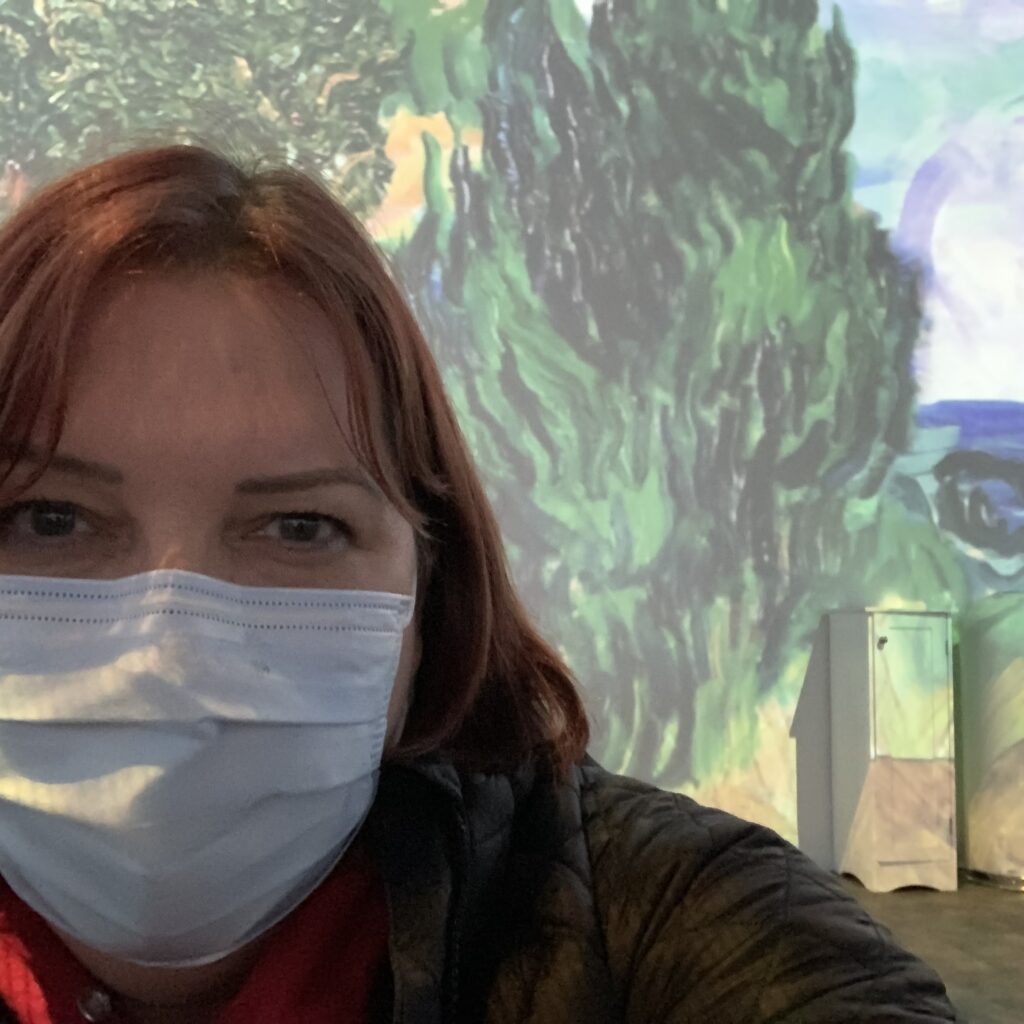 When was the last time you felt creatively inspired?
I love a blank notebook, a new planner, an empty scrapbook and a blank canvas, all ready to be made beautiful.
I also love to watch a truly great theatrical performance, listen to beautiful music and walk through a world-class art museum.
But you know what has inspired me most in the past couple of months? Our visit to the Immersive Van Gogh experience.
I thought I had a pretty good appreciation for Vincent Van Gogh's artwork and story before going to the immersive experience.
Now, I feel that I have not just seen his art, but have actually lived in it for a precious short while. I have a much better understanding and appreciation for the artist and his work.
Sitting on the floor in a large, darkened room watching 360 degree projections of artwork while listening to beautifully curated music may not seem like a transformational experience, but for me, it was.
I felt inspired, transported and elevated by the entire experience. The music is gorgeous and so tastefully synced to the video projections.
The visuals never stop moving and changing, sweeping and swirling across the ceiling, walls, floor and even the viewers ourselves almost like magic.
There is no beginning or end – you simply enter the room during the presentation and stay until the point where you came in. Honestly, I could have easily sat through the entire thing twice.
Alas, my 11 year old companion was not as wowed as I was by the immersive experience. I longed to stay for the entire presentation – or even longer – but Xage insisted upon leaving early, saying they were bored and tired of sitting on the floor.
I was frustrated and annoyed by this, as I felt it was unfair of the kiddo to ruin my special evening just because they didn't feel like sitting there. Still, I ended up walking out soon after they did because I did not feel right leaving them to their own devices while I stayed inside.
Then again, the gift shop is magnificent if you're into Van Gogh and features everything you can possibly imagine with his artwork on it. I'm sure Xage would have been fine exploring the gift shop for a while!
We also enjoyed walking around the building to see the displays and educational information about Van Gogh and his art. How incredibly sad that he became famous and successful only after his death – and that he suffered from severe depression and ultimately died by suicide.
Why is there such a link between genius and madness, or between brilliance and mental illness? I wish we knew. I'm just glad that Van Gogh's work has been made so accessible – and exquisitely visual – for us all to see and appreciate now.
Maybe we can all learn from Van Gogh to be more kind, understanding and appreciative of the artists who are alive and right here among us – and who may also be possibly struggling with their own mental health.
Did you go to the Van Gogh immersive experience too, and if so what was your take on it? I'd love to hear your thoughts in the comments below or over on Instagram or Facebook.