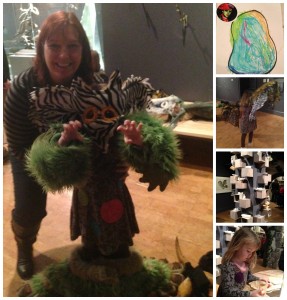 As you may have noticed by now, if you've been reading this blog for any length of time, I'm a what you might call a bit of a raver.  I'm prone to superlatives… I'm a gusher. I am full of love and enthusiasm and passion, and it splurts out in my writing. It explodes out in my conversations. It splooshes out in my parenting.
Being this incredibly positive is a good thing, 99% of the time, most would agree. Except that when I REALLY want to rave about something – when I want to give something 5 stars, two or more thumbs up, and my absolute highest accolades – well, I just feel like I'm falling short.
I rave so much and so often that when it's time to REALLY rave, I've got nowhere left to go. I find myself not being able to truly do justice to whatever it is I want to gush about.
That's how I feel, right now, trying to find words with which to describe the awesomeness that is my newest, shiniest found treasure in downtown Columbus, the impossibly spectacular Wonder Room inside the ridiculously cool Center for Creativity at the unbelievably incredible Columbus Museum of Art. All of which, might I add, is 100% free on Sundays (including parking). The mind positively boggles.
During our visit on Sunday, Zoe got to dress up and dance around in crazy, fantastic monster costumes. She got to draw, build and create. She got to explore, climb, hide, play and crawl. We found hidden discoveries, magical rooms and tiny works of art. We talked to a teen intern dressed as a forest fairy, and hid from another teen intern dressed as a gorilla in a scary black and silver mask.
They say pictures are worth 1,000 words, but alas my low-light iPhoneography does not quite do the Wonder Room justice. They also say actions speak louder than words, so here are some actions our family has taken since discovering the Columbus Art Museum's Wonder Room on Sunday:
Zoe cried – she literally broke down and cried – when the Wonder Room closed for a 15-minute break so the staff could tidy up, re-set or re-stock supplies, and generally give the area a bit of a break. May I remind you this is a room within an art museum, and that we had clearly stated that she could go back in and play some more after the  break. Nonetheless, Zoe melted down in heartbroken tears that she had to leave this fabulous place for even a short while. THAT is how awesome the Wonder Room is. It's like all the fun and high energy of COSI distilled down into one exquisitely designed space meant to inspire creativity, curiosity, imagination, experimentation and storytelling. And boy, does it ever.
We went home that night and broke out our modeling clay (please don't tell me you're still using Play-Doh – that's so last year. We use modeling clay now and find it much more conducive to awesome sculpting!). Zoe and I then proceeded to create the most spectacular sculptures we've ever invented. We sculpted our little hearts out – pigs, roses, peas in a pod and more. We were so inspired by the Wonder Room, and by the art museum in general, that we found our inner sculptors and let them out to play. I really wish I had pictures of our creations but we were so artistically moved that I even forgot to reach for my phone to take a photo! Whoa. That doesn't happen every day – in fact, I wish it would.
After sculpting, Zoe wanted to paint. This is not all that unusual, because she loves to do art. But something was unleashed on Sunday in the Wonder Room – something big! Zoe painted not just on paper, she also painted sun catchers. She painted all four of her dinosaur sun catchers – beautifully, might I add – and then she wanted to paint some more! She was all fired up about color, rainbows, birds and birds nests – which were many of the themes explored at the museum, in the Center for Creativity and within the Wonder Room itself. We even ran her bath that night with a Lush bath bomb so she could continue her colorful adventures by soaking in starry, violet-hued waters with lilac sparkly bubbles. What can I say, that's how we roll. We're fancy – and a visit to the Wonder Room will make you want to get fancy, too.
It wasn't just Zoe and I who felt the magic that Sunday. E was so inspired by the amazing, loft-like, birds nest area within the Wonder Room that he has literally been sending me design plans all day and talking about building something similar in our own basement. Walking out, we ran into a Columbus Art Museum docent who shared that her teenage sons love to hide away in that Wonder Room treetop loft area with their Kindles for a good read. What a cool space, when it can be loved and used not just by rambunctious preschoolers but also by teen bibliophiles. No wonder my hubby was inspired to build and create something like that in our own house. I can't wait to see what he comes up with!
Even while researching and thinking up this blog post, I continued to find myself daydreaming back to some of the wonders and curiosities we found, saw and explored in the Wonder Room. I even wondered about the origins of the name, so I did some googling and turns out that's a wonder in itself. Before there were museums, there were "cabinets of curiosities" – Renaissance rooms full of objects of art and nature. These were also known in German as Kunstkammer (art rooms) or Wunderkammer (wonder rooms). And that's exactly what the Wonder Room at CAM is like – a room full of natural treasures, objects of art, and experiences that fill you with wonder. I simply can't wait to go back and explore some more.
I remember asking a friend recently if she wanted to meet up at the Columbus Art Museum one Sunday, and she said "oh thanks, but no – the girls said that doesn't sound like much fun." I can honestly say to those girls, and to anyone else who has not visited CAM yet, that it IS fun. There's so much to do and see on the first floor, in the Center of Creativity, that we didn't even get to the second floor where the "untouchable" artwork is – and I hope to, next time we go!
Seriously, family-friendly Columbus, the Wonder Room is a gem beyond all imagining. Go there soon on a Sunday to enjoy the free admission, and then get yourself a membership so you can go anytime you like, without it being so crowded! That's exactly what we plan to do now.
What do you think – have you experienced the wonder that is the Wonder Room? What did you think? And if you haven't gone yet, are you likely to go now? As always, I'd love to hear your thoughts in the comments below.