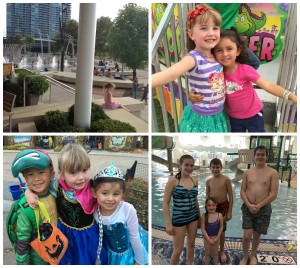 Last year I created a family fun list for 2014 with my most-recommended kid-friendly activities in Columbus for every month of the year. Now, I'm doing it again and trying hard not to have any repeat activities. Without further ado, here are the most awesome kid-friendly activities in central Ohio so you can plan your family fun bucket lists for 2015!
And be sure to visit last year's list because all of those family fun recommendations are still just as awesome.
January – Go swimming indoors at Westerville Community Center's Watering Hole or the Worthington pool – or visit one of the many local, hotel-based water parks. There's just something really fun about swimming in a heated indoor pool while watching it snow outside the windows. It makes you feel like you're living in a tropical-themed snow globe! We're so lucky to have many reasonably priced local options for swimming in the winter. There's also the new Goldfish Swim School in Dublin – and we haven't tried the hotel-based water parks in and near Columbus but I'm thinking this may be the year we venture out to explore them. Swimming in January is definitely a must-do for us.
February – While winter chills on outside, warm up your senses with a visit to the Columbus Art Museum – especially their wonderful Wonder Room for kids of all ages. It's a dark, mysterious space that will kindle creativity and artistry in your little ones, and in you as well! I can't say enough good things about this central Ohio treasure – and best of all, admission is completely free on Sundays. What are you waiting for?
March – Before the cold weather is finally over, pick a sunny day soon after a snowfall and visit Lewis Center's gorgeous Shale Hollow Preserve. Bonus points if the creek is frozen! It's not deep enough to be a problem, so you could even venture out onto the ice if you have some good high boots on. We haven't visited the creek in winter time yet, but I'm looking forward to it this winter. I have no doubt it will be spectacularly beautiful with a coat of crisp white snow and sparkling ice.
April – With all our relatives out of state, we sometimes find ourselves without familial obligations on holidays, and this past Easter that was the case. It was a beautiful day, so we headed for the first time to the Eggs Paws and Claws event at our beloved Columbus Zoo & Aquarium. It was an absolute blast! The zoo wasn't crowded at all, there were tons of character meet and greet opportunities, and a few of the rides were open (the carousel and train). Easter egg hunts can be a mixed bag with little ones, as I've blogged about before – so if you want to ensure a good time for Easter, opt for this zoo event instead. You won't be sorry!
May – Ever since 2010, May has ceased being just my birthday month and instead has become my Mother's Day month. E and Z both do a great job spoiling me for Mother's Day and it's such a special month overall. In 2014, one of our May highlights was the very special mother/daughter tea at Everal Barn in Westerville. You can read all about the mother/daughter tea here. But a close second recommendation is to take your littles down to Franklin Park Conservatory to enjoy the spectacular, unprecedented spring blooms resulting from them having planted 70,000 tulips and other gorgeous flowers this past fall. I personally cannot wait to see all the gorgeous colors spring will bring to the Conservatory's grounds in 2015!
June –  And speaking of flowers and gardens, this June I hope your family will enjoy a morning walk through the beautiful Inniswood Metro Park in Westerville. As I've written about before, this place is fantastic with many hidden treasures such as waterfalls, secret gardens and a pirate's playhouse tucked away in the woods. Spring and early summer are a wonderful time to explore the many walkways, gardens and hidden nooks at Inniswood. Maybe we'll see you there.
July –  When summer starts to heat up – but perhaps not quite hot enough yet for a day at the pool – take an afternoon to enjoy the nationally acclaimed Scioto Mile fountains downtown, followed by a lovely meal at the Milestone 229 restaurant overlooking the fountains. The Scioto Mile fountain is our favorite splash pad in Columbus for a reason, and well worth the drive to – and parking hassles in – downtown Columbus. The fountain is just a quick walk from to the summer fun of Columbus Commons, too – including Mikey's Late Night Slice pizza, Jeni's ice cream and of course the treasured carousel!
August – When the dog days of summer hit, head to a cool spot. My top recommendation: caving in Delaware at Olentangy Indian Caverns. Once underground, you'll feel cool and adventurous as you explore the nooks and crannies of the ancient caves. Once back aboveground, there are also gem mining, trails to walk and mini golf here – fun for the whole family. My second runner-up activity for August is the oh-so-tasty Columbus Food Truck Fest downtown, August 15-17, 2015. The 2014 event was too delicious to be believed – and extremely kid-friendly, too!
September – Delaware's All-Horse Parade is always mid-September, taking place the Sunday afternoon before the Delaware County Fair opens. We had a blast at the horse parade this year in downtown Delaware – Zoe loved seeing horses ranging from tiny miniatures to gigantic draft horses. Also, the county fair itself is a smashing good time for the whole family – all the animals, rides and fair food of the big state fair, but without the crowds and somewhat undesirable elements (you know what I'm talking about. The people who wear t-shirts you do NOT want your kids reading!). If you've longed for a slightly less crowded and more manageable version of the Ohio State Fair, I highly recommend the charming, clean and family-friendly Delaware County Fair.
October – Is there anything better than Halloween – the entire month of October is just a grand lead-in to this most wonderful of days. If you're like me, I'm always looking for Halloween parties and events throughout the month in order to have more excuses to dress up, wear the costume(s) and justify its (their) price! This year we went with friends to the zoo's Boo at the Zoo event and had a great time. Just don't promise littles a lot of candy or trick or treating, as there won't be much – it seems to have decreased in recent years and I'm fine with that. The evening is more about being out with friends, running around after dark like little hoodlums in a safe space, and maybe hitting a few rides or seeing some animals. Pro tip: ditch the trick or treat bags (there's not enough candy given out to warrant needing them) and bring glow sticks and necklaces along instead.
November – I've blogged before about fun family activities in November, and those all still hold true. This year, after enjoying a lovely Thanksgiving with your family, I recommend hightailing it to Easton Town Center to visit the one, the only – Santa Claus himself. Seriously, ask anyone – the Easton Santa is clearly superior to all other Santas and, according to my daughter, is probably the one, true, real Santa. You can even take your own photo instead of paying for theirs! While at Easton, there are other fun holiday activities including shopping, donating to the Salvation Army bell-ringers and even hopping in a horse-drawn carriage for a quick ride. Also, check out my holidays in Westerville post for some other awesome holiday-themed activities we enjoyed in November of this year.
December – I can think of no better way to end another fantastic year than at central Ohio's much-lauded, family-friendly First Night Columbus. For just $9 per person pre-sale ($10 at the door), you get full access to COSI for the evening, plus a bunch of other fun family-friendly activities and events over at Vets Memorial across the street. New Year's Eve 2014 was our first year at First Night and we absolutely loved it – especially a nice night out when you have a mixed-ages group with both older kids and little ones.
It was hard to pick our favorite family fun activities of 2014 – but I did my best with this list. What about you – what were your family's favorite things to do over the past year? Do you have anything to add to this list? And what are you planning to do in 2015 that you haven't done before as a family? As always, I'd love to hear in the comments below or on Facebook.