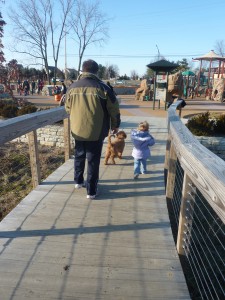 We're having such an odd, unseasonably mild Ohio winter. This time last year, I blogged about indoor play spaces for winter fun. But instead of our usual gray days and sub-zero temperatures, lately we've been treated to mild weather and sunshine. And I'm not complaining! In fact, we know just where to go on these balmy days.
In today's Friday Favorites, here are our family's favorite outdoor go-to spots in northeast Columbus. (Side note: I didn't know whether to call these parks or playgrounds – have you ever noticed that "park" can mean so many different things? If I mean playground, I'll say playground at least once in the description. Otherwise, I mean park.)
Millstone Creek Park, Westerville
This is our absolute first choice on sunny days, even though we pass several other parks on our way here. The playground at Millstone Creek Park is amazing. It has absolutely everything – swings, slides, a nature trail, pond with ducks, sand and water play area, musical toys (multiple large xylophones) and the NEOS360, a cool interactive electronic game with music and flashing lights. It's also super-accessible. In short, it's perfect and has something for everyone in the family. Millstone is well worth a drive from anywhere in Columbus; check out this video tour if you're not yet convinced. Note: Millstone Creek Park is dog-friendly.
Inniswood Metro Gardens, Westerville
We love Inniswood for the beauty of its botanical gardens, the allure of nature and fun hidden playground elements. This Metro Park is great in all seasons, but especially fun in spring and fall. Here you will find cascading waterfalls, a water play table, a pond with frogs and turtles, a stream with stepping stones to cross, a magical secret garden, a tree house and rope bridges, a story garden, a nature trail in the woods, and so much more. We seem to find awesome new things to do and see at this park every time we come. There are no dogs allowed at Inniswood although connected to it is Chipmunk Chatter Trail, a short but pretty trail that is dog-friendly and a great place to walk with the whole family. It's a good place for bird watching as well.
Astronaut Grove Park, Westerville
Here's a real hidden gem for parents. Astronaut Grove Park is a nice memorial site to those who have lost their lives in space endeavors. It's in a lovely spot along a river, and it's a scenic place to visit once – but the real find here is the killer playground across the street. I haven't been able to figure out its name but you can't miss it once you've parked at Astronaut Grove Park. Just cross the street and head down the hill to a playground with the best selection of slides for miles around (toddler versions, bigger kid versions – and the biggest one of all, which made me super nervous when Zoe insisted on going up and down it at the tender age of not quite 18 months!). There's also a neat outdoor amphitheatre (possibly part of nearby Otterbein U?) adjacent to this park, which could be fun to explore once the novelty of the playground wears off (so far we haven't made it over there, that's how good the park is). We've seen many people walking dogs on the trails here, as well.
Creekside Park and Plaza, Gahanna
Another often-overlooked natural space that is great for kids is Creekside Gahanna. Adjacent to the Creekside retail development (which houses a few restaurants and shops, including kid-approved Cold Stone Creamery) are fountains, waterfalls, a creek and even paddleboats you can rent on nice days. There are trails to walk and it's also dog-friendly. In fact, Gahanna hosts a "Paws in the Plaza" event on the first Thursday of each month, April through November, for pets and people to mingle and enjoy this outdoor area. Sounds like fun for the whole family – we will definitely be checking it out this spring.
Hoover Dam, Westerville
Hoover reservoir is a gorgeous body of water and one I'm glad we live near – and the Hoover dam itself is awesome. Think waterfront views, good fishing, great wildlife viewing – raccoons, Great Blue herons and swallows galore – and killer stairs to run up and down (how do you think I spent the last couple of weeks of Zoe's pregnancy. Well okay, I wasn't running the stairs, I was walking them). Then there's the park at Hoover Reservoir, which also rocks – it has a Frisbee golf course, nature trails, wide open meadows and is very dog-friendly. There's a small playground on the Sunbury Road side of the dam (as opposed to the Central College side), and there are always plenty of ducks and geese and other waterfowl to ogle (though there are signs asking you not to feed them). It's a gorgeous spot that really gets interesting (and loud) when the waters are high and the dam is raging.
Hoover Mudflats, Galena
The Galena Mudflats are so cool, they got their own blog post. You'll see why! This is also a dog-friendly venue.
So that's it – our favorite handful of places to go when the sun shines, whatever the season. What are your favorite parks, playground or nature spots in central Ohio?