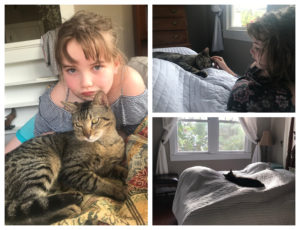 On our recent spring break trip to Florida, we stayed at a marvelous little airBnB in Sanford that we absolutely adore.
We've stayed there before, but this time we were in a different apartment that was even nicer than the one we loved last time.
And best of all? This time, our apartment came with a free vacation cat!
We arrived at Park Place Inn & Cottages on a Saturday afternoon after the long drive from Lewis Center, Ohio. We were ready to rest and relax. As we were walking up the steps to our apartment, a friendly tabby cat ran up and joined us. He acted like he owned the place, walking right into the apartment once we got the door open. Then, he lay down on the floor and looked up at us purring as if to say "welcome home!"
We are all cat lovers, so we were delighted. We petted and scritched him as we unpacked and explored the apartment. The kitty didn't explore with us – he just lay there in a central spot where he could watch us. He was happy to get as many pets and head scratches as he could. We put a bowl of water down and he immediately got up and drank a bunch of water – like he'd been really thirsty.
We texted the proprietor and asked about the cat, and he said it's a stray they nicknamed "Ramsey" and just had neutered. At bedtime, we walked Ramsey out and he led us right over to his food bowl, which still had some dry cat food in it. Obviously, this guy was well cared for. We told him we'd see him later, and retired for the night.
But just a few minutes later, my beloved hubby was getting a drink in the kitchen when he heard meowing at the window. Sure enough, outside our second floor window was the cat – and he was meowing and pawing at the glass to get in! E asked me what he should do, and I giggled from the bedroom and said, "Let him in, of course!" never dreaming that he'd actually do it.
Well, E opened the window – which remained open for most of the rest of our stay – and Ramsey came in, plopped down on the couch and resumed purring. He clearly wanted to be with us! For the rest of the trip, we renamed him Ramses (it seemed more regal and noble – plus "Ramsey" is a nasty character on Game of Thrones) and he became our constant companion anytime we were at the apartment.
We would wake up in the morning and let him out to do his business or eat his food. Often, he'd be back up at the second-story window asking to be let in within minutes. Then, we'd hang out with him until we left the place, at which point he'd either walk out with us or we'd leave him napping in the apartment with the window open for easy exit.
Then, each night when we'd return home to the apartment, Ramses would greet us with purrs and head butts, obviously overjoyed to have us home. For an outside cat, he sure seemed to want to be inside a home with loving people. We'd spend the evenings with him and he would curl up at the foot of our bed for bedtime each night, staying there throughout the night!
It was so wonderful having a vacation cat – but it was also somewhat bittersweet because we knew we'd soon have to say goodbye. We love cats but due to many family members with allergies, we've opted not to have one in our home at this time. We fostered kittens a few years ago and loved it. Ramses definitely rekindled our desire to be around cats – there's just something so unique, beautiful and elegant about a fabulous feline.
Ramses was a special, sweet and loving boy – we all really fell in love with him. Z and I begged E to let us take him home, and I was ready to ask the Inn's owner if he'd mind, but we ultimately decided against it because of the long drive between Florida and Lewis Center. The last thing we'd ever want is to uproot Ramses from his familiar, comfortable home base and have him potentially freak out mid-drive and run away in a strange place! It was safer to leave him at the AirBnB where we know he's well cared for, even if he doesn't get to be an inside cat.
Both Z and I cried during our long drive home, thinking about Ramses and how much we'd miss him – and fearing that he'd miss us terribly, too. I texted the Inn owner about how much we'd fallen for the cat, and he instantly texted me a few photos of Ramses looking perfectly content. I'm confident he's in a good place with people who care about him – and hopefully they'll decide to take him in since Ramses obviously loves being an inside boy.
And here on the home front, I'm happy to report that E has agreed to let Z and I foster a kitten or cat again! I've already contacted the Humane Society of Delaware County to let them know we're available whenever they need us to take in a kitty. Fingers crossed that we'll get one as sweet and loving as our beloved Florida vacation cat, Ramses.
Have you fostered kittens or cats – or been "adopted" by a vacation cat like we were? I'd love to hear your stories in the comments below or over on Facebook!