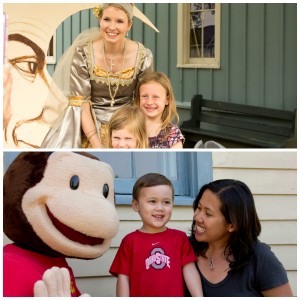 On Saturday, June 18, you and your child can wander around a magical Storybook Village and interact with beloved characters from popular kids' books and TV shows.
For this one-day event, Ohio Village at the Ohio History Center transforms into Storybook Village to promote early childhood literacy. If, like me, you've not visited Ohio Village before, it's a "living history museum" — a life-size replica of a small Ohio town in the 1890s, complete with streets, buildings, actors in period garb and a vintage baseball team.
For Storybook Village, inhabitants include popular kids' book heroes and television stars. From the website:
Meet Curious George, The Berenstain Bears, The Cat in the Hat and, making their Storybook Village debut, Elephant and Piggy. 

You can roam the village and help Cinderella prepare for the ball, talk to Rapunzel about her long flowing hair or meet Prince Charming as he searches for his one true love.

Also get the chance to meet your favorite PBS characters like Super Why, Daniel Tiger and Peg+Cat.
I feel like age six is still well within the sweet spot of loving to meet, interact and take pictures with costumed characters, so this looks like a fun day for our little fam!
When: Saturday, June 18 from 10 am to 5 pm
Where: Ohio Village at the Ohio History Center, 800 E. 17th Ave., Columbus, OH 43211
Cost: $10 for adults, $9 for seniors, $5 for kids 7-12. FREE for kids 6 and under and for Ohio History Connection members. Admission includes full access to the Ohio History Center exhibits as well.
What do you think – interested in winning free tickets to this unique family event? Share this post on Facebook and leave me a comment below to let me know who your kids would most like to meet at Storybook Village. Maybe we'll see you there next Saturday!