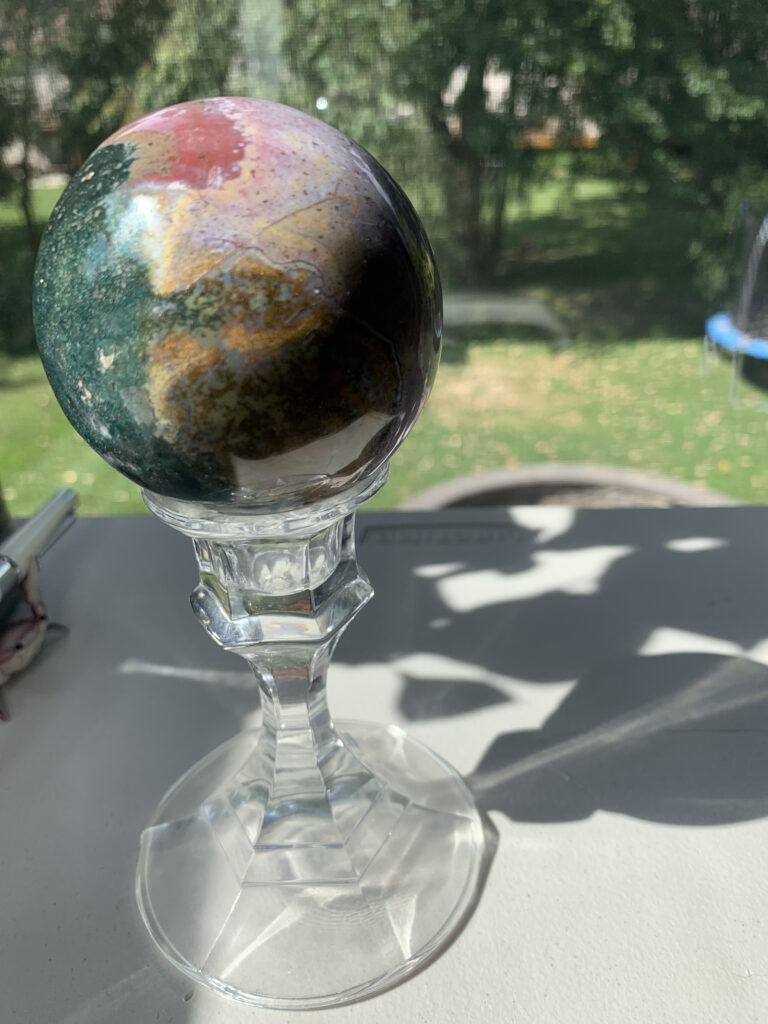 Xage and I recently had the opportunity to take a Crystals 101 class over Zoom with one of my close friends from high school.
Although I haven't seen her in many years, Amy and I have kept touch via Facebook.
I cheered for her a few years ago when Amy quit her job as a special ed teacher to practice reiki and pursue holistic health and spirituality.
She became a certified crystal healer in December 2019. Amy then opened her own healing crystal shop, The Crystal Butterfly Boutique, right in the heart of the Covid shutdown.
I can relate, having opened my own dream business during the pandemic!
Although Xage and I have been collecting healing crystals and rocks all year and have amassed quite a collection between us, this is the first opportunity we've had to take a class on this fascinating topic.
I was so pleased Amy made her class available to us via Zoom. She did an amazing job! I only wish we could have been there in person to hold the crystals and benefit from all the great energy in the room.
Below are our key learnings from Amy's class as well as from other reading and learning that we've been doing about crystals.
Healing crystals and rocks come from the earth and it is believed that they harness a portion of the earth's energy
Crystals and rocks can heal and positively impact our own energy and our lives
Certain crystals can help balance energy in our various chakra points by helping us to open up wherever we are blocked.
We must be clear and pure in our intentions when working with crystals because they really can help us to manifest our desires
You can choose crystals based on their known healing properties or based on how they look and feel to you; both are valid
It is often said that we don't choose the crystals, the crystals choose us. It's a very intuitive process – just follow your gut and see which crystal(s) call or appeal to you
You can wear crystals in jewelry; hold them in your hands; keep them in your pocket or purse; place them around your desk, bathtub or bed; decorate your home with them; meditate with them; and use them as you set purposeful intentions for your life
Crystals make great gifts! It's so fun to share this hobby with others by giving someone their very first healing crystal and a card defining its meaning and properties
A peek at my personal collection
I keep my crystals placed strategically all around me in my home office. I have some on my desk, a bunch on a shelf and many on my windowsill, where the sun can shine through and illuminate them.
They look so beautiful that way – I especially loved seeing sunlight stream through my fluorite pieces – but that's also how I learned that some crystals and rocks shouldn't be kept in sunlight. They come from deep within the earth, after all. My fluorite collection is now safely tucked away in a shady, cool spot in my office so that it won't lose any of its vibrant colors.
I have never gathered all of my healing rocks and crystals together to take one group photo – for some reason, the idea does not appeal to me. Rather, I like taking pictures of small groupings or types together.
I don't remember my first crystal purchase. I've always loved collecting beautiful rocks and stones. I do remember purchasing tigereye and mixed gemstone necklaces on the streets in Jerusalem during my Israel trip back in the 1990s. Xage and I also brought home a bunch of rocks and crystals from our recent Arizona, California and Nevada spring break road trip. Crystals make wonderful souvenirs.
The kiddo and I have also loved spending time together this year visiting many of the finest rock and crystal shops in Columbus to add to our collection and seek out our next treasures.
Here are a few of my favorite, most special crystals and their properties. Sections in italics are taken from the web sites listed.
Rainbow (also known as green and purple) fluorite was the first crystal that truly called to me. Throughout the past year, I've found myself collecting it over and over again, drawn to the green and purple stripes in an almost irresistible way. I have one large fluorite tower, four small fluorite points or towers, a fluorite carved unicorn and a handful of fluorite tumbles and small raw pieces. Fluorite is considered to be one of the best gemstones for removing negative energy, stress, and vibrations. Wearing this stone is said to help you absorb and retain important information, improve mental abilities, and concentration.
Polychrome or desert jasper is another gorgeous stone I am always drawn to. I got my first one during our spring break road trip out west. It made sense to bring home some desert jasper from our amazing desert getaway! Polychrome jasper comes in desert hues of red, gold and browns and is associated with passion, fire, and movement. This stone works with you to ensure your physical vitality is always at its peak. Meditating with jasper helps channel your intentions into reality by stimulating your creativity and imagination. Polychrome jasper is also highly protective, capable of deflecting negative energies and clearing blocked energy channels. This jasper also specializes in grounding, providing balance and stability.
Botswana agate or banded agate is a fairly recent discovery for me. I saw it first at Rocks with Sass, one of our favorite crystal shops, but it wasn't until I held a piece that I truly fell in love. Botswana agate is a gorgeous, striped, solid stone in soft shades of grey, pink and taupe with exquisite white patterned stripes. I am working on my agate collection and would ultimately like to have a small bowl of Botswana and banded agate near me at all times. Earthly, rich, and gloriously grounding, the Botswana Agate is here to keep you standing firm and stable and ever on your feet. This stone is pure comfort and is known to cool the mind and keep you crystal clear in your approach to problem-solving.
Ocean jasper is another recent love interest of mine. I discovered a crystal seller online who specializes in only pastel crystals and stones; her Instagram is a sea of gorgeousness. I happened to catch a glimpse of a pastel ocean sphere for sale in her Stories, and the rest is history. I simply had to have it – pictured above. Ocean jasper alleviates stress and induces tranquility. Its cleansing effect eliminates negative energy and stabilizes the aura. It makes an ideal worry or rubbing stone for soothing the nerves and increasing one's focus, and is a wonderful stone for banishing nightmares or harmful thoughts.
Caribbean calcite is my most recent crystal purchase. I've had my eye on this stone for months but the prices are typically quite high as it is in short supply. To me, each piece of Caribbean calcite resembles a beautiful tropical sea and sandy shore. The piece I bought is absolutely exquisite and I feel so lucky to have it. In these times when we cannot travel to far-off lands, holding a gorgeous, beach-vibes crystal and manifesting future trips feels like the next best thing. Caribbean Calcite is a stone of spiritual awakening, transformation and emotional understanding. An ideal stone to use in meditation, Caribbean Calcite helps us access our inner vision and connect to our higher selves, to gain a sense of purpose, a true sense of self and begin a journey of ultimate self-discovery.
As you can see, I'm especially drawn to multi-colored stones from all over the world. It feels so amazing to hold an actual piece of Madagascar, Africa or Pakistan in my hands and feel the magical earth energy contained within.
Have you caught the healing crystals bug yet, and if so, what are your favorite stones? I'd love to talk crystals with you in the comments below or over on Facebook.