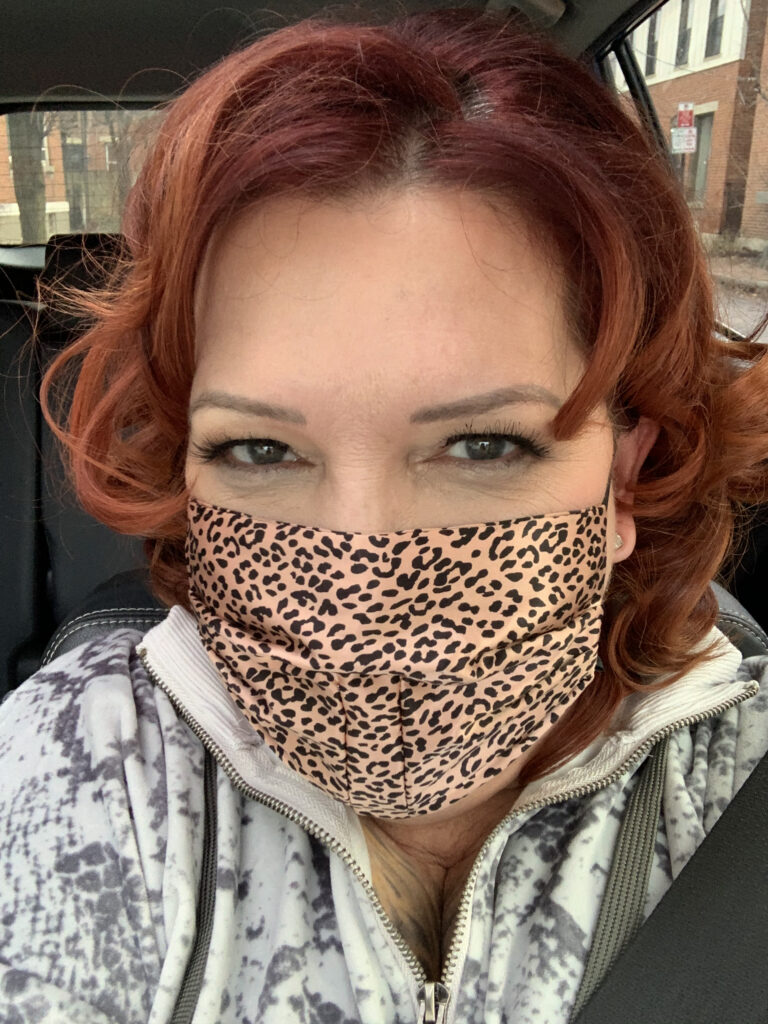 Have you ever dreamed of getting your hair and makeup professionally done, getting dolled up in Savage x Fenty lingerie and then experiencing the empowering fun of your very own boudoir photo session?
I have.
But if you had told 20- or even 30-something year-old me that I'd be booking professional boudoir photoshoots for myself at the age of 50, I don't know that I would have believed it.
I had some confidence, bravery and self-empowerment going on at 30-something, but certainly not what I've earned, collected and amassed in half a century.
Getting older is a beautiful and freeing thing, friends – don't let anyone tell you otherwise.
For years, I had a dream of getting down to my goal weight and doing a pro boudoir shoot. I'm talking lighting to die for, perfect setting, professional female photographer, artfully draped sheets and the tattoos looking their best.
It never seemed to happen in my 40s – I was too focused on being a mom. I just couldn't dream it into reality. Finally, last year I thought for sure I would make it happen just in time to celebrate my 50th birthday.
Instead, there was a global pandemic raging and most of the world was on lockdown. Rather than losing extra weight, I gained the COVID 19 and postponed the photoshoot for early 2021 thinking, "surely I'll have the weight off and we'll have this virus under control by then." Ha!
Well, I'm almost back to where I was this time last year, weight-wise. The other good news? I'm also a year older and braver, so I loved my All Things Boudoir experience and I know I'll love the resulting photos – regardless of what the scale happens to say.
For many weeks ahead of my shoot, I was planning outfits, booking hair and makeup appointments, ordering fun props and wardrobe necessities, getting waxed, eating healthy and trying to hydrate and moisturize even more than usual so my skin would glow. Hey, a girl can dream.
Before the shoot, ATB sent me tons of reminders and helpful tips, including a recommendation to stretch before my big day so I wouldn't be sore afterward. I didn't do this – and sure enough, my back was a bit stiff and sore last night from posing in heels and "popping my booty" for two hours! I feel fine today, though. Anyone who does yoga or other stretching regularly will probably do just fine.
The day of my shoot came and I felt like a true glamour queen getting my hair and makeup done. I was both nervous and excited as I packed up all my outfits and props, then headed down to a gorgeous little AirBnB in the German Village area of Columbus.
I needn't have worried. I loved every second of my shoot with photographer KT from All Things Boudoir. She was amazing and put me right at ease. She knew the house we were shooting in so well that once she saw my outfits, she instantly knew which one I should wear in each room, and where we'd get optimal lighting throughout the house. What a pro!
KT talked me through everything, made sure I felt comfortable throughout our time together and even showed me glimpses of the gorgeous shots she was getting. Every time she did that, I couldn't believe the magical images I was seeing were really me. I felt on top of the world – and that was even before the magic of photo editing!
I am dying to see my final shots next week at my reveal session. And yes, knowing me, I'm sure I'll share a few G or PG pics on Instagram.
Making the new year sizzle
Winter drags on in Ohio, so I always try to plan fun, new experiences to get me through the months of January and February. In 2019, hubby and I spent an unforgettable night downtown together at the Leveque Tower and got our romance on.
This time last year, I embarked on my energy work journey and was fortunate enough to experience Reiki, Reflexology, Access Bars and remote energy healing from the amazing Paula Jurko at Footprints to Wellness in Powell.
Clearly, my new, exciting and brave thing for 2021 was the professional boudoir shoot of my dreams. I'm so glad I actually went through with it! In the days leading up to the photoshoot, I was feeling very anxious and nervous. A voice in my head told me I was too old, too fat and too ordinary to be doing something like this. Thankfully, I didn't listen!
One thing that helped calm my pre-shoot jitters was being a member of the VIP Facebook group for past and future clients of All Things Boudoir. Reading other women's stories of the empowerment and self-confidence they gained from their shoots was so inspiring. It helped me to see that the women who work with ATB on boudoir shoots are all ages, sizes, races and from every background imaginable. And each one found her inner goddess during her shoot – just as I did this week!
Let's face it, we can all use a confidence or self-esteem boost now and then – especially, oh, I don't know… during a year-long global pandemic when literally everything in life is hyper-uncertain.
Do you have any audacious dreams or goals for when you hit your second half-century – and is a boudoir photo session on your bucket list? I'd love to hear your wishes and stories in the comments below or over on Facebook. And if you'd like to find out how you can snag a free ATB Self Love Ambassador photo shoot like the one I just did, here's your chance.