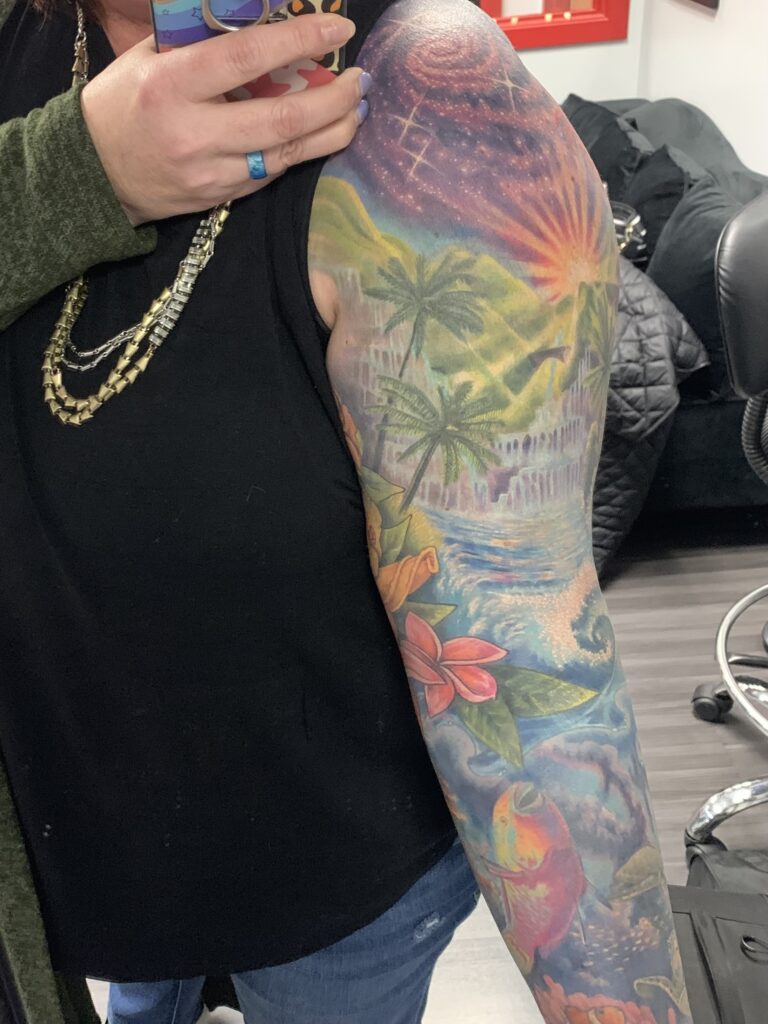 Have you ever worked on something for an entire year and then felt super conflicted when it was done?
That's where I am right now with my right arm tattoo sleeve. We started it in February 2021 and finished it at the end of January 2022.
It was a labor of love. We could have finished it faster, but I'm glad we didn't. Good things are worth waiting for.
Of course, I didn't do any of the actual work involved – my incredible artist, Fawn Baker, did.
But I still played my part in sitting for the tattoo, working hard to heal it well, etc. And it feels so odd that all our mutual effort has come to an end.
I have wanted a full sleeve tattoo for a very long time – probably about half my life. In some ways, I still can't believe I actually have one. But this gorgeous sleeve is really mine, and it's truly complete after monthly sittings for almost a year. I am so grateful!
Every morning when I get out of the shower and catch a glimpse of my reflection in the bathroom mirror, this tattoo takes my breath away. It feels like a dream come true.
My sleeve is pure magic; it's like so many tattoos in one. I have so many favorite pieces and parts within it. I am in love with the overall paradise dream theme, as well as with all of the different design elements, colors and characteristics that Fawn worked into the piece. I don't think I've ever been happier with a tattoo.
Most of my other tattoos were on relatively flat surfaces – like on my back, the flat part of my wrist, the top of my chest or across the front of my ribs. This is my first tattoo that is a 3D picture that fully wraps all the way around a body part. In that way, it's more dynamic and exciting than any of my other work.
An arm sleeve is always moving because our arms are always moving. I'm constantly catching a glimpse of first the front, then the side, now the back of the arm. And each of those panels of the tattoo has different images and colors on it.
My sleeve is also the most visible tattoo of all the ones I have. If I'm wearing anything but a long-sleeved shirt, at least part of this colorful arm is showing. And even if I wear long sleeves, this tattoo tends to poke out at the wrist as if it doesn't like being covered up.
I know that in a few weeks, once this last sitting has healed, I'm going to start missing Fawn and RedTree Tattoo. I'm going to want to get back in there, sit in Fawn's chair and watch her work some more colorful magic.
The past year of working on this sleeve, hanging out at RedTree and being on the Tattoo Collecting podcast with Fawn has fully immersed me back into tattoo culture. I had forgotten how much I missed it; now that I'm back, there's no way I can let too much time go by before we work on my next one.
I guess I'd better start thinking of ideas for my next tattoo!