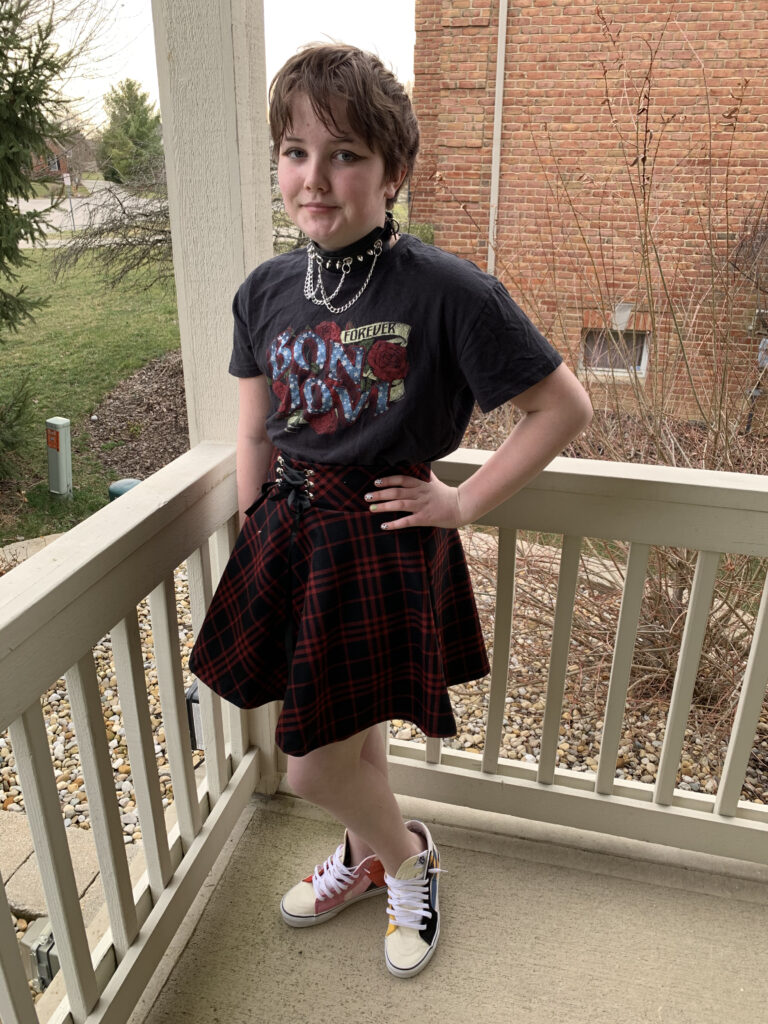 Z coming out as nonbinary has resulted in a lot of clothes shopping.
Fortunately, I love to shop for clothes – especially for our adorable little enby.
I don't want to generalize, since maybe this isn't true for all nonbinary or queer kiddos. But since coming out, Z has come to me not once but twice saying they need a whole new closet of clothes.
You see, before they came out, their closet was a pretty typical mix of girl stuff. After Z came out, we donated a ton of beautiful, rarely-worn skirts and dresses – it almost broke my heart to see them go.
We got some boy clothes for those days when they feel more boy-ish, which at first felt like almost every day. I think they might have been compensating for all the years/months/weeks/days they had spent dressed as a girl even though they didn't fully feel like a girl inside.
I was cool with the boy clothes, but part of me did miss seeing Z all dressed up in a cute skirt or pretty dress. We got them an adorable menswear style pantsuit, though, and seeing Z in that with killer winged eyeliner and lashes made me realize we can totally still dress up and get sassy. I absolutely love them in this look.
But then recently, Z asked for a set of "nonbinary" clothes too, for those days when they are feeling extra enby. As far as I can tell, the nonbinary look is basically a ragtag mix of super cool and trendy queer, genderless and either-gender teen fashions. I'm totally down with it – I love that Z has found their own unique style and is embracing their true self in all their glory.
And so, we shop. A lot! I can't lie: I'm loving it.
I haven't gotten them their first pair of combat boots yet, but it's only a matter of time. In fact, I might be able to ratchet up my cool mom points if I beat them to the punch and buy them before they ask. I think that might be Z's end-of-school gift this year.
Am I worried about my sweet kiddo heading off to middle school sporting a truly unique look and style? Yes… and no. I'd be worried no matter what they wear. This way, I know they will attract their kind right away: artistic, creative, fearless, confident and unique kiddos of all persuasions.
When I was in middle and high school, I dressed in whatever boring, ordinary styles were popular, even though I secretly longed with every cell in my body to dress like the cool, alternative, edgy punk/goth kids. I just didn't have enough confidence in myself, or enough trust in my parents' willingness to let me go in an off-beat, out-of-the-box style direction.
So you can imagine the joy it gives me that even at this tender age, Z is so out and proud with their cool, badass little self. It just makes me want to dance in the streets.
It also makes me want to get into thrifting because buying full-price for all these new clothes is nuts, and all the cool kids thrift anyway. I think thrifting will be our next big adventure now that spring break is behind us. Who wants to teach us to thrift shop?! Let me know in the comments if you have tips or recommendations!