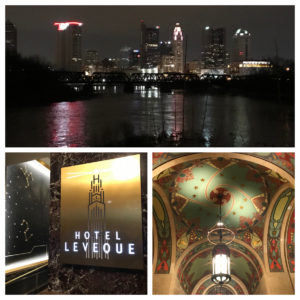 I'm twitterpated. I'm floating on air. My sweet hubby and I just got back from a magical, romantic one night getaway at the Hotel Leveque in downtown Columbus and I'm still all aglow.
In the immortal words of Buddy the Elf, "I'm in love, I'm in love and I don't care who knows it!"
It wasn't just our first overnight as a couple in FOUR YEARS (not that I'm counting. Was I counting? I may have been counting). We also spent it together in the most dreamy location imaginable: the gorgeously-appointed Autograph Collection by Marriott boutique hotel located within the historic Leveque Tower.
Since moving to Columbus in 2005, I've been enamored with the Leveque Tower. Built in 1927, the building is a vision of art deco style that brings back all the glamour of its time. The tower's peak is wonderfully lit with modern color-changing lights which align themselves according to the season, holiday or mood in the city of Columbus.
Now that I've been inside, my favorite thing about this building is the celestial, starry night interior. I love a good theme in design or decor, and the stars are out at Leveque in a myriad of subtle and delightful ways – including the star projector in our room that made for a dazzling and romantic night light! I also loved the artisanal turndown chocolates, beautifully painted with edible stars. We had stars in our eyes for sure on Saturday night!
Our date night
After a fun, full day with our girls, we left Z in the care of her beloved sitter, dropped Napa off at her sleepover with friends and then headed downtown for a meal at the Boat House – complete with scenic views of the Leveque Tower lit up in blush pink for Valentine's day. With so many wonderful restaurants in Columbus, it's hard to recommend the Boat House for any reason other than the incredible views. You do have to visit once if for that reason alone.
Once checked in at the Leveque, I was in heaven admiring its glamorous, celestial-inspired interior. The gracious welcome from the staff, gorgeously appointed lobby and literally stellar room added up to the perfect spot for our well-deserved alone time under the stars. I certainly hope we won't have to wait another four years for another delicious starry night all to ourselves!
How often do you get a night away from kiddos and the familiar – and where are your favorite getaway spots in Ohio? I'm already dreaming and planning for our next romantic all-night date night. Maybe a Mohican tree house, a private carriage house in the heart of downtown Columbus – or a yurt at the Wilds!
I'd love to hear about your favorite spots for romantic getaways in the comments below or over on Facebook.