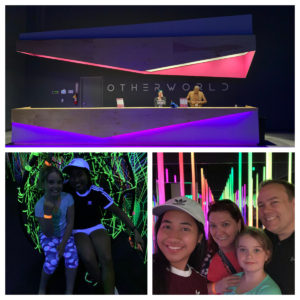 I'm sure by now you've heard about Otherworld, the awe-inspiring interactive art installation that opened recently just southeast of Columbus. We visited as a family in June and it's taken me about this long just to process our experience and put it into words. In a word: it's awesome!
If you like exploring dark, creepy passageways, finding mysterious, glowing hidden worlds and losing yourself in neon, mirrored hallways – then Otherworld is for you.
Perfect as a couple's creative date night, a unique friends' or group outing or a really great, all-indoor family fun adventure, Otherworld is an immersive art experience covering 25,000 square feet and offering something for everyone. That said, I probably wouldn't take very young or easily scared kiddos, as there are parts that could be quite spooky or frightening.
I heard about Otherworld late last year and joined their Kickstarter to pre-pay for tickets and help make this unique dream a reality. Since then, I've been getting updates and photos, becoming more and more excited about the space opening. Finally, it opened in May to great fanfare. We let the crowds dwindle before we made our way down to check it out.
Boy, was it worth the wait! It's really hard to put into words what exactly Otherworld is – but trust me when I say it has to be experienced. My husband is uber skeptical by nature and kept telling me I was over-selling it (I'll admit, I'm prone to do so) but I think even he was impressed. Talk about a labor of love, creativity and inspiration.
Otherworld makes a great learning experience for kids and a great launching point for discussion about creativity and invention: what could YOU create if you put your mind to it? What kind of weird, wild or wacky world would YOU invent?
I don't want to say too much more about it for fear of spoiling the experience. Just know that it's multiple rooms (more than I could count), each one with unique things to see, touch and experience. When you think you've seen it all, you probably haven't – just keep looking for doorways and openings to the next "level" (although it is all on one floor, as far as we know).
My favorite room was the big open forest/tree room with the glowing lights that changed colors… I could have stayed in there forever. Our fam also loved the rainbow tube lights room and the mirrored hallway. And the stuffed animals room! Oh man, I've said too much – just go check it out for yourselves.
Have you visited Otherworld, and were you as blown away by the artistry and ingenuity as I was? I'd love to hear about your experience in the comments below or over on Facebook!