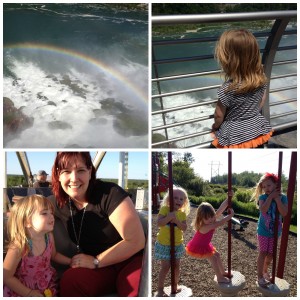 Zoe and I just got back from our first ever mother/daughter roadtrip. We drove up to Buffalo, spent two days in Western NY, including a visit to the incomparable Niagara Falls, then drove home on the fourth day. It was a fantastic summer trip, very driveable from Columbus even with a three year old, and I'd happily do it again. We had a blast!
The Drive
Columbus to Buffalo is right around 6 hours by car. I'm lucky – Zoe does really well on long drives. As long as I bring a cooler with plenty of snacks, some books and toys, and a few fun things to do (like a drawing pad and washable markers or crayons), she's set for several hours. Of course, I also bring the iPad loaded with educational apps and a movie or two as my last resort. We knew she would handle a long drive well because we just drove to NYC over Memorial Day weekend (almost twice the time in the car as this Buffalo trip) – but that time there were four of us in the car so she had plenty of entertainment with me sitting next to her handing her things. This time, it was just Zoe and I – our first trip alone together! We were in our smaller car so I was still able to hand her things, while keeping my eyes on the road of course. I kept our stash of goodies in a bag on the front seat next to me, and when she needed something I was able to hand it back pretty easily.
The Stops
On the way up to Buffalo, I really wanted to stop at a Bob Evans to eat and stretch our legs and use the restrooms, but Zoe didn't want to stop – she wanted to eat in the car and keep going! So, on the way up we went to a drive-thru and made a separate stop for a potty break. I later regretted this – I would have liked to get it all done at once, and that's what we did on the way home. FYI, although there are no Chick-Fil-A's marked on road signs, there is one in Erie, PA which is also a perfect halfway point at which to stop and eat (lots of restaurant choices). The Erie Chick-Fil-A has a nice play area and is a great way to let little ones fuel up as well as play for a little while to get some energy and crazies out!
Again, I'm fortunate in that Zoebelle seems to be able to go for quite a while without potty breaks – and does a good job communicating when she's going to need to stop. We had one less-than-great episode on the way up, where she needed a potty break during a long stretch in upper Pennsylvania and there was NO potty in sight. Just as she was nearing her limit of holding and getting panicky and upset, I spotted an old, weathered sign that said "Sunoco ahead – fuel and clean bathrooms!" I thanked God and headed there, only to find it had long since closed down. Doh! So I scooped her up, took her to a dirt patch around the side and she peed like a kitty cat. Sorry, owners of abandoned gas station, but you need to take down your misleading sign! For future trips, I must remember to put one of her little plastic potties in the trunk in case of emergencies like this one.
Buffalo Eats
We met my sister-in-law and her daughters in Buffalo, and since she's originally from the area she had lots of great ideas for things to do. On our first evening, we went to Anderson's Frozen Custard in Lockport. They have an excellent outdoor play area – basically a very nicely equipped playground with picnic tables so you can eat outside, watch the kids play and enjoy a super summer evening. The weather was absolutely perfect during our whole trip – low to mid 70s and low humidity. At Anderson's, the kids had chicken tenders and applesauce while we moms dined on a local Buffalo favorite, beef on weck. I fell in love and ate that sandwich every single day of our trip! It's roast beef on a kimmelweck roll seasoned with salt and caraway seeds. You'll have to take my word for it –  beef on weck is awesome and Anderson's does it well. Of course, we topped off our meal with ice cream and that's when I found out about Buffalo sponge candy because Anderson's features sponge candy ice cream. I loved the ice cream and later in the trip tried Buffalo sponge candy itself and loved that, too, of course.
Family Fun in Buffalo
While in town, we enjoyed visits to the Buffalo Zoo, Martin's Fantasy Island amusement park and Niagara Falls. We also spent one fun evening in my sister-in-law's parents' backyard, watching the kids run through a sprinkler, play in a kiddie pool and run around in the grass. There were plenty of other fun things to do in town, but we only had a couple of days. We loved everything that we did and I recommend it all!
Buffalo Zoo is obsessed right now with its baby polar bears, and rightly so. Luna is an adorable little cub fathered by Nanuq, the big male polar bear currently on loan to the Columbus Zoo. Hopefully soon we'll have a Nanuq-sired cub of our own! The other cub, Kali, was orphaned in Alaska when his mother was shot. Kali was shipped via UPS to the Buffalo Zoo so he could play and live with Luna, and the two cubs seem to be enjoying each other's company. They were filthy as little pigs the day we saw them, playing in the mud with not a speck of white to be seen!
Martin's Fantasy Island is a vintage amusement park that hasn't changed a bit since my SIL enjoyed it as a child. We went at 5 pm to take advantage of half-price admission and the kids absolutely loved our time there. Zoe kept calling it "the new zoo" since the only time she's encountered rides is at the Columbus Zoo. She liked all the Kiddie Land rides and her usual loves, the carousel and Ferris wheel, but her favorites were the daring new rides she got to try – a kiddie roller coaster and her absolute favorite, the log flume! I remember loving log flumes as a child, too – and still enjoy them, although I found myself wanting to hold on tight to the car itself and hold on to Zoe, which made me wish I had more arms and hands.
Niagara Falls
What can I say about Niagara? A waterfall that big and mighty is always breathtakingly beautiful, no matter the season, but it's especially glorious on a hot summer day – the mist feels so refreshing and really gives you that Falls experience. I've always spent most of my time on the more commercial Canadian side, but this time we stayed on the American side and it was gorgeous. We parked at Niagara Falls State Park and walked around a bit, then paid $2 per adult (kids under 5 are free) to ride the hop on/hop off Niagara Scenic Trolley. The kids loved it – felt like a fun ride to them – and it allowed us to see more and walk less. My favorite stop on the trolley was the Luna Island and Bridal Veil Falls, where these photos were taken and where we really got to feel the mist and see a ton of rainbows.
Traveling Solo with Kids
Overall, this was a fabulous little roadtrip getaway. If I could change one thing, it would definitely be to have had my hubby come along. Zoe and I both missed E, and it would have been more of a relaxing vacation if he had been with us – plus I would have gone to fewer drive-throughs and eaten a bit healthier! But Zoe and I had fun and it was a great bonding experience. She loved staying in a hotel and most of all she enjoyed spending time with her Cali cousins. Can't wait til our next travel adventure with those fun girls!
What's your favorite summer roadtrip from Columbus, or from wherever you are? And have you ever taken a roadtrip as a solo parent? I'd love to hear your stories!