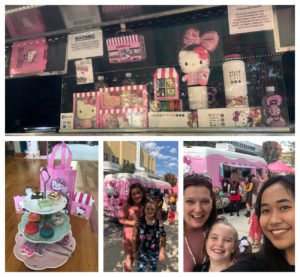 Last fall, the girls and I enjoyed a fab morning at Easton Town Center to visit the Hello Kitty Cafe truck. I had never visited the truck before, so I didn't know exactly what to expect, but I figured it would include kawaii (aka super cute) goodies and photo opps, so I was excited.
Sure enough, we had a delightful time and only had to wait on line for about 20 minutes for our turn to shop from the Hello Kitty Cafe truck. While we waited, we took turns taking pictures of each other posing with the truck, which is a vision of pretty, pink Hello Kitty cuteness. 
Once at the truck window, we had to make some quick purchase decisions. All of the treats looked adorable and delicious! We were quite warm from waiting in the sun, so we all got Hello Kitty water bottles. Napa got the Hello Kitty cookies, Z picked the mini cakes (petit fours) and I tried the Hello Kitty macarons. Because we had splurged a bit (over $25), we also got a free Hello Kitty tote bag in which to stuff our treasures.
After purchasing our treats, we shopped for a while at Easton and then enjoyed a bite of lunch at the Cheesecake Factory before heading home to stage and photograph our adorable Hello Kitty goodies. If you're going to treat yourself to sweets this precious and pretty, you simply have to do a fancy photo shoot with them before you eat them. It's like a rule or something.
So, real talk time: our review of the treats themselves is that they were adorable but tasted "just okay" when compared to fresh, locally baked treats from our favorite Columbus bakeries. The Hello Kitty branding and packaging is cute and I'm glad we had the experience – but if we go again, I doubt we'd spend as much. Of the goodies we purchased, the mini cakes were definitely our favorite and worth purchasing again.
Now for some great news: the Hello Kitty tour is coming back to Easton again this year, so if you'd like, you have a chance to experience all this cuteness for yourself!
If you, too, love all things kawaii and yummy, be sure to visit Easton next month on Saturday, October 12 from 10 am to 8 pm so you can stop by the adorable Hello Kitty Cafe Truck.
If you're asking yourself, "why would I ever want to visit a Hello Kitty Cafe truck?" then this experience probably isn't for you. But if you love Hello Kitty, all things pink and cute, and sweet treats found only at the Hello Kitty Cafe or mobile truck, then head down to Easton and enjoy yourself!
What do you think about uber-Instagrammable experiences like the Hello Kitty Cafe truck. Are you a fan – or do you prefer to stick with locally baked treats and experiences? I'd love to hear in the comments below or over on Facebook!