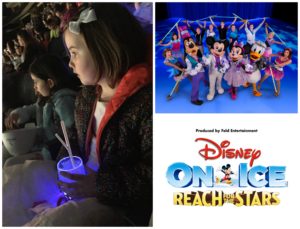 Full disclosure: our family will receive free tickets to Disney on Ice and we were also provided four tickets to give away here. Read on for how you can win! 
Will there come a time when I don't get blissfully excited about going to Disney on Ice with my daughter? Someday, maybe there will – but not today.
I am super stoked that Disney on Ice: Reach for the Stars is skating into Columbus – and even more excited that I get to give away free tickets to you, my loyal readers!
Zoe and I have been enjoying Disney on Ice together for FOUR years now. She's grown up a ton in that time – from age almost-four to age almost-eight – and soon she may turn her nose up at the idea of Disney on Ice.
For now, though, she still loves it and I do too – it's like a little dose of Disney magic right here in our own (chilly) home town! Last year we brought friends and had such a great time. I'm sure we'll do the same again this year. How about you – who will you bring?
This year's big show
Take adventure to new heights as Mickey, Minnie and your friends from around the Disney Kingdom come together when Disney On Ice presents Reach For The Stars comes to Nationwide Arena from Jan. 24-28 for eight performances. Mickey Mouse, Minnie Mouse, Donald Duck and Goofy set the stage for a star-studded talent extravaganza as Disney On Ice presents Reach For The Stars.
Unleash the magic with royal sisters Anna and Elsa and the hilarious snowman, Olaf, as they sing captivating songs like "Let it Go" and "In Summer." Life is the bubbles when Sebastian strikes up his hot crustacean band and the Daughters of Triton make a splash as they introduce Ariel in an '80s pop montage. Get tangled up with a chorus of harmless hooligans when they get a visit from the spirited Rapunzel and her charming ally, Flynn Rider, on their journey to see the floating lights. Relive a "Tale as Old as Time" when Belle opens her heart to new adventures and the Beast's enchanted objects take center stage for a dazzling skating spectacle inviting audiences to "Be Our Guest."
Showtimes are Wednesday, Jan. 24 at 7 p.m.; Thursday, Jan. 25 at 7 p.m.; Friday, Jan. 26 at 7 p.m.; Saturday, Jan. 27 at 11 a.m., 3 p.m. and 7 p.m.; and Sunday, Jan. 28 at 1 p.m. and 5 p.m.
So how do I win?
Comment below with your favorite Disney character and please be sure you like both Lara-Mom Blog and Disney on Ice on Facebook, too. Zoe will pick a winner at random on January 15 – just in time for you and your favorite little person to go see the show. I'll reach out to you to let you know you've won, and then you'll pick up your tickets at Will Call the day of the show.
Or, you can purchase your own tickets for Disney On Ice presents Reach For The Stars starting at $15. All seats are reserved, and tickets are available at the Nationwide Arena Box Office, 200 West Nationwide Blvd., Columbus, Ohio 43215 at or at www.ticketmaster.com.
I hope to see you at Disney on Ice! Comment below for your chance to win the family 4-pack of tickets.