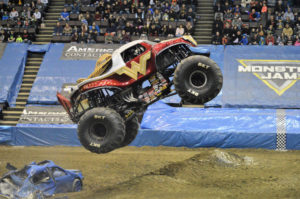 Full disclosure: our family will receive free tickets to Monster Jam and yours can, too. We were provided four tickets to give away here. Read on for how you can win! 
And now for something completely different. Who's ready to see giant monster trucks battle it out amidst huge piles of dirt and deafening roars? We are, that's who! Check it out:
Unexpected, unscripted and unforgettable!  Monster Jam®, the most action-packed motorsports experience for families in the world today, returns to Columbus in 2018 with a bigger, faster and louder experience than ever before with the infamous 12,000 pound trucks ready to battle it out in the ultimate event of speed, racing, stunts and demolition at the Schottenstein Center on Saturday April 21 and Sunday, April 22.
When I first heard about this event, I wondered if it would interest my daughter. Boy was I surprised when she lit up like it was Christmas morning! The movie Monster Trucks is a favorite in our house – more for the adorable aquatic creature who animates the trucks than for the trucks themselves. But, it also turns out she's super into the idea of going to see and hear these roaring monsters on four wheels – so away we go!
If your kiddos are also excited about the idea, I have great news. Not only are the Monster Jam trucks coming to Columbus this month, with tickets starting at just $15 each – you can also win a free family four-pack of tickets right here on this blog!
Simply leave a comment below to let me know if you're interested in winning – and tell me your kiddo's favorite truck, if they have one. I know we'll be rooting for Grave Digger because it's being driven by a woman this year! Also, there's a  Wonder Woman monster truck – who knew?! #GirlPower
In addition to the main event, fans of the gigantic trucks can come to the stadium early on Saturday and Sunday to enjoy the Monster Jam® Pit Party pre-show experience – which gives fans unparalleled access to view their favorite trucks up-close and meet the star drivers for autographs & photos. Event tickets and Pit Passes are available for purchase online at www.monsterjam.com, or in-person at the Schottenstein Center box office.
It sounds like a rip-roaring good time to me. We'll be sure to bring ear plugs – and take lots of pictures with the trucks beforehand! So leave me a comment below if you'd like to win these tickets. I'll have Z draw a name out of a hat the week before the event. Also, let me know if you've ever been to this event before – I'd love to hear your stories!
And may the best Monster Truck win.