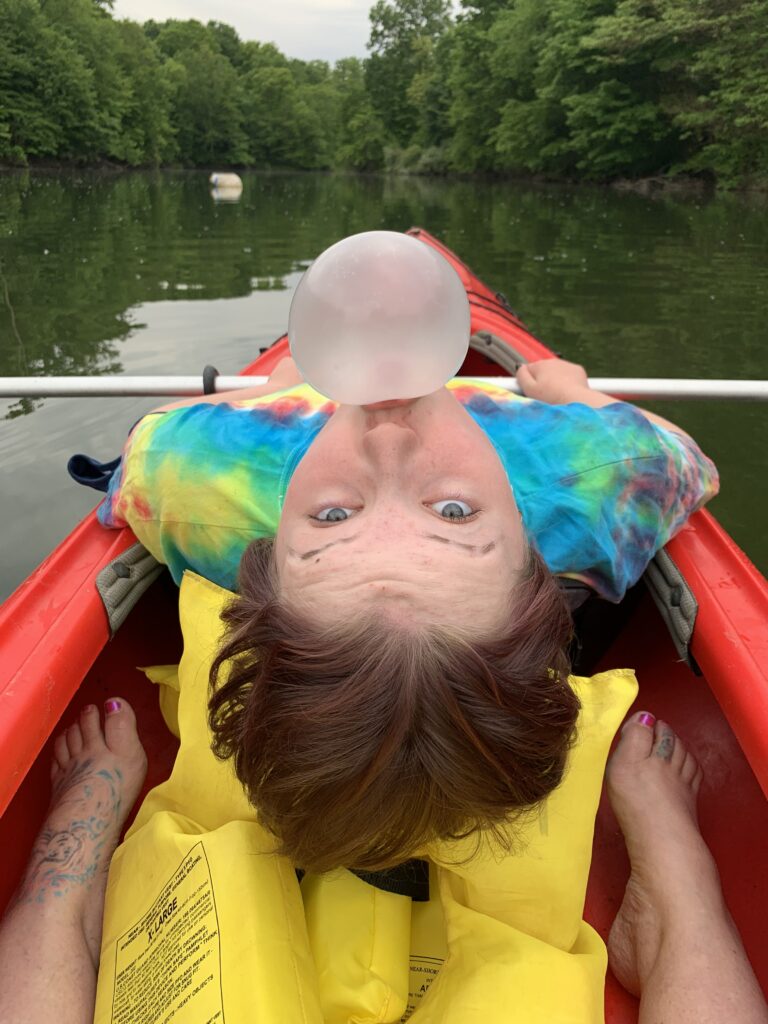 The kiddo and I discovered recently that we love kayaking.

We've kayaked before, but it was on the ocean with humpback whales all around us and waves tossing us to and fro. Sea kayaking with whales in Mexico was exciting, thrilling and unforgettable – but not what I'd ever call relaxing.
Kayaking on calm, placid Alum Creek Lake, on the other hand, is serene and utterly peaceful.
We took a spontaneous kayaking trip on Memorial Day evening and found it to be a delightful escape from the ordinary. Now, we can't wait to go back!
There are three outfitters that rent kayaks on beautiful Alum Creek Lake. We haven't tried the first two yet, but we plan to soon. Read down to the Alum Creek marina section to hear all about our recent adventure.
1. Hughes Outdoors rents kayaks and stand-up paddle boards from a north Alum Creek Lake location. I love the idea of exploring further north, while still in our same familiar lake. Rates run $30 per kayak for two hours and they have both adult and child-size one-seater kayaks. They also rent a towable cooler as a fun add-on.
2. Alum Creek Adventures also rents kayaks and paddle boards from a north Alum Creek location. We will definitely be kayaking with these guys next – I love their Instagram feed. Their prices are similar to Hughes at $30 per kayak for two hours.
3. For our recent kayaking adventure, we went back to our friends at Alum Creek Marina. You may recall we've rented power boats and pontoon boats from them in the past and had great experiences. This was our first time renting one of their kayaks and it was a breeze.
Kayak rentals at the marina run $25 per hour for either a one- or two-person kayak. Xage and I took out a two-seater and it was very comfortable and easy to use. The dock hands at the marina are fabulous and go out of their way to help you get into the kayak comfortably and without any tipping or flipping!
Once in your kayak, it's up to you where to go. The helpful marina staff gave us a lake map and their recommendations. It was a holiday weekend, so they suggested we stay close to the shore, which was good advice and we likely would have anyway.
Xage and I soon got into a great paddling rhythm with me sitting in the back to help with steering. We had fun exploring the lake's coastline, including several dark little coves that looked and felt almost haunted. It was so spontaneous, exciting and fun!
Once you're seated in the kayak, it's quite comfortable and unbelievably relaxing. On a flat, calm lake like Alum Creek, you barely have to paddle at all to get it to go where you want it to. Xage and I alternated between paddling together – which propelled us forward at a pretty good clip – or alternating taking breaks so one of us could relax while the other paddled. It was a very enjoyable hour!
I had a blast taking photos and giving Xage pointers on how to paddle even better. We easily navigated all around the cove and could have stayed out longer, but it was starting to get dark.
Cruising back to the dock, I was a little nervous about how I was going to peel myself out of the kayak, but once again a dock hand held the boat still so I was able to clamber out onto the dock. No problems!
Next time, I think we'll take the kayak for two hours so we can go even farther from the marina. In fact, it's easy to kayak to the Alum Creek beach from the marina so it might be fun to cruise over there and check out our favorite local beach from the water. I'm definitely considering this a must-do for when Z's cousins are in town visiting us later this summer!
The other local kayaking trip I'd love to take is one down along the downtown Columbus riverfront. That's on my summer bucket list for sure – and for that kayaking trip, we'd go with Olentangy Paddle. I am envisioning that as a date night with hubby rather than a family voyage for three, but we'll see.
Have you kayaked locally or while on vacation, and do you find it as relaxing and enjoyable as we do? I'd love to hear your kayaking tips and recommendations in the comments below or over on Facebook!