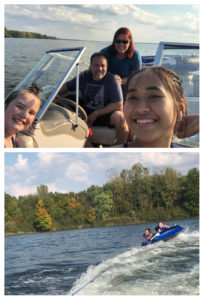 I grew up on and around the water in NY, so boating is a fun and nostalgic pastime for me. Still, it took me about six years of living only a mile from beautiful Alum Creek Lake to realize that renting a boat right here in central Ohio is easy, affordable and a summer must-do.
As I've shared before, anyone (even you!) can go to the Alum Creek Marina and rent a boat on the warm, sunny day of your choice. You don't even have to plan or reserve it in advance – you can be spontaneous and just walk in any day you like. All you need is a driver's license.
Trust me – your family needs to rent a boat this summer and spend a day out on the lake.
Alum Creek Marina is a full-service shop with hours from April through October. During the summer months, Memorial Day to Labor Day, the marina is open 7 days a week from 8 am to 9 pm. There is literally no excuse – just pick a sunny day and go rent a boat or some other fun marine equipment!
The marina offers several different kinds of boats and water equipment. The first time we went, it was totally spontaneous and we went pretty late on a Saturday so options were limited. That time, we took out an 18-foot pontoon boat which was slow but spacious with plenty of room for all the people and dogs in our family. Yes, you can bring your dogs! I blogged all about our pontoon adventures last summer.
The second time we rented a boat, we planned it in advance and were ready Saturday morning to hit the marina bright and early. That meant we were able to snag a quick little ski boat with a fun raft for tubing. The girls had had an absolute blast tubing that day! I tried it too, but it was a little aggressive for my taste and not super relaxing. The ski boat was pretty loud and bumpy overall, too.
There are many other fun things you can do at Alum Creek Lake. The lake itself is man-made, more than 3,000 acres and as much as 60 feet deep in parts (though much shallower in others). The water is clear and nice for swimming, either from the beach or from a boat. Whether you visit by land or from the water, there are plenty of bird-watching and critter-peeping opportunities.
We love going for nature walks and hikes around Alum Creek Lake. Depending on where you are around the lake, you might see deep wooded ravines, abandoned farm fields or high shale bluffs, making it a picturesque and scenic place to visit.
You can also rent kayaks, pedal boats or stand-up paddle boards if you prefer aquatic adventures of the non-motorized variety. We've seen people take these out, but I personally haven't tried it (though I'd like to!). There's even something new for rent this year called a Water Carpet that looks like a lot of fun, and basically serves as a floating water playground for all ages.
Or, if you like things fast and furious, go ahead and rent some jet skis or Wave Runners. I've only done that a few times while on vacation many years ago, and it was a lot of fun!
If I'm being honest though, my preference these days is to take it nice and easy, especially if I'm out on the water and trying to relax. I much preferred cruising around on a pontoon boat and checking out the local swimming holes to racing around in a ski boat with the girls on a tube behind us. The latter just made me feel tense and anxious; I couldn't top worrying about them the whole time, even though all was going fine. Our day on a pontoon boat was far more enjoyable for me as a mom.
Does this make me sound like an old lady? Fine, so be it! I also love the idea of taking our dogs out on a boat and that's only practical with the larger pontoon boat due to both the shade and room it provides. I guess sunning myself and swimming off a boat in a cute little Alum Creek Lake cove are all the fun and thrills I need. Well okay, maybe I'd try the Water Carpet, too.
What about you – have you visited the Alum Creek Marina to rent a boat or participate in other fun lake activities? I'd love to hear in the comments below or over on Facebook!