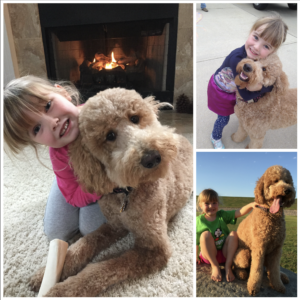 I think it's about time someone blogged about the GOOD side of having dogs and kids.
I've read a few articles lately that broke my heart – like this Slate piece about a woman who doesn't want her dog anymore since she had kids. So sad!
There have also been a few pieces on dogs biting kids – like this NYT story that made me cringe and have nightmares. Again, very sad.
And the truth can be so different! As these photos show (and I have countless more), dogs and little people can absolutely get along. There are many reasons why dogs can be GREAT for kids.
I've blogged before about how crazy we were to get a puppy when our daughter was 18 months old – but it ended up being an absolutely wonderful move for our family. And Autumn, our Goldendoodle, was not the first dog to steal Zoe's heart.
When we brought our newborn daughter home from the hospital, her big brother Jack, a pit mix, was among the first lucky souls to meet and greet her. While some of Zoe's grandparents were anxious at first due to misconceptions about "bad breeds," we knew Jack was a kind and gentle soul.
Zoe spent her first year with "Dack" as she called him. I'm convinced she learned to crawl and walk, in part, because she wanted to reach her doggie and feel his soft fur. When we lost our old boy in a tragic and untimely accident in March 2011, all our hearts broke. Our house didn't feel like quite a home without him.
It took a little while before we had healed enough to welcome another dog into our lives, but I'm happy to say that in January 2012, we opened our hearts to a little red Goldendoodle puppy we named Autumn. The rest is history – Zoe and Autumn have truly grown up together, and will continue to do so.
We chose a Goldendoodle specifically because of how good they are with kids – and because their wonderful coats don't shed. We've since added another dog to our family – this time a sassy little rescue pup – and she too has been an incredible addition.
That said, it's not as simple as just getting a dog who will be great with kids. We also have a responsibility to educate our kids about dogs and how to approach, touch and respect them. Thankfully, there are also incredibly informative articles out there. This piece, about understanding canine body language, is a must-read for anyone with dogs and little kids.
I know I'm not alone in thinking that dogs and kids go together like PB&J. Check out this cute annual art contest for dog-loving kids in Columbus via the Franklin County Auditor's office.
What have been your experiences with dogs and kids – are you a fan, too? I'd love to hear in the comments below or over on Facebook. And in the meantime, check out these adorable photos of little kids and their big dogs.