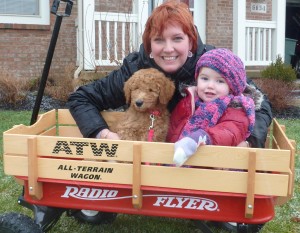 I'm seriously thinking about starting a new series for this blog: the "Are we nuts?" series. Here's the first entry.
It seems my beloved husband and I like to walk on the wild side, because earlier this month we brought home a bouncing baby girl – aka our gorgeous little red Goldendoodle. We did our research, found a great breeder and fell in love with Autumn.
Our puppy has been a huge success so far – Zoe loves her and Autumn's as sweet as can be. That said, it had been nearly 10 years since either E or I raised a puppy, and we had forgotten what a handful they can be. Add a puppy into the already interesting (read: challenging) world of toddlerdom and as you can imagine, we have some mighty crazy times at our house!
When it works, it works really well… and when it doesn't, well that's when Autumn gets a little "down time" in her room or crate. Puppies need lots of naps, you know. Here are a few things that are making the toddler + puppy thing a win for us:
Research and choose your breed wisely. Believe me, I'm as huge a fan as you are of rescuing shelter pets, but with a toddler in the house we had to have a reliable, known entity – hence our choice of a lovable, patient, smart, kid-friendly Goldendoodle.
Brush up on puppy training tips. Here's the best article I've found about adding a puppy to a toddler household. Great stuff. I had forgotten the tip about "yipping" loudly when puppy mouths too hard, to help her learn not to do that. That works much better than yelling "No!" all the time.
Constant supervision is a must. Just as toddlers need to be supervised constantly, so do puppies. In this sense, it's really not all that much more difficult to have one of each. I just have to make sure to keep them both corralled in the same basic area of the house so they don't go running off independently in opposite directions!
Keep toddler toys elevated. This is a nice practice anyway, but one we were not great at enforcing. Now Zoe has learned that if her toys are on the ground, they are fair game for Autumn to chew. Zoe is doing much better at picking up her toys and at least putting them on the couch if she wants to keep them "safe."
Have tons of chew toys around for the puppy. Just like toddlers, puppies are teething so they need to chew and mouth things constantly. It's not fair to tell Autumn "no" when she grabs at one of Zoe's toys if she doesn't have anything fun of her own to play with. So Autumn has a ton of toys to choose from and chew. Zoe really likes gathering up Autumn's toys and giving them to her.
Lots of exercise and outside time is good for everyone. Both toddlers and puppies are better behaved when they've had tons of time out in the fresh air to run around and get out all that excess energy. Since we got Autumn, our whole family has gotten a ton more outside time and activity. Huge health win for all four of us!
Naps are our friend. There's nothing cuter than a toddler and her puppy napping together, all tuckered out from playtime. It doesn't work out this way all the time, but when it does it's like there's a choir of angels singing. Zoe definitely enjoys putting Autumn down for her naps.
Keep that camera handy. They're only little once. Soon Autumn will be a 65 lb Goldendoodle dog, and Zoe is growing up fast too! I'm trying to take as many photos and videos as possible to capture these wonderful moments. I treasure the photos and videos I have of Zoe and her first dog, Jack, who was her constant companion during her first year. I'm glad we have Autumn now as part of our family so she and Zoe can grow up together dodging my lens.
The best thing about adding a puppy to the family instead of having another kid? We can put the puppy in her room or crate and leave her there for a couple of hours if we need a break.
So far, it's been great and I am so glad Zoe is embracing her new "sister" with open arms. Got any other good tips for bringing up a toddler and puppy together? I'd love to read them in the comments.