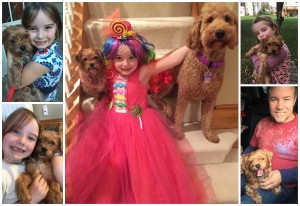 Our family recently adopted a tiny rescue dog from Cause for Paws Ohio. Formerly known as Pistol Annie, our daughter renamed her Dani and she's adorable. Near as we can tell, Dani's a Shih tzu/ Yorkie mix – aka shorkie or shizorkie. She has utterly stolen our hearts in a very short time!
I was initially very against the idea of adding a second dog to our family. We all adore our Goldendoodle, Autumn, and consider her a near-perfect canine and cherished member of our family. I feared we had no chance of getting that lucky again a second time, especially with a little dog. Truthfully, I've always considered tiny dogs a bit yappy and not as reliable, trustworthy or companionable as bigger dogs. (This was probably an unfair assessment, but my animal-loving best friend had her face savaged by a Yorkie when we were 12 and the memory stuck.)
Plus, Autumn loves being an only dog and is far more into people than dogs. I worried that she would be sad or jealous of a new, much smaller and super adorable canine sibling. I was worried that a new small dog would bond to E and I, but not to a child – which would break Zoe's heart. And I was concerned that the extra work, walking and clean-up of a new, tiny puppy or dog would fall to me because – you know it's true, moms – that often happens.
Boy, am I glad that my family overruled me. Dani has been a perfect addition to our family! We truly feel complete now.
Zoe argued her case eloquently and often. She has always loved tiny dogs. She wants a dog of her OWN, not just our whole family's dog. And she wants a dog she can hold, carry, baby and pamper (although I reminded her Autumn loves the last two, and will still want to be babied and pampered by Zoe once a new little one is in the house!). She promised to brush her new puppy, feed and water it, and take it for walks and clean up after it.
I rolled my eyes a bit at this promise, but finally acquiesced and we began looking at local rescues and reaching out to let them know we were starting to look for a small/toy puppy or dog who would be good with kids, good with a big dog and not too yappy. When we saw Annie's photo and description on the Cause for Paws Facebook page, we knew she could be the one!
We arranged a meeting with her foster mom, who was gracious enough to bring her all the way up to our home so we could all meet Annie – including Autumn. The meeting went really, really well. We saw how closely bonded Annie was to her foster mom – and she had only gotten her a few days earlier! That was a good sign – we hoped Annie would bond to us in a similarly short time.
We spent that Friday evening talking as a family and decided by morning that we DEFINITELY wanted to make Annie part of our family and give her a forever home. We still didn't know much about Annie's back-story, only that she'd been in one foster home for two months and this second foster home for a little under a week.
I reached out to the rescue first thing Saturday morning and let them know we would like to move forward with adopting Annie. They let us know they had completed our adoption screening and we had passed – so Annie was ours! That afternoon, we met up with her foster mom Debbie one last time at a PetSmart and welcomed Annie, now Dani, into our lives. We took her into the PetSmart and bought her a new collar and leash, a bed and crate, and some toys.
Then, we took her home… and life's been rosy ever since! Not only did Dani bond almost immediately to E and I, she also bonded equally to Zoe within a matter of hours. She follows that little girl around absolutely everywhere. She sleeps in her crate beside Zoe's bed like a little angel. She naps on E's lap all day when he works from home. She is an affectionate, playful, joyful little creature – and she has taken to Autumn like a sweet little shadow. They even try to play sometimes, although it's tough because Autumn is SO much bigger!
I don't know how we got so lucky to find TWO such perfect dogs – one big and one tiny, one from a wonderful breeder and one from a terrific rescue group – but we're absolutely blessed. The girls even look alike – Dani has dark red, straight hair on her head and front half, but her back half is a silky, curly apricot coat that looks almost exact like Autumn's. We love that unlike most fancy hybrid dogs, Dani's "seam" is visible to all – she's almost like a little chimera.
Do you have a wonderful rescue dog story? I'd love to hear in the comments below – or over on Facebook.