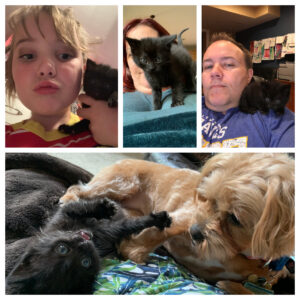 Fostering a tiny, baby kitten for the Humane Society of Delaware County was one of our family's highlights this year. Little man Toothless stole our hearts and showed us a whole new side of our sweet adopted pup, Dani!
Tiny Toothless came to us in May at or just before four weeks of age. He'd been orphaned way younger than he ever should have left his mama. He was still eating only milk and had only just learned to lap from a shallow dish. He didn't like it – he really still wanted to be bottle fed like the wee little baby he was.
Toothless was the smallest baby we had ever fostered. We watched a lot of Kitten Lady videos to hone our mama cat skills! When he first arrived, we had to make formula for him around the clock. He was so tiny he needed a warming pad under his bedding to help him regulate his body temperature. Z, E, Napa and I held him all the time – his little feet barely ever touched the floor. But even being so small, Toothless always used his litter box like a champ!
Over a few weeks, we slowly transitioned him over from kitten formula to a gruel of canned food mixed with formula, and, just as he was about to leave us, to canned food on its own. We always had dry kitten food in a bowl for him too, but he never showed much interest in it.
But back to our little rescue dog, Dani. We knew Autumn, our big Goldendoodle, would be fine with a foster kitten because she loved all our little fosters back in 2016 when we looked after a total of 12 kitties. But we had no idea how Dani would react around a cat or kitten. We introduced them VERY slowly and carefully, watching Dani's reactions.
But wouldn't you know, it was mutual love at first sight. Toothless wobbled toward Dani on his little unsteady baby legs, and Dani sniffed and licked him all over. Then, Dani immediately lay down on her side giving Toothless her belly. She wanted to nurse him! It was literally the SWEETEST thing we'd ever seen.
From that moment, Toothless and Dani were inseparable anytime we were home (we kept Toothless in an old dog crate when we had to leave the house). They played together, snuggled together and gave each other love and warmth. I think Dani liked not being the smallest one in the house for once – and judging from her amazing maternal instincts, we now suspect she may have had a litter of puppies before we adopted her.
Once Toothless was old enough to go back to HSDC for his neuter surgery and adoption by his forever family, we had to say goodbye. It was hard for all of us – Zoe especially – and we made sure to give Dani lots of extra love and attention to help her get over his loss.
The hardest part of fostering kittens is always saying goodbye, and little man Toothless was especially hard to let go. We are sure he went on to a loving, wonderful home of his own where he can be spoiled and pampered like the little king he is! And we hope to foster kittens again in the future, especially now that we know what a loving little mama Dani is for babes in need.
Have you ever fostered kittens? We highly recommend it! We'd love to hear your stories in the comments below or over on Facebook.