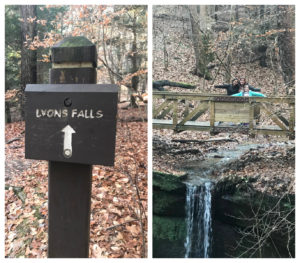 You know, Hocking Hills gets all the buzz for being the most beautiful hiking spot in Ohio – and it is truly awesome.
But lately, we've been heading north to Mohican state park, and we've found we really love it there, too.
True story: it's hard to get my daughter excited about going on a hike, but if I position it as an adventure to find a waterfall, then she's usually in. And luckily, Ohio has lots of waterfalls to find!
On a sunny Saturday last November, our fam headed out to chase waterfalls in Mohican state park. We've been there before and always enjoyed our hikes, but we had never gone on this particular adventure before and it's now one of our favorites.
We parked at the Pleasant Hill dam – which, if you like to go out exploring new places but aren't up for full-on hike, is a very beautiful place to visit and take pictures, especially in the fall. This would be a great destination to visit with grandparents who like to get out of the house but don't want to climb hills or get crazy in the woods (note to self: both sets of Z's grandparents would love this place!)
From the top of the Pleasant Hill dam, we followed signs to hike along a hillside to Lyons Falls. The ODNR website bills this hike as "moderate to difficult" and I would echo that statement. The Lyons Fall Trail follows along Clear Fork Gorge and has several steep and narrow sections with a REALLY big drop down on the gorge side. I'll be honest, it scared me to death having Z hike along there and not being able to hold her hand (it's one-person wide in a few places).
That said, we all made it through just fine and really enjoyed the hilly hike. Along the way we climbed and walked along downed trees, wondered aloud if we were in bear territory and generally had a great time out in nature. We were pretty psyched when we made it to the waterfall, about 3/4 mile in.
There are actually two Lyons Falls, and at the time I thought we saw the big one, but it turns out we actually only saw the small one. Certain 9-year-old members of our party were hungry and declined to hike any farther, or we certainly would have gone to see the other waterfall as well (it's a 2-mile loop total).
Our hike back down the hill to the dam was uneventful – and we took some great photos along the way. I'm also very glad Z was so hungry, because that's what led us to the amazing Landoll's Mohican Castle to have dinner at the Copper Mug Bar and Grill!
Bottom line: you can drive 1.5 hours south and hike in the gorgeous Hocking Hills (and we do!) or you can drive an hour and 20 minutes north and hike in the beautiful Mohican state park. Either way, you definitely should get out there and hike – Ohio is beautiful!
Where's your favorite place to hike in Ohio? I'd love to hear in the comments below or over on Facebook.