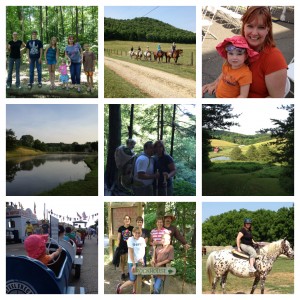 This blog post first appeared on Discovering Ohio, which in addition to being one of my clients' blogs, is also a fantastic place to find out about great things to do, places to visit and trips to take in the great state of Ohio.
For years, Hocking Hills, Ohio has been one of our favorite day trips anytime we want to hike and spend time in nature. It wasn't until this summer, however, that we finally took countless friends' recommendations and rented a cabin for a few days in order to truly surround ourselves with the beautiful, natural surroundings of Hocking Hills.
What a difference! Total immersion in nature, forced detachment from phone and Internet, and a family focus on relaxation really added up to an amazing summer getaway.
Our trip was also a long-awaited family reunion vacation with our "Indiana bananas" (Zoe's aunt, uncle and four cousins). We all spent time hiking, visiting and just enjoying being in the woods and hills. I can't say enough good things about our wonderful dog-friendly, kid-friendly adventure – so here are the highlights for your own trip planning fun.
Pre-planning
I'm a huge fan of the anticipatory period before a trip when you do all kinds of reading reviews, online research and activity planning. I knew quite a bit about Hocking Hills from past day trips and friends' recommendations, but I still looked for more info about what to see, eat and do there, getting some great ideas from this list of free activities, as well as blog posts from Columbus Underground, the Hocking Hills Tourism Association (which happens to be a client) and Ohio Writer.
Where to stay
When we made the decision to bring our Goldendoodle puppy, Autumn, I assumed that meant we'd have to stay in a shabbier version of the wonderful Hocking Hills cabins everyone always raves about. Not so! We found  Old Man's Haven online and booked three nights there in cabin #3. It was perfect for our family – and so gorgeous it's hard to believe it was pet-friendly!
Zoe loved the coziness and home-like feel of the cabin (she asked to return to the cabin for days after our return home!), Autumn loved the beautiful property and lake to explore, and we all loved the hot tub, pretty front porch and gorgeous nature views. We had a deer come right up to our cabin window one morning. It was a lovely haven indeed, and just minutes from both Old Man's Cave and Rock House, two of our favorite hiking destinations in the 'Hills.
One other place I'd had my eye on was the Ravenwood castle – either for accommodations or for a quick visit and meal – but we didn't make it this time. It's still on my Hocking Hills wish list!
The rest of the family camped nearby at the Hocking Hills State Park in a pop-up camper, and we all spent plenty of time there enjoying their campfire. It was a very nice campground and one we'd certainly consider for future trips – as was the gorgeous KOA campground we visited during one of our favorite activity excursions. More on that in a moment.
Where to eat
We were fortunate to spend several mealtimes with our Indiana family members around their campfire, enjoying delicious dinners and toasting marshmallows for mandatory s'mores (Zoe had her first s'more on this trip – and countless others – she's a big fan!).
When we did eat out, we consulted this great list of family-friendly eats and were never disappointed. Our favorites were Millstone BBQ (sweet corn muffin basket was super yummy) and the Olde Dutch Restaurant and Banquet House – lots of choices for everyone, even a somewhat picky toddler. E and I had hoped to leave Zoe with her cousins and sneak out for one fancier dinner just the two of us – I had my eye on the restaurant at the Inn & Spa at Cedar Falls – but we weren't able to make it happen on this trip.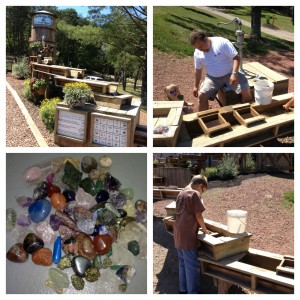 What to do
The favorite activities of our trip were definitely hiking, horseback riding and gem mining. On the day that E and I took Zoe and her youngest cousin gem mining, the other three cousins went ziplining with Zoe's aunt and uncle, and it sounds like that was a huge hit as well.
The Hocking Hills Gem Mine is located at the KOA campground in a scenic location at the top of a big hill. Come to think of it, everything we did in Hocking Hills was in a scenic location, so I guess that goes without saying!
Gem mining was a lot of fun. Basically, you purchase a bag or bucket of silt and gravel at the office, then handful by handful you rinse it off in the sluice to reveal your gems and other treasures, such as fossils and arrowheads. We were really happy with the results of our mining efforts! The pile of gemstones you see at right represents just half of our loot. It took an hour or so and we really enjoyed ourselves – plus there was a playground on site so when Zoe got bored, she was able to go play on the swings while her cousin and I finished off mining our bucket.
Hiking was certainly our dog Autumn's favorite activity, and all of the state parks in Hocking Hills are dog-friendly so long as you keep them on leash. All of the caves and hiking trails we visited were cool and shady, even in the heat of summer, and most had streams or waterfalls so we didn't even have to worry about packing water for Autumn.
We would get her good and tired on a walk or hike each morning, then put her in her crate back at the cabin for a nap while we went out to enjoy lunch and an afternoon activity. It worked out well for everyone! Our favorite hiking spots were Rock House, Old Man's Cave and the hilly grounds around our cabin at Old Man's Haven which provided great views of the lake and valleys below.
We capped off our wonderful stay in the Hocking Hills with an hour-long trail ride at the Spotted Horse Ranch on our last day. Since at age two, Zoe wasn't old enough to ride, she stayed back at the ranch with E where they got to meet and interact with many animals including rabbits, cats and kittens, a pig, and of course horses. When Zoe watched mommy and her cousins ride off on horseback, she got so upset that ranch hand Jack insisted on giving her a short ride on a full-size horse, which she loved! Zoe is still talking about "Valerie" (the horse she rode).
The Spotted Horse trail ride was also wonderful and they were very generous with the time spent in the saddle. In fact, I am so glad we didn't spring for the two-hour ride as we were all quite saddle sore and ready to dismount after an hour! It was our niece and nephews' first real trail ride and they loved it. The trail wound through woods, up and down hills, across streams and through meadows. It was one of the best trail rides I've ever been on, and I've been trail riding for most of my life. I would definitely visit the Spotted Horse Ranch again for more horseback riding fun!
All in all, I can't believe it took us this many years to figure out there's way too much Hocking Hills to fit into just a day trip. I know we'll be coming back again and again to immerse ourselves in the beauty and peace of nature, spend quality time as a family, and go exploring and adventuring outdoors. For days after our trip, we missed our cabin, we longed for the seclusion and quiet, and we missed that feeling of being totally surrounded and embraced by nature. We can't wait to get back to Hocking Hills.
What about you – are you a fan of the 'Hills, too? What's your favorite thing to do in that area? I'd love to hear in the comments below.