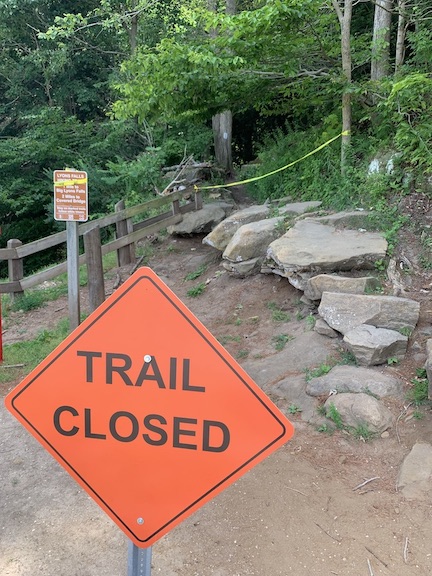 The tornados that blew through Ohio last month took their toll not just on homes and cities, but also on trails and nature spots.
On our recent date day together, my hubby and I headed out in search of a pretty place to hike. We saw tons of downed trees and other tornado damage as we drove up north.
We found ourselves at Pleasant Hill Dam in Perrysville, which is a great place to park and hike.
We always enjoy the views from the dam, whether looking out over Pleasant Hill Lake or in the other direction, where a long grassy hill slopes down toward the Clear Fork of the Mohican River.
There are usually multiple beautiful hiking trails accessible from this point. Unfortunately, the tornado damage has closed many of the trails so it makes sense to check the Mohican State Park site before you go (alas, we didn't do that).
As I've shared before, from the Pleasant Hill Dam parking area you can usually hike up into the Mohican state forest to Lyons Falls. We did that hike in winter a few years back and really enjoyed it, but unfortunately, that trail is currently closed.
You can also hike down from the dam to the covered bridge, which is another pretty spot – but watch out, because coming back up is all up-hill and pretty steep! This trail appears to be one of the only ones open right now.
We ended up just walking around the upper dam area, taking some photos, and driving to the covered bridge. On our way, we passed signs for a scenic overlook so we followed them… but, wouldn't you know it, that was closed for tornado damage, too. What a bummer!
Here's hoping the Mohican State Park folks can get all the fallen trees cleared and open the trails again soon. Mother Nature did some real damage but it is far too pretty up there to waste all those great trails and gorge views!