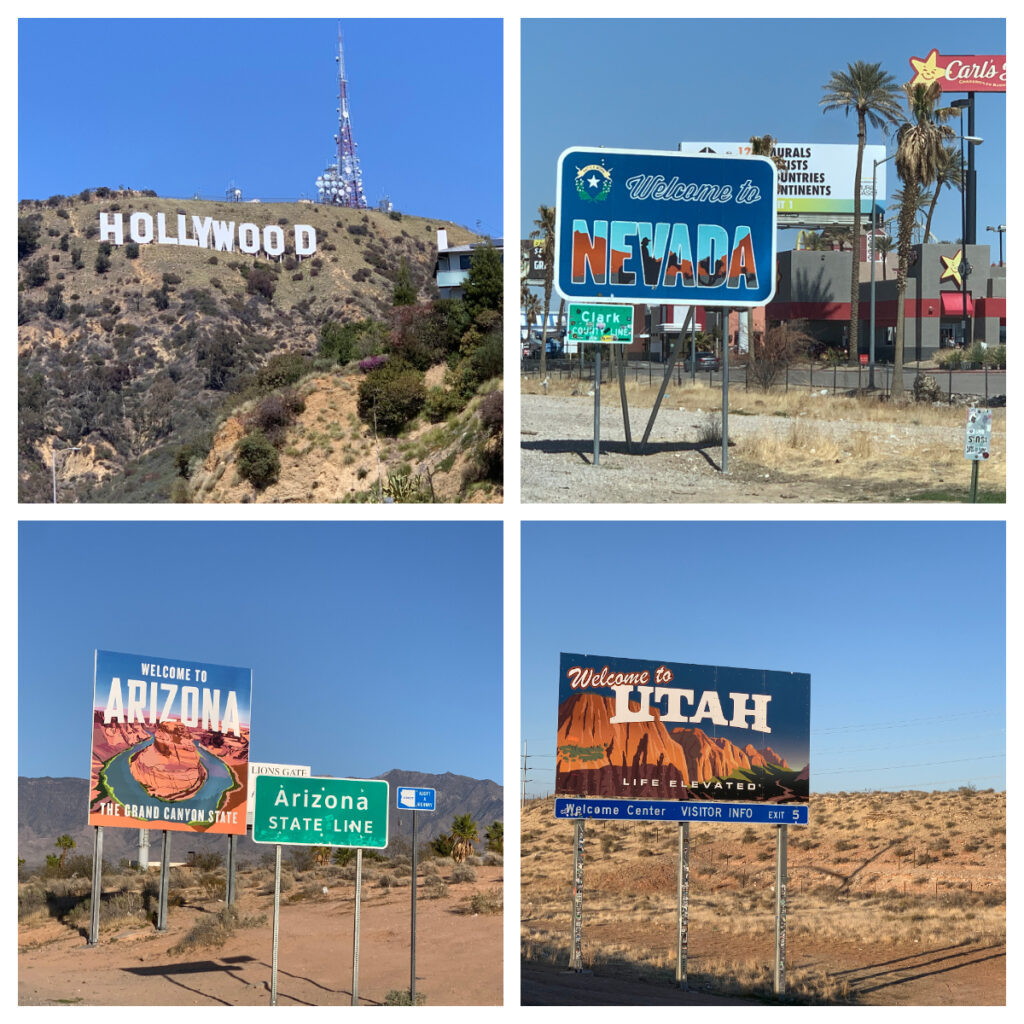 Like most people we know, we canceled far too many family trips and vacations in 2020 due to Covid.
When spring break 2021 rolled around, we were half-vaccinated, feeling more confident and itching to travel.
We knew we wouldn't be seeing family yet, so we planned an epic road trip to the Grand Canyon spanning four states and many fun activities.
This was our first true driving vacation and honestly one of our favorite trips ever as a family. (I'm so delighted our kiddo has outgrown their fear of car trips and carsickness; we brought Dramamine along and never had an issue.)
If you're interested in driving across this amazing country of ours, visiting multiple states and ending up at the Grand Canyon, then please follow along as I recount our adventures.
This post will be a high-level summary of each day of our trip, plus I'll do deeper dives on several of our destinations in future posts – including all the amazing rock and crystal shops we discovered along the way. Go West, young reader!
Day one: Hollywood, CA
We flew to sunny Los Angeles at the start of our spring break trip. Flying to LA is a habit for us because my family lives there; in hindsight, since we weren't seeing family, we probably should have flown to Phoenix or Las Vegas instead. But, we did thoroughly enjoy our time in Hollywood, California.
Hubby booked us two nights at Loews Hollywood, which is a gorgeous hotel in a tourist hotspot. We were able to walk to many Hollywood sights, plus enjoyed the rooftop pool and picturesque views of the iconic Hollywood sign. On our first night though, we were exhausted when we arrived from the airport, so we went straight to bed.
What a delight to wake to bright Cali sunshine and gorgeous Hollywood views! We spent day one of our vacation enjoying the hotel pool, exploring the Hollywood Walk of Fame (aka the sidewalk stars belonging to celebs past and present) and then hopping in the car to visit some well-known stars' neighborhoods. We spent a few hours at the beach in the afternoon – and swam in the hotel pool again under the real stars and supermoon that night.
Be sure to read more about our time in Hollywood!
Day two: Driving across four states
Day two was our big drive: from Los Angeles to Lake Powell, AZ. We knew it would take pretty much the whole day, especially since we planned to take a multi-hour break at the halfway point. Las Vegas is about a four-hour drive from LA depending on traffic. Most of the traffic we saw was coming the other way – we actually didn't hit much ourselves.
Thankfully, E is not the type to get just any rental car; he rented a luxury Volvo S90 from Sixt so we cruised all 1,284 roundtrip miles in comfort and style. Z had a ton of room in the back seat, plus anytime we stopped for gas or to stretch our legs, I always offered to swap so they could spend some time in the front seat (one of the benefits of having a tween the size of a small adult!)
The countryside from LA to Vegas is mostly barren desert, but it is interesting to see the land shift from the manicured, watered landscapes of LA to desert rocks and cacti. There are some fun places to stop along the drive, but since Vegas itself was our planned stop, we powered through with no breaks. As we got closer to Vegas, we enjoyed seeing cool rock formations plus tons of Joshua trees, which we remembered fondly from our spring break trip to Joshua Tree national park a few years back.
We shared the details of our fun afternoon in Vegas in this post; bottom line is that Z absolutely loved it, so much that we ended up returning again at the tail end of our trip.
The post-Vegas drive to Lake Powell, AZ got even prettier, as the highway crisscrossed into gorgeous Utah several times. Both Arizona and Utah are far more beautiful than I ever realized – we loved driving through red-cliffed passages and past incredible, rock-strewn gorges and hillsides.
As it grew dark, we kept driving through stark desert terrain and were amazed by how bright and close the stars and moon seemed. Finally, we arrived at Lake Powell Resort and Marina around 10 pm. Exhausted, we crashed hard in our hotel beds ready to explore the hotel and lake after a good night's sleep.
Day three: Lake Powell, AZ
We awoke on day three to find that we had the most gorgeous lake view imaginable from our room – it had been completely dark the night before, so we had no idea! I got up before the sun and took a walk around the property to orient myself and watch the Arizona sunrise over Lake Powell. It was very windy, quite cold and absolutely stunning.
We were supposed to take a kayak tour of Antelope Canyon that morning, but soon after my walk we got the call that winds were too high, the lake was too choppy and our tour was cancelled. We were bummed but decided to have a hiking day instead, exploring both the Wahweap Bay/Marble Canyon area and iconic Horseshoe Bend.
After lunch, we hopped back in the car to head to our ultimate destination: Williams, AZ near the Grand Canyon. See my separate post for more on our Lake Powell adventures.
Day four: Grand Canyon area
The pinnacle of our trip was absolutely our day at Grand Canyon national park and the surrounding area. Words and photos simply do not do the Grand Canyon justice – it's without a doubt the most splendid, magnificent and sacred landscape I've ever laid eyes on. It's pure magic.
We spent one day at the Grand Canyon, but when we go back (and I'm already dying to!), I hope to stay onsite at the Grand Canyon hotel so we can catch sunrise there, along with sunset and some actual hiking into the canyon. It was too glorious for words and absolutely deserves more time on our next visit.
We spent two nights in Williams, AZ, known as the "Gateway to the Grand Canyon." It's a cute little town on historic Route 66 with good restaurants, plenty of fun shops and proximity to another fun destination: the Bearizona drive-through wild animal preserve. We had lots of close encounters with wild critters on this trip, but Bearizona definitely took it to the next level. Be sure to check out my Grand Canyon post for more details about all the fun we had there!
Day five: Oatman, AZ and back to Vegas
On our final day, we left our hotel in Williams and headed back toward Vegas. We had originally planned to fly home from LA, but realized it was crazy to drive that far and instead found a quicker, cheaper and direct flight home from Vegas – way to go hubby for that amazing find! Z was delighted because it meant less driving and more time in one of their favorite places of the trip; this time we got to see the Vegas strip by night, which is always a thrill.
On the drive to Vegas, we made a fabulous detour from the main highway and explored some of Arizona's picturesque backcountry. This included spending some time on old, historic Route 66 with memorable stops at Cool Springs Station and Oatman, AZ. You guessed it, these amazing off-route visits definitely merited their own blog post, and were among the top highlights of the trip.
So there you have it – a quick summary of our epic family road trip. Considering we spent five days and almost 1,300 miles in very close proximity, I am happy to report we all had fun and there were very few disagreements!
Check back for our deeper dives into each of the wonderful places we visited – and if you have any questions for us about the trip, let me know in the comments below so we can answer them in our subsequent posts.
What's the longest road trip your family has ever taken, and was it fun and memorable? I'd love to hear your tales from the road.