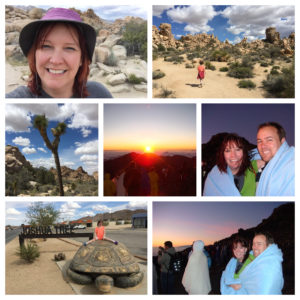 I'm obsessed with our country's national parks.
Our family loves hiking and immersing ourselves in nature. While we have wonderful local and regional options like Preservation Parks of Delaware County, Hocking Hills State Park, Mohican State Park and the Columbus and Franklin County Metro Parks, there's just something about the legacy and diversity of our country's amazing natural wonders: the national parks.
Did you know that of 417 parks and areas in the National Park Service, only 60 have the actual designation "national park"? Those 60 are special places indeed.
Also: families of fourth-graders NEED to know about the amazing Obama-era program, Every Kid Outdoors, that provides a free National Park Service pass to all American kiddos in their fourth-grade year.
Just visit that link and print out your child's paper pass – then take it to any national park and exchange it for a cool, official, plastic National Parks pass!
While I visited some amazing national parks with my family as a child, including Yellowstone, Fire Island and Mt. Rainier, alas those are only distant memories for me now.
Instead, below I'll touch on the national parks that we've visited in the past ten years – one with Z and two before she was born – and then I'll end with a few national parks that are on my wish list for upcoming trips! 
I never knew I could be a desert lover until the day we went to Joshua Tree National Park and I fell in love with its giant round boulders, endless bright blue sky and oddly Dr. Seuss-like namesake, the cactus-looking trees themselves. In March 2016, our family traveled to Palm Desert, CA for a weekend getaway from LA and it was the perfect opportunity to visit Joshua Tree. I found the park experience to be so magical it bordered on sacred – the beauty was just breathtaking and the landscape so majestic and unlike anywhere else I've ever been. Climbing boulders and exploring the park that day with E and Z is one of my cherished travel memories, and the photos I took of my two adventurers that day are among my favorites ever. I was devastated to read recently that vandals did irreparable damage to Joshua Tree during the recent government shutdown – just heartbreaking.
Greeting the sun at Haleakala National Park at sunrise is a must-do for first-time visitors to Maui, and it's an experience I'm lucky I've been able to see twice in my lifetime. While the drive to the top of the volcano in the wee dark hours along steep, winding roads can be a bit harrowing, the reward – seeing the first rays of the sun peek over the top of Maui's highest peak – is truly worth it. Once the sun is up and warming your chilled bones, you can take in the volcanic landscape and unique terrain of Maui's backcountry as seen from Haleakala's slopes. There are unique flora and fauna to be seen here, too, including adorable brown weasels and, if you're lucky, the endangered state bird of Hawaii, the nene goose.
The most visited of all the national parks, Great Smoky Mountains National Park, is actually the site of our next family getaway and the place that sparked the idea for this blog post. E and I spent time there years ago for a romantic weekend, and we'll be taking the girls to the Smokies later this month. I'm looking forward to spending time in nature – including in the hot tub on our cabin's deck overlooking the woods! Who knows, maybe we'll even get a black bear sighting on one of our hikes if they're not all hibernating away the winter. At the very least, we'll soak up some great nature views and much-needed "unplugged" time as a family. You can read about our Gatlinburg getaway here.
Next on our list
Of course, I'd love to see all of the top 25 national parks, but I thought I'd keep my wish list somewhat reined in for now.
First and foremost on our parks wish list is Ohio's very own national park, Cuyahoga Valley, between Akron and Cleveland. It's hard to believe that we haven't been there yet when there is so much to do and see in this gorgeous treasure – and admission is free! This is on our summer 2019 bucket list for sure.
Another one that is a no-brainer for our family – and not too far from our fam's West coast home base – is the Grand Canyon! Again, I can't believe I've never been here and I'm dying to go. Although I'm afraid of heights, I look forward to seeing this amazing national treasure while keeping a safe distance from the edge.
Last but not least, Sequoia National Park and its massive redwoods are high on my list of national parks to visit in the next year or two. One of my few travel regrets is that E and I didn't make it to see the redwoods on our pre-Zoe Big Sur road-trip from LA to San Francisco a few years back. It was a fabulous trip but would have been made even more amazing if we had gotten out and hiked Sequoia during our journey. Next time for sure!
In summary, I definitely hope to visit at least the top 10 national parks before Zoe finishes high school. It's a great family goal to work towards! 
Have you visited any of the national parks, and if so what are your favorites? Do you have a wish list of parks you'd like to visit – and have you seen this great list of the best national parks in each state?
As always, I'd love to hear your stories in the comments below or over on Facebook.