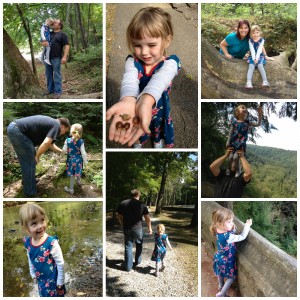 Before we became parents, E and I loved going for hikes together in Ohio's beautiful, scenic forests – either south to Hocking Hills or north to Mohican State Park.
We've hiked alone together and with our dogs. We went on dozens of wonderful spring, summer and fall hikes in our pre-Zoe years, and even took some great hikes while we were pregnant.
Once our little angel arrived, however, she put a bit of a kibosh on our hiking adventures for a time.
It wasn't that way at first. When she was really little, I wore her in a Moby wrap for a few hikes (through which she slept – until it was time to find a place to nurse!).
Then from about eight months through about 17 months of age, we hiked with her strapped into our awesome baby backpack. She slept through many sights up there, too, but it was still great to have her with us out in nature. We schlepped her around NYC, Maui and many scenic parts of Ohio in that wonderful contraption.
At right around 18 months, however, Zoe was over riding in the backpack and wanted to be down on the ground, on her own two feet. That made hiking really difficult, even potentially dangerous.
You can't always convince an adventurous toddler to stay on the trail, and cliffside walks just aren't as relaxing when your heart is in your throat the entire time. Plus it was frustrating to drive an hour or more to a gorgeous spot, only to be told by Her Highness that a hike wasn't in the cards that day.
Even less risky nature trails closer to home, like our nearby favorite Char-Mar Ridge Preserve, are impossible to do with a toddler who simply refuses to be carried, worn or go at all. "No. Don't want walk. Want go home!" is something we heard more than once during the tumultuous (I still wouldn't go so far as to call them terrible) twos.
More recently, we've taken her to hiking spots only to have her fall in love with the rocks, acorns or other treasures at the start of a trail, refusing to walk with us to even cooler places and treasures further into the woods.
So, you can imagine our delight when we attempted a fall hike a few weeks ago and actually got to do some hiking! It turns out 3.5 is the sweet spot for nature lovers – or perhaps we simply timed things better between meals, bathroom breaks and naps – because Zoe got her serious hike on for the first time and LOVED every second of it.
We hit the Mohican State Park, parked near the covered bridge and headed into the forest. All three of us had an incredible time walking, climbing and adventuring. Zoe walked almost half a mile on those trails and delighted in every secret sight and natural wonder.
I honestly think that no matter how many more successful hikes we go on with her, we'll always treasure this first and best one. What a difference to have her holding our hands and marching along the trail – or, at times, running up ahead of us to guide our path! It may have been our best hike ever.
What about you – what have you found to be the best way to get little kids excited about hiking? And what age have you found to be the best for going on long-ish hikes? I'd love to hear in the comments below.