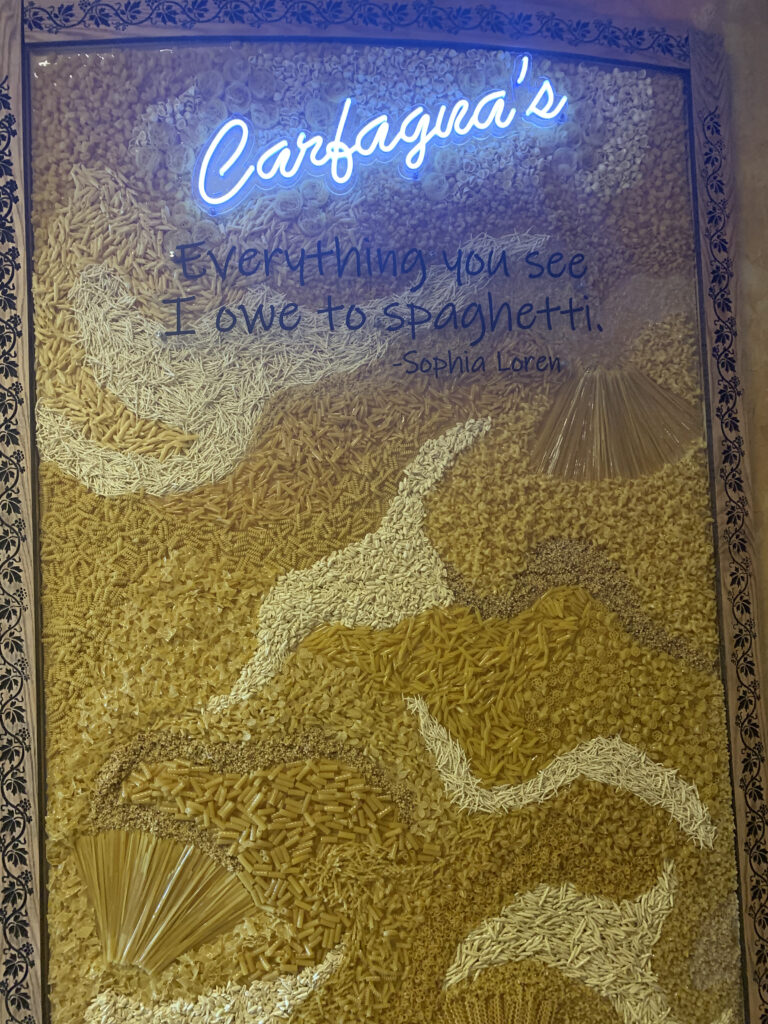 If you live, work or dine out in the Polaris area, chances are you've heard of Carfagna's Italian restaurant.
Carfagna's is a terrific, family-style Italian restaurant that scratches every possible itch if you love Italian food.
Since I'm from Long Island, it goes without saying that I love Italian food. I always joke that being from Long Island makes you honorary half Italian and half Jewish. It's certainly true in my case!
Anyway, the Carfagna family are long-time food industry pros. In addition to their popular Polaris-area restaurant, they also operated an Italian butcher/meat shop down on 161. They also bottle their amazing pasta sauces which are sold at Kroger stores around Ohio.
For some time now, the staff at Carfagna's restaurant, one of our favorites in regular rotation, have been telling us about a big new location coming soon.
It may have been delayed a bit due to Covid, but the fabulous new Carfagna's is now open and trust us – it was worth the wait!
Last week, after reading lots of buzz about it in the local press, we finally ventured out to the new Carfagna's Italian Market & Ristorante.
We purposely let a few weeks go by after the grand opening to hopefully let some of the initial excitement die down – but there was still a 35-minute wait for a table at 6 pm on a weeknight.
That's okay though, because it gave us time to explore the rest of the HUGE Italian market and check out all the other offerings!
The new Carfagna's contains not just the restaurant, but also a separate bar, a large wine and liquor store, and an attached huge Italian market. Picture a Whole Foods or Trader Joe's entirely devoted to every possible Italian food, and you're pretty close to how awesome it is.
Honestly, the place is so well-themed and planned out that it almost feels like visiting the Italy section of Epcot. It's all housed inside one huge, cavernous building but the way you get to walk around and go through different experiences is so cool.
When you first walk in through the doors on the left side, there's a little outdoor farmer's market area in the lobby selling fresh foods, seasonal items and jellies and jams. From there, you walk straight into the large Italian market which contains various stations like a pizza shop, gelato and bakery counter, cheese and meats shops and so much more.
If you walk around to the right side of the market, you can see into the bar area where there is seating that is separate from the restaurant. All the way at the back on the right, you can see through to the restaurant seating area.
Back up at the front entrance, if you go to right, you can walk through the large wine and liquor shop which includes a walk-in chiller and is fully stocked with every conceivable beer, wine and booze brand.
Through the wine shop is the entrance to the restaurant and bar, including a hostess station where you can give your name and find out how long the wait is for a table.
While we waited, we walked around and were amazed by all the selections in the large market. The pastry counter looked incredible with loads of Italian sweets, including my personal favorite, cannolis, and so much more.
The Italian market includes fresh foods, prepared meals that you can take home and heat up to eat, pizzas, gelato, cheeses, meats, produce, pastas of every imaginable variety and so much more.
The Italian decor and theming is as detailed as if it were done by Disney or Universal. It feels more like an Italian theme park – with foods instead of rides – than a grocery store or market. We loved the pasta art wall at the entrance to the restaurant as well as the educational cooking billboards throughout the market area.
In addition, look for the enormous, larger-than-life pasta box in the market – and the working fountain made from a tower of wine barrels.
There's also a really cool timeline on the wall near the entrance that brings the Carfagna family's story to life. I loved reading their family history and learning how they got started in the Italian food business, fighting against the odds at a time when Italian immigrants were not always treated well.
Bottom line, Carfagna's is about so much more than just families going out for great Italian food. They are also all about helping people to prepare great Italian dishes at home for their families. Food and family seems to be the over-arching theme here and they do it so well.
If you are Italian and/or love to eat and prepare Italian foods, you simply have to visit this place. Have you visited the new Carfagna's yet, and if so did you love it as much as we did? I'd love to hear your stories in the comments below or over on Facebook.