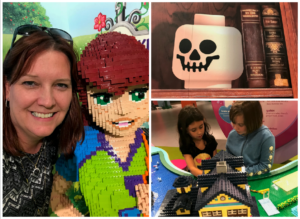 Last week, I was fortunate enough to escort two little 8-year old rockstars to the VIP premiere night at Easton Town Center's new Legoland Discovery Center. To quote the popular Lego movie song, everything is awesome! For the 10 and under set, Legoland Discovery Center is the ultimate playground – and even this 40-something mom had a blast.
I should preface this glowing review by noting that neither of the 8 year olds I took are particularly fanatical about Legos. They're more into art, making slime and playing with American Girl dolls. Still, the two of them were delighted to accompany me to the premiere and both enthusiastically gave the new Lego playland a huge thumbs-up. 
If your age 3-10 kiddo loves playing with Legos, then it's on like Donkey Kong; they will LOVE this place. And even if your little ones aren't super into it, there's still so much fun stuff to do and see here that you are guaranteed a fun day. We stayed about two hours and easily could have stayed longer – in fact, they begged to stay later and come back again. Here are our top five favorite things to do at the fab new Columbus Legoland Discovery Center… plus two extra bonus favorites because we loved it so much, we couldn't stick to just five!
5. Merlin's Apprentice ride. A typical flying/spinning ride (think Disney's iconic Dumbo ride), this one has a unique twist: you have to pedal hard in order to get your car to rise and fly. Otherwise, you just go around at floor level. My companion and I had a blast pedaling to go up, up and away into the air – in fact we were both quite jelly-legged after the ride. Great workout! My daughter was able to ride with another kiddo her age, but our smaller-in-size friend had to ride with a parent. Luckily, it was a cool parent – aka me. The rides are free and they are welcome to ride as often as they like, but they do have to get off and get in line again (standard theme park rules).
4. Lego Build & Test. In less politically correct times, this area may have once been considered more of a "boys area" to play – but our two girls LOVED it here and had so much fun building four-wheeled racing vehicles and then testing them on the tracks and ramps. The color theme in this area is red, black and white and it's very high energy and loud with revving car engine sounds overhead. This area might be a little overwhelming to someone sensitive to noise.
3. Miniland. I was honestly surprised at how delighted the girls were with this area. I personally loved it and could have spent an hour or more in their painstakingly created mini replicas of Columbus, Cleveland and Cincinnati. The detail is incredible and there are so many fun little touches – like the dog walker in the park who has a mini pig among her many canine charges! The girls loved seeing local landmarks like the Ohio stadium, COSI, the Statehouse, the North Market and the German village all crafted out of Lego bricks. Someone has a really cool job.
2. 4D Cinema. If you've been to the 4D movies at the Columbus Zoo and Aquarium, then you know how fun they are. Don the 3D glasses and prepare to get wet – that's all I'll say for fear of spoiling your fun. The girls asked, "will we get misted or actually wet?" and the answer is… a little of both! The movie is Lego themed and hilarious. If you're a fan of the full-length Lego films, you'll love this short one, too. #LongLiveWyldstyle
1. Kingdom Quest. This was our favorite ride and the highlight of our night – in fact, the girls rode it twice with me and once more on their own. You get into little independently moving wheeled vehicles (they fit four) and, once strapped in and safely behind the locking bar, you grab a laser gun and begin to shoot bad guys on oversized video screens as you are moved through the ride. The bad guys range from spiders and trolls to animated Lego skeletons, and the aim of the game is to save the princess and the dragon eggs. Then again, maybe the princess doesn't actually need saving after all – but the dragon baby at the end is the cutest thing ever. Keep your eyes and camera pointed at the golden egg right at the end of the ride! This ride might be a bit scary for the very wee set, but for the 8 year olds I was with, it was the absolute best thing ever.
Bonus favorite #1: LEGO Friends area. Full of bright pink and floral details, once upon a time this might have been considered the "girls play area." In today's world, hopefully everyone will like playing here. I will say that I was blown away by the very cool Lego set-up they provided here for the kids to play with, in and around. Imagine beautifully detailed, hand-crafted Lego creations like a rose garden, beach house and cruise ship just sitting there waiting for you to play and add, change or build on it. My girls found it irresistible and quite frankly, I did too. We could have spent a lot more time playing here – perfect for a rainy or wintry weekend!
Bonus favorite #2: Trading LEGO MiniFigures. We didn't know about this before going, so we didn't participate – but next time we go, we will bring a couple of Lego MiniFigures from home. The Legoland employees all wear shirts offering to trade MiniFigures. That's right, if you ask an associate to trade with you, they have to give you theirs in exchange for yours. What a fun way to get a souvenir without spending a penny. I've loved trading pins at Disney parks in the past, so I think this is a super fun addition to the Legoland experience. As with the Disney pins, I'm sure you could end up with a really cool and different Lego MiniFigure that you might not have created or bought any other way.
That's not all, folks – there's also a store, a little kids Lego Duplo area, a cafe and even a Master Builder section. I've barely scratched the surface here. We all know winter is long and grey here in Ohio, so I am thrilled we have another indoor playground of this quality to keep us all active and having fun when it's too cold to play outside. I would definitely rate the new Legoland Discovery Center as "Disney-esque" in its quality, cleanliness and overall fun quotient. Our family can't wait to go back!
Have you visited Legoland at Easton yet, and if so what was your favorite activity? We'd love to hear in the comments below or over on Facebook.