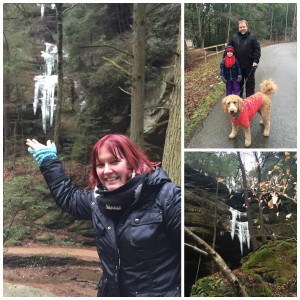 This blog post originally appeared on my former agency's blog as part of the a travel series.
I've never gone winter hiking before. In fact, I've always secretly thought that people who hike in cold weather are a little crazy. But, after a recent weekend getaway with my family in Hocking Hills, I am officially a winter hiking convert. It just takes a little preparation and a lot of bundling up!
What to Bring
To prepare for our winter weekend in Hocking Hills, I made sure my husband, daughter and I each had insulated, waterproof pants to pull over jeans or leggings and heated warmers to tuck into our gloves, boots or pockets. We also drove our four-wheel drive vehicle in case of inclement weather. Then, we packed good winter coats, scarves and gloves, a canine sweatshirt for our beloved Goldendoodle, Autumn, and fully charged cellphones for taking pictures of winter's splendor. Thanks to our layers and the pocket warmers, I can honestly say no one in the family got cold and, in fact, we even got a little too warm despite spending hours out in the cold each day.
Where to Stay
Friday after work, we headed down to Logan and checked in at Old Man's Haven's cozy, comfortable, kid- and pet-friendly cabins, where we had stayed once before in summertime. This visit, we truly appreciated the well-stocked fireplace – and our five-year-old daughter loved the loft bedroom upstairs. We even ventured out onto the porch to enjoy the hot tub several times during our visit. A little snow would have made for hot tubbing perfection!
What to See and Do
Saturday morning, we woke up, geared up and headed out to hike some of the nearby hot spots in Hocking Hills State Park. Although our summer favorites for hiking include Rock House and Cantwell Cliffs, I had my heart set on seeing some frozen waterfalls. So this time, we headed right to Cedar Falls for gorgeous ice sculptures and crystallized waterfalls galore.
We did not realize that our family's getaway coincided with one of the biggest winter events in all of Hocking Hills: the 51st annual Winter Hike. More than 5,000 hikers attended in 2015, and judging from the crowds we saw, I'd estimate this year's numbers were even higher.
The Winter Hike is a great event with naturalist presentations, free refreshments and tons of volunteers helping to organize and manage the crowds, but it wasn't quite the peaceful hiking experience we were expecting. Next year, to avoid the crowds, we'll choose a different weekend for our getaway. But I can see why people come back for the Winter Hike every year – it attracts a great bunch of nature-loving folks who like hiking in numbers!
We decided to leave the hustle and bustle of the Winter Hike activity and headed over to Ash Cave instead. While there were still many hikers at the cave, it was a bit more manageable with our dog and child – and the 90-foot waterfall and resulting ice pool and icicles were glorious in their winter white. My daughter Zoe's favorite part was throwing rocks and ice chunks into the creek. Autumn loved the soft sand floor within the cave, made from erosion of the sandstone rock. She had never felt such soft sand beneath her paws before. (Note to self: we need to take this dog to the beach!)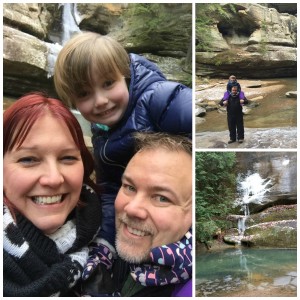 On day two of our winter getaway, we went back to Cedar Falls and enjoyed having it all to ourselves for a scenic, peaceful morning. This incredible spot looked as if Queen Elsa had visited and turned everything to ice. Although we had no snow during our weekend in Hocking Hills, the frozen waterfalls and icicles were a sparkling treat for the eyes (and Zoe enjoyed feeding a few icicles to the dog). It was also interesting to see how much plant life stays green in the wintertime, including lots of moss and lichen on rocks, trees and riverbanks.
What to Eat
We worked up quite an appetite hiking out in the cold and enjoyed two great meals on Saturday. First, before our hike, we visited M&M Family Diner in downtown Logan, a local favorite where "everything is home-made," according to Michelle, one of the owners, who seated and served us. Zoe liked her buttermilk silver dollar pancakes so much that we ended up getting her a second order! Eric and I enjoyed our meals, too, and with warm, full bellies we were ready to go out and hike.
After an exciting day of winter hiking, we headed to one of our favorite Hocking Hills restaurants, Millstone BBQ in Logan, and picked up take-out to eat in our cozy cabin in front of the fire. Millstone has the usual barbecue fare with a few Tex Mex additions, plus the MOST delicious sweet corn mini-muffins that come with each meal. I could probably eat a dozen of these things, spread lavishly with the whipped honey butter they provide. Yum!
To sum up: if you've never taken a winter hike in Hocking Hills, it can be fun for the whole family – dogs included. Just bundle up, stay on the trails and take your time as steps and slopes can be icy. Be sure to take a camera or have a cell phone ready to capture the beautiful images you're sure to see. Perhaps the best part is that you can do this as a weekend getaway or a day trip, since Hocking Hills is easily accessible from central Ohio.
I can't wait to see where our roadtrip adventures will take us next. Be sure to share your favorite Ohio getaways with us in the comments below or on Facebook – we're open to ideas!