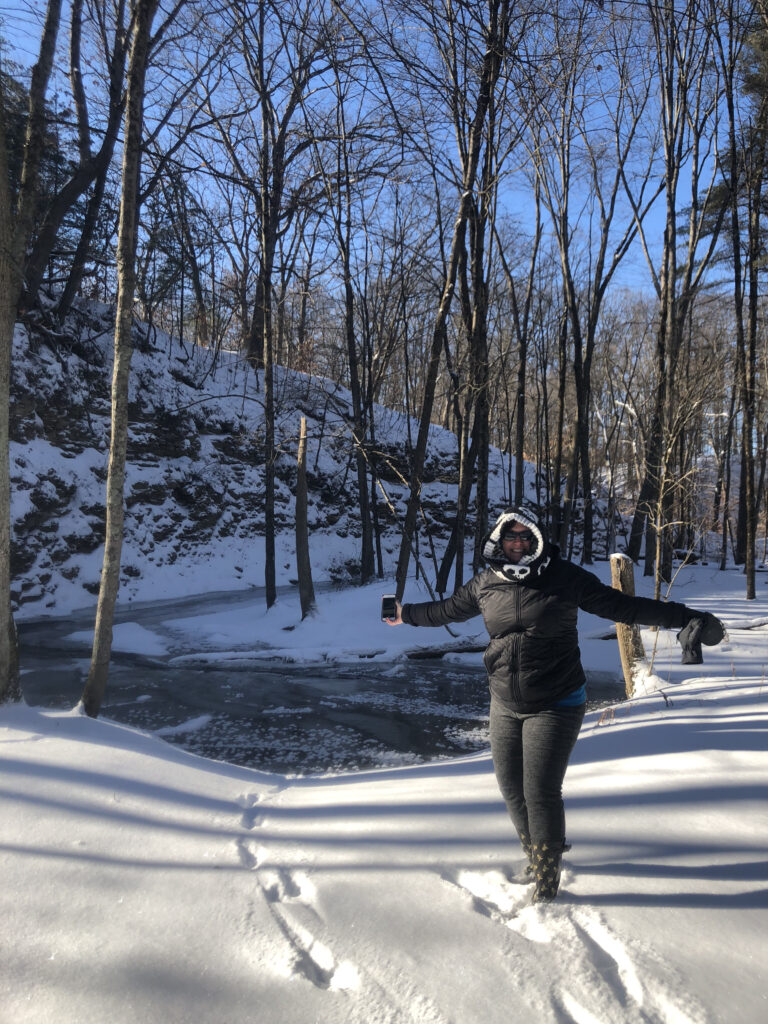 Are you a fan of winter hiking?
If you've never tried it, you're not alone. I used to prefer to spend winter cozy and warm indoors, with a fire in the fireplace and early bedtimes for all. Call it a pseudo hibernation state.
However, that all changed when we had our child. Kids love the snow and they are not afraid of cold! Truly, it's good for everyone to be outdoors as much as possible, no matter the weather.
I am forever grateful that Z has dragged us outdoors for sledding, snow hikes and other bundled-up, rosy-cheeked adventures.
We spent an amazing winter weekend in Hocking Hills a few years ago, where we took daily winter hikes and enjoyed a cozy cabin vibe. That's when I truly fell in love with the dazzling beauty that is a cold day's hike in a winter wonderland, complete with icicles, snow and frozen waterfalls.
There's nothing like a frozen waterfall to make you believe that Elsa truly exists and is out there working her magic.
The best part? You don't have to go all the way to Hocking Hills for such wintry splendor. Our own Shale Hollow Park, right near Kroger in Lewis Center, is one of my all-time favorite winter hiking spots.
In winter, the shallow creek at Shale Hollow becomes a beautiful, icy path through the forest. The tall shale cliffs with their tiny springtime trickles of water become icy waterfall walls after a few days of freezing temperatures.
Shale Hollow's natural play area, adorned with a fun rope bridge, is even more fun in snowy weather. We have had some enchanting winter walks and hikes at Shale Hollow – and it's nice to be so close to home, warmth and hot chocolate when everyone decides they've had enough.
Char Mar Ridge Preserve is another great local hiking or walking spot in winter, although the hills make it a bit tricky. Be sure to wear hiking boots with some good grip. Char Mar during a light snowfall is truly a magical place and you can feel as though you're deep in a Nordic wood, even though you're actually quite close to home.
If you want a short, flat nature walk in winter time, try the small patch of woods at Glen Oak Park in Lewis Center. As an extra added bonus, there's a small skating pond and epic sledding hill right there, too – literally something for everyone, from the wild to the mild.
We had a great winter outing to Glen Oak Park on the most recent Olentangy Local School District snow day. The kiddo and my husband sledded to their hearts content on the hill while I hiked through the adjacent woods and enjoyed taking photos of snow-covered trees and branches.
We were home again before our frozen feet even had a chance to melt – and we had the rosy cheeks to show how much fun we had.
When Z later sketched a picture of our day together, she was sure to include a tiny figure of a mom holding up her phone and yelling "SMILE!" as two other figures sledded down the hill.
Hey – someone's got to be there to take the photos, or how will you all remember all the fun you had this winter? That's mom life for you!
A version of this post was also published in Lewis Center Living magazine's March 2021 issue.