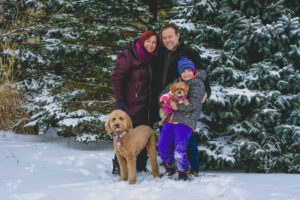 Welcome to the third installment in my SEASONS blog series: round-up posts that celebrate and share our best content focused around spring, summer, fall and winter.
Recently, I found myself trying to describe to a life-long Californian how wonderful snow is.
I described some of the different types of snow: soft, fluffy snow that feels almost weightless. Heavy, crunchy snow that is fun to sled on and build snowmen with. Gigantic flakes that come down in slow motion so that you can literally see each gorgeous, crystallized snowflake pattern with your own eyes.
Winter is not my favorite season – I can't lie. That said, there are many things that I love about winter – especially in the months leading up to Christmas.
I adore a white, snowy holiday break! I love being snowed in on a weekend with no plans. I still get a thrill over those early, winter morning calls from school that wake everyone up and result in loud cheers of "Snow day! No school!" from the kids in the house before they go back to sleep.
Winter to me is hot cups of cocoa and rosy cheeks after playing outside in the cold. It is beautiful frost formations on the windows and bundling up in bulky coats, scarves and gloves before an outdoor adventure. It is cozy weekends spent indoors on puzzles, art, blanket forts and movie nights. It is the smell and warmth of a roaring fire in the fireplace, the taste of hot chocolate and the feeling of snuggling in a toasty warm bed while the room itself is quite chilly.
Winter makes us appreciate the warmer seasons more! Winter is a great time to slow down, be reflective and plan for the year ahead. It's also the perfect time to read, make a list of things you want to do – or bundle up and go sledding or winter hiking.
Last winter was especially wonderful for our family because it was full of firsts for our lovely Napa. Being from Thailand, she had never experienced cold or snow before. We got to take her sledding, snow tubing and snowman-building, as well as see her joyfully experience many other winter delights. It made all of us fall in love with winter all over again.
Here are our favorite winter blog posts, packed full of ways to stay warm, have fun, get out in the snow and enjoy every frosty, beautiful, icy cold minute of winter.
This year, instead of dreading or fearing winter and cold weather, let's focus on the good things. Let's remember how much our kiddos LOVE snow, playing outside in the cold, sledding and ice skating. Let's stock up on hot chocolate, fun new teas and other warm beverages to get us through til spring. Let's get out there and photograph the snow and ice to stay mindful about just how beautiful it all is.
What's your favorite thing about winter – and have you checked out my fall and summer SEASONS installments? I'd love to hear in the comments below or over on Facebook. Come back again in a few months to check out the final stop in our SEASONS series and learn what we love best about spring!