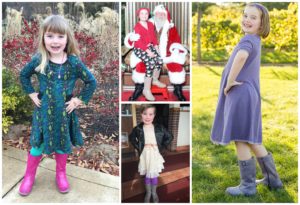 Our darling daughter is growing faster than the speed of light. I swear, every time I turn around she needs new shoes or pants – she's shooting right up like a fairytale beanstalk! There's no doubt she'll be taller than both her parents, and have feet bigger than mine.
I'm happy about this (and proud – yay breastmilk! We've pretty much maxed out her genetic potential!) but also sad for one very silly reason: this is her LAST season ever to wear our favorite boots – the incomparable Karinne Glitter Boots by Hanna Andersson. Next year, she'll have to wear a different brand of winter boots.
This is bittersweet for me because our sweet fashionista has only ever worn ONE style of winter fashion boots in her whole life. I've bought them for her in a larger size and different color each year for four years. And now (sniffle), she's in their final and biggest size.
This is officially our last year in these beloved, awesome boots.
This photo collage tells the story better than I can. Her first year in the boots was 2015 – she was a fabulous five year old and chose a hot pink shade. They went with everything and she adored them – plus the fit, comfort and quality were everything you'd expect from Hanna – so the following year, naturally I got them again.
In 2016, she was a sassy six year old and chose metallic silver. I was a little surprised – had tried to steer her toward the black ones – but as usual, she knows her mind and she made the right decision. One again, they went with everything and she wore them everywhere.
In 2017, I asked my stellar seven year old if she wanted the same boots again or something different. She took a look at the new colors and said THOSE! So purple sparkle boots it was – and I so wished they had them in my size. Those things were seriously cool.
This year, for our excellent soon-to-be eight year old's final time wearing these perfect winter boots, I once again tried to steer her towards black. However, she was on a big Wonder Woman kick and so she jumped at the chance to wear gold sparkle boots – and I can't blame her. There'll be plenty of time for boring black boots once she's in adult women's sizes next year, after all.
If you have a young daughter, I give these boots my highest recommendation. They're a bit pricey at $70, but you can catch them on sale from late summer on if you keep your eyes on the Hanna website. I've never paid more than $50 for them every year – and trust me, even if you pay full price, they're worth every penny. Soft, comfortable, sturdy, well-made, easy on and off, great colors and they go with absolutely every outfit.
I'm really going to miss these boots!