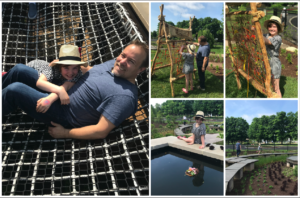 I've blogged for years about how much we love the Franklin Park Conservatory as an alternative to loud, overcrowded and at times grubby indoor play areas for kids and families. Honestly, sometimes I think the conservatory is all that gets us through Ohio's long, seemingly never-ending winters – and I know it will get us through this upcoming winter as well. But if you're only exploring the indoor portion of the conservatory, you're missing out!
The new children's garden at Franklin Park Conservatory is yet another reason to love this place – and to splurge on a membership that will keep you coming back again and again.
Open year-round (except for the water features), the children's garden is an outdoor wonderland spanning two acres of unique, interactive experiences that connect kids and adults with the natural world around us. In summer and fall, the garden was enchanting – I can only imagine how gorgeous it will be on a crisp, sunny winter's day with ice and snow sparkling all around, or on a beautiful spring morning when nature is waking up and showing her colors again.
There are too many favorite things in the children's garden to go into them all, but here are a few very special highlights we loved:
The rainbow welcome terrace features misting boulders (which create actual rainbows right before your eyes on sunny days), a rainbow-hued garden and a gorgeous rainbow stained glass archway to walk under and marvel over. It's a terrific entrance to the garden and sets the tone right away that you're now in a truly magical space.
The canopy walk includes a boardwalk for those of us who are less daring, but also a rope bridge, giant birds nest and rope hammock – all from an elevated platform that makes you feel as though you are in an elaborate treehouse.
The nature art studio allows visitors to create floating masterpieces in a "framed" reflection pool – something we take time to do every single time we visit. This area also includes a loom stand where visitors can weave various materials such as colorful string and plant elements into a collaborative work of art.
We love the children's garden for these features plus so many more, including a water play area that mimics the best of natural creeking and waterfall fun in a clean, safe environment that appeals to kids of all ages. Every time we go, we find a new little area to explore and discovery. Fairy gardens, little libraries, whisper benches – you simply won't believe all the time, thought and loving detail that went into this fabulous place.
My parents live in Los Angeles and are rather spoiled when it comes to cultural and other social offerings, but even they were utterly blown away by our new children's garden, which was made possible through generous support from the Scotts Miracle-Gro Foundation. This is such a special place that I simply cannot believe it's really ours to keep – a new treasure for those of us in central Ohio who already love and support the Franklin Park Conservatory.
Also, if you haven't been to any of the conservatory's wonderful nighttime events (think: date night), you need to check those out, too!
Have you been to the Franklin Park Conservatory's new children's garden, and what was your favorite part? I look forward to hearing in the comments below or over on Facebook.