Disclaimer: I was generously provided four free tickets to Aqua Adventures prior to writing this post. All opinions are my own.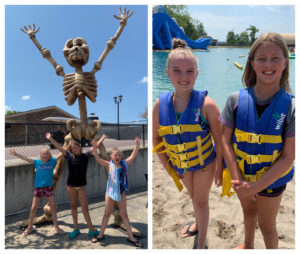 We have a ton of fun stuff to do in Columbus, but sometimes we get the urge to take a road trip a little farther afield for something extra awesome – like our trip to Scene 75 in Dayton a while back.
This summer, we heard about the unique water adventure park in Middletown called Land of Illusion's Aqua Adventures. When my sister in law and nieces came to visit us from Cali, it seemed like the perfect time to load up the car and hit the road for a great lake escape to Aqua Adventures!
The drive from Lewis Center to Land of Illusion was about two hours, maybe a little more with food and bathroom breaks. That's kind of a hike for a water park day, but we knew this was no ordinary waterpark. Land of Illusion is actually a well-known Halloween scare park, so be prepared for some spooky sights you might not typically see at a water park – like skeletons and other Halloween decor – during the included golf cart shuttle ride to the lake.
When you first arrive at the Aqua Adventures lake area, your eyes drink in a scenic, turquoise green lake packed with kid-friendly equipment and a sandy beach with lounge chairs – all the makings of a great day! Even before adventuring onto the lake, the kids were thrilled and said it was worth the drive from Columbus.
I definitely recommend a visit to Aqua Adventures for any families with rough and tumble grade-schoolers and active, adventurous tweens and teens!
Aqua Adventures is basically a gigantic, floating, inflatable obstacle course in the center of a very pretty, 2- to 10-foot deep lake. Made by Wibit, the equipment includes climbing walls, slides and balance beams anchored in the middle of the lake. It all appears attractive, well maintained and highly kid-friendly… my one caveat is that I'm just not sure they had enough lifeguards and staff on hand to guide play and help kiddos who needed an extra hand. We only spotted a couple of lifeguards out on the floating equipment, and with the number of rowdy kids on board, I think they needed a few more.
Overall, it's a little bit like the wild, wild West when you get out onto the Aqua Adventures course. As fun as it was, I was nervous for the kids because it's wobbly, slippery and easy to fall, knock others over or otherwise get hurt. All participants must wear life vests, but it's still no fun getting knocked around unexpectedly. Older kids and young adults try to race through the course, but even the most agile and sure-footed among them would suddenly slip and wipe out, often taking out nearby kids or adults with them. Many found this fun and exciting, but I found it nerve-wracking.
I swam out to the Wibit course with the girls and found it challenging to keep my balance and walk around, so I opted to sit on the edge with my feet in the water and watch the action. I saw countless slips, spills and falls – including several folks who hurtled into me at a bone-rattling speed. I wasn't knocked into the water, but I saw dozens of kids get taken out and end up in the lake. Is this fun? Sure – but only if you're okay with getting knocked around. Some kiddos simply are NOT fans of this (my daughter being one!)
Our oldest niece is a strong, physically fearless girl and had a blast. Z is a bit more delicate and while she had fun, she didn't like falling or being knocked into and she came off the equipment crying more than once. Our youngest niece enjoyed it, but I think she liked floating around in the lake and some of the separate equipment (a giant inflatable slide, for example) even more than the obstacle course itself.
Bottom line: while Aqua Adventures would be great fun for older kids, tweens and teens, I'm not sure it's a good fit for families with smaller kiddos, or even for older grade-schoolers who are sensitive or not into rowdy physical play. It's also really tough for parents to stay close to the action and be there if your kids need help – yet I wasn't confident enough in the number of lifeguards to feel comfortable letting the kids head into the course without being at least somewhat nearby.
My best tip for parents is to either swim out in the lake and float around the outskirts of the obstacle course, keeping up with your kids that way (which is enjoyable and relaxing). You could also enter the obstacle course yourself and either park on one of the edges like I did (chicken that I am!) or attempt to fight your way through the course with the kids. If you do the latter, you're definitely braver, fitter and better at balancing on wobbly surfaces than I am!
In addition to the Wibit course, Aqua Adventures offers inflatable tubes and stand-up paddle boards for rent ($5 per hour and $7 per half hour, respectively). There's also a sand volleyball court and a toddlers or small kids mini Wibit course, but we didn't check them out.
In reading some of the reviews online, it seems that other parents agree with me about the potential hazards on the Wibit course; one even suggested instituting a one-way course of travel through the obstacles, which makes sense and could cut down on some of the running into each other and knocking people over.
Food and drinks are available, including delicious Kona Ice snow cones which really hit the spot on a sunny day. Speaking of sunshine, be sure to pack tons of sunscreen, hats and cover-ups or rash guards if you plan to stay a while, because there is absolutely no shade at Aqua Adventures unless you splurge and rent an umbrella ($25) or a cabana ($55). I do wish the park would allow people to bring in their own water bottles, as charging people $3 for cups of water seems a bit unfair on a hot day.
Gate admission to Aqua Adventures is $24 for kids under 48″ and $29 for adults and kids over 48″, with discounted rates available online. I'm glad we checked it out and I could see us going again on another summer day with friends, because it really is a great set-up and pretty lakefront beach. Kudos to Land of Illusion for making the most of their lake by investing in the Wibit equipment, as it truly is a unique and different way to play on the water!
Have you visited Land of Illusion's Aqua Adventures water park, and did you have a great day of summer fun and excitement there? I'd love to hear in the comments below.