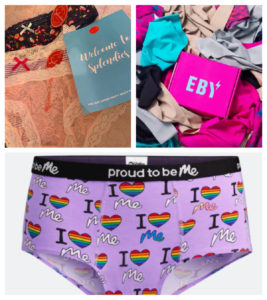 Who tried not one but three subscription undies programs so they could blog about it? This girl. Who wants to hear about my undies-by-mail adventures? Hopefully you, my dear readers!
(Dad, you can skip this one. Really. Just look away.)
First off, I feel like I was super late to these monthly subscription boxes and I just want to acknowledge that. My friends were all getting random clothing items shipped to them monthly in fun surprise boxes, and I was over here all wrapped up in the Lularoe craze.
Well, I'm finally over my Lularoe fixation (yes, I still wear the dresses but I'm donating most of the rest of it – including the leggings – with a few exceptions). And that left me wide open for another obsession – so why not undies subscriptions?
Why not, indeed. I've never been someone who can be content with boring undies. Back in the day, I was a diehard Hanky Panky fan. Would you believe I also used to try to coordinate my bras and undies whenever possible. Looking back, my 20s and 30s were such an adorable, pre-kid time!
But let's get real, this is my 40s and I'm a mom and who has time for all that. Now, I just want undies that are equal parts comfortable and pretty. Bonus points if they come up over, hold in and/or somewhat camouflage the C-shelf (yes, it's a real thing). And if they're a cool or unique color or print, I'm in for sure.
Enter MeUndies! My first love in subscription undies (I first blogged about them in 2017), these make up the bulk of my underwear drawer. I absolutely love the cute, crazy and creative prints they come up with. About $15 per pair, they are soft, comfortable and hold up well over time. Best of all, once you put them on you can totally forget about them. The cheeky brief is my favorite cut, although I also have some of their bikini style.
I no longer have an ongoing, monthly subscription to MeUndies, but I still follow them and order select styles when they have one that I can't resist. Like their current Merpeople design! As if their undies weren't already a draw, they also have his and hers matching designs AND you can get a pet bandanna so your pet can coordinate, too. Totes adorbs.
My second foray into undies subscriptions was the overly FB-advertised EBY brand promoted by Sofia Vergara. I'll admit, I was a sucker for their women's empowerment approach and signed up for a box or two. They let you choose style category – thongs or no thongs – but for the most part, the only surprise is the color or print. These work out to about $16 per pair.
While I don't hate these seamless undies – they are very soft, silky and comfortable – they won't stay up for me. There's nothing worse than silky drawers trying to slide off your bod all day. So, I cancelled my subscription but do still enjoy their girl power content on the 'gram. Maybe I should try going down a size if I ever get them again.
My third undies subscription – and final one, until another comes along to seduce me with its feminine wiles – is Splendies. By this point, I was NOT looking for another undies subscription. My top drawer runneth over; I really have no need for any new undergarments. However… I fell head over heels in love with the Splendies concept. They are lacy, feminine and extremely body positive in both their marketing and sizing. And this time, I found that I quite like the surprise element!
With Splendies, you literally don't know what you'll get beyond three pairs of quality undergarments for $15. A cheeky stripe? A lacy seduction number? A fun floral? Something that is stretchy, comfortable AND adorable? You find out each month by the 15th. It's exciting, it's fun and it's a gamble. The first month I LOVED one pair, liked another and the third is a delicate lace confection that simply has no stretch and doesn't fit me at all – but it's GORGEOUS, so I'm keeping it forever.
I liked the experience and product enough to stay around for month two, and now I'm waiting anxiously to see what I'll get this month. There's a fun Splendies FB group where you can share photos and get sneak previews of what your month's booty-booty (get it?) might look like. But nothing compares to getting that package in the mail and opening it up to reveal your prize. It's like a naughty little Christmas morning.
So far, no one (ahem, darling husband, I'm talking to you!) has gotten as excited about all these new undies as I have. But hey, like I said, this is the 40s so I'm okay with that. And who knows – maybe that just means I need to keep subscribing until I find the pair he really likes! 😉
Have you experimented with undies (or other clothing) subscriptions by mail, and what was your take? I'd love to hear in the comments below or over on Facebook. And yes, all of the above links include a referral bonus for me so if you buy any undies for yourself, we'll both win!