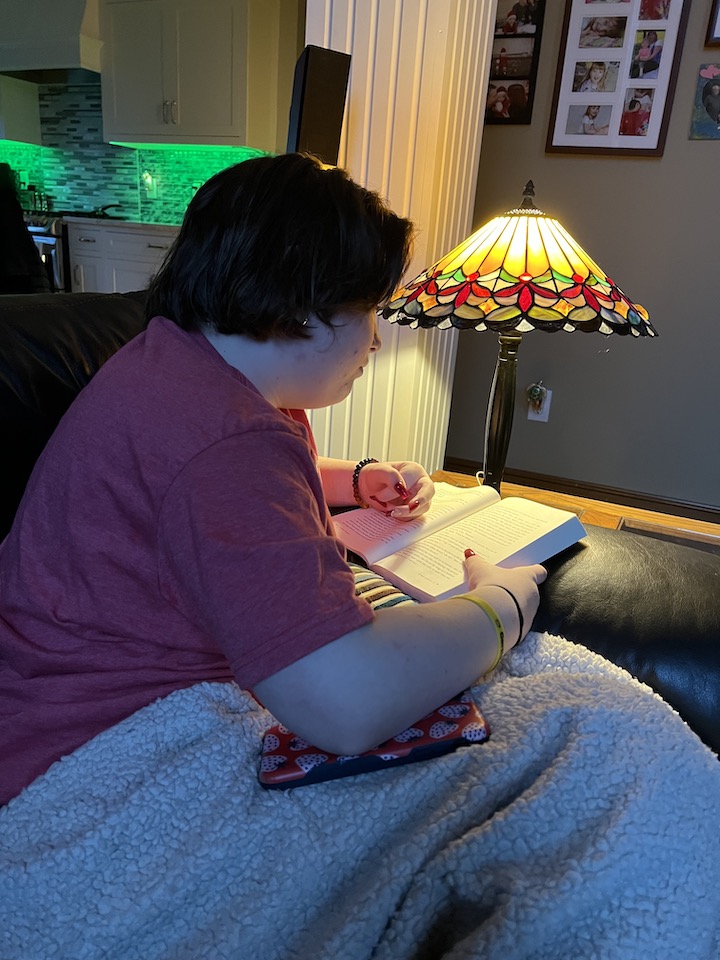 Z and I have been on quite the reading kick lately.
After a successful daily reading challenge in early fall, I kept things going and continue to work my way through some new books.
While I haven't kept up the daily reading habit, I make sure that at least a few times each week, I lose myself in a good book. As for Z, her newfound interest in reading came from TikTok. Apparently, #Booktok is a thing – who knew?
Young people on TikTok are finding out about books to read via #Booktok and it's actually driving a huge spike in sales for the lucky authors. More than half of the 15 books listed on the New York Times Paperback Trade Fiction Best Seller list are #BookTok recommendations.
I personally love that Z is finding out about books through TikTok, or through any means whatsoever. I love reading books with my daughter as much as I love reading books long-distance with my mom.
Z asked for the Colleen Hoover book below and proceeded to absolutely devour it. She ignored her phone, food and friends until it was finished. I've never seen her go that hard with a book!
When she was finished, she urged me to read it but I actually didn't need any encouragement; I couldn't wait to see what had captivated her so fully.
If you're curious to see what the cool kids on TikTok are reading, here are mini-reviews of the latest favorite books in our house. The would all make great holiday gifts for the readers in your life!
It Ends With Us by Colleen Hoover – as noted above, both Z and I were obsessed with this novel. It's a heterosexual romance with heartbreak, family drama, relationship trauma and so much more. I think everyone should read it because there are so many important messages and lessons within these pages. I don't want to say much more out of fear of spoiling it, so I will just say that your life will never be the same after chapter 14.
Bones and All by Camille DeAngelis – If this one sounds familiar, that might be because it's been made into a haunting feature film starring teen heartthrob Timothy Chalomet. Bones and All falls into (or invented?) the unique genre of young adult horror romance. The main character, Maren, is a young woman struggling with the normal coming-of-age issues plus something far darker – she was born a cannibal with uncontrollable urges to eat human flesh. Though gory in parts, this is a beautiful heterosexual romance and a terrific read. Z and I both really loved the movie version as well.
The House in the Cerulean Sea by TJ Klune – this might be my favorite book of all on this list. It's one part magical fantasy, one part heartwarming coming home story and one part lovely queer romance. As I wrote in my review on Amazon, "If you have felt an empty place in your heart since JKR revealed herself to be a transphobe and bigot, thereby dulling the sparkle and shine of what had previously been your favorite books, then I have joyful news for you. This book will fill that heart hole and then some! It is bursting with magic, love and the best of humanity. You will fall in love with the characters and setting."
TikTok isn't the only place to get great book recommendations. With winter coming – it's peak reading season, don't you know – I'm also looking at some great year-end book review roundups like those from The New York Times, Vogue and NPR.
But, if you love romances that skew toward the sad side, be sure to snap up these top #Booktok recommendations.
As always, we'd love your book recommendations as well! Feel free to drop me a note in the comments below or over on Instagram, Facebook and yes – even TikTok.