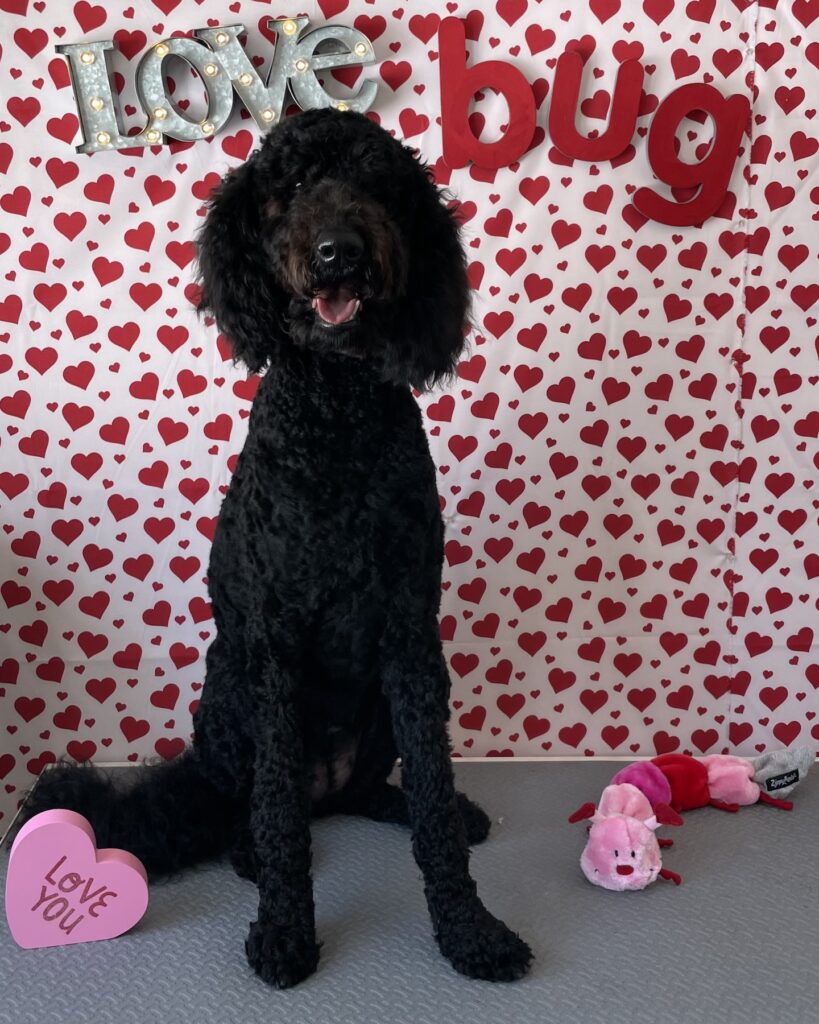 Have you ever considered sending your dog away for a "board and train" program – aka doggie boot camp?
In a past life, I never would have considered this and may even have looked askance at people who did.
However, if you read my post about our trouble-puppy Lamborghini, you know that sending her away to a doggie board and train program was absolutely necessary. It was honestly an act of desperation for us.
I chose Lindsey Gobin of Pawsitively Blessed as our trainer. I liked that Lindsey boards and trains dogs right in her home, plus she came highly recommended by a neighbor. She felt like a great fit for us.
Now, I'm happy to report that Lamborgini is home with us again. Her 2.5 week training program with Lindsey was a huge success.
Is Lambo perfect? No, of course not – she's still an eight-month-old puppy in a mammoth-sized dog body! But truly, the difference is night and day.
Before her training program, I risked life and limb every time I took Lambosaurus Rex for a walk. She regularly dragged me out of the door, yanked me down steps and wrenched my wrist, shoulder and lower back.
Now, Lambo knows so much more about how to behave properly. She walks like an angel using the prong collar and shorter leash our trainer provided – and she also wears an e-collar in case we need another way to correct her. With continued training practice with us and these tools, she'll keep up her skills and get even better as she matures.
I wasn't sure what to expect when we got Lambo back. I knew Lindsey would do a great job with her training, but I wasn't sure if it would "break" the dog's spirit or if our Lambo would come back unhappy or with her personality changed.
Thankfully, Lamborghini's wild spirit is still alive and well. Case in point, she still has moments where she goes absolutely bonkers! She definitely isn't broken or sad at all. In fact, I think the training and mental exercise of behaving has done wonders for her; if anything, she's a happier dog now.
While Lambo was away at her board and train program, our cat Galaxy came out of hiding and began to thrive again. I was so afraid that when Lambo came back, Galaxy would go back into seclusion – but thankfully, the two are coexisting much better now that we have controls in place to help Lambo fight the temptation to chase the cat!
Before we did this board and train program, I couldn't imagine ever using an e-collar on my dog. Now I know that an e-collar, with a focus on "starting low and going slow," is a very humane and effective way to get a dog's attention or help them to focus.
Before the e-collar, I would scream myself hoarse and end up frustrated and angry with Lambo. Now, I don't have to yell and I have a way to gently but effectively correct her in the moment when she does something we don't want her to do (like destroying things!). Our house has peace again – and Lambo gets praised all the time for being such a good girl, which we all love (except possibly our jealous little Dani).
This week, I was walking Lambo down our street and singing "We Don't Talk About Bruno" from Encanto. When I sang "Bruno, no, no…" Lamborghini must have thought I was saying "no, no" to her. Immediately, she sat right down and looked at me with a very concerned expression as if to say, "what did I do, Mommy?" It was absolutely adorable!
Our little dog Dani is the only one not thrilled about all the positive attention Lambo is getting. We're working on giving Dani special attention too so they are both happy pups!
My favorite things that Lambo learned during her board and train are:
"Place." She is led to her mat or place and she stays there until we release her. (In the picture at top, she's actually not doing it quite right. She's supposed to have all four paws on the mat.)
"Sit/down and stay." She will sit or lie down and then stay there until we release her. This is epic and I use it constantly! So nice to have this skill every time the cat comes around.
Walking nicely on a leash. She no longer pulls, yanks or runs away! This is a life-changer. Lambo still has wild moments, especially if we see another dog she likes while we're out walking, but she is easily corrected with the prong collar and e-collar. Things are so much more manageable now.
Listening when we say no. If Lambo puts her paws up on the counter, chases the cat or starts chewing something that's not hers, we now have a quick and easy way to get her to understand that is a NO. First I say no, then I say it a bit more firmly and with her name, then I give her a correction with the e-collar. She gets it loud and clear, and she is far less likely to return to the same bad behaviors. Often I don't even have to press the button because just picking up the remote is her visual cue to behave!
"Come." Lambo was fairly good about coming when called in the house, but she's much better since her training. We still have trouble getting her to come when she is outside, as there are so many distractions and smells out there. I'm hopeful that over time and with continued training, she'll start coming as soon as she's called even when she's outside.
Automatic default sitting. Now, anytime we're at a transition point like a doorway, putting on leash and collar, etc. her default mode is sitting. If she's unsure, she'll sit and look at us.
If you have a trouble-puppy of your own and feel like you need some help, you should definitely consider a board and train program with a great trainer like Lindsey. We are so happy with the difference in Lamborghini and also thrilled that she's still her same, loving and sweet self.
Have you tried a board and train program before? I'd love to hear your dog tales in the comments below or over on Instagram or Facebook.